While most people visit Iceland in summer, we were keen to enjoy the land of fire and ice as a winter wonderland. And is was the absolute best decision! I did a lot of research beforehand, but still, there was not much to find about driving Iceland's Ring Road in winter. So here is the blog post I was looking for about Driving the Road Nr. 1 in the coldest time of the year.
What to expect in Iceland in winter?
The Ring Road (or Route Nr. 1) is the main road to circle the island of Iceland. As the South is pretty warm in comparison to the North, you'll find most winter tourists in the southern part of Iceland. Most people are afraid to visit Northern Iceland in winter and surely, driving in the North is a challenge, but it's so worth it!! We totally enjoyed the peace, silence and remoteness the North has to offer.
But be aware that it might take you hours to drive through the snow filled roads and plan some days in between for precaution, you never know if a road will be closed. As daylight hours are limited, really make sure not to hurry. We highly recommend going in February or March, when days are already longer than 7 or 8 hours instead of November or December. 
Pin for later :)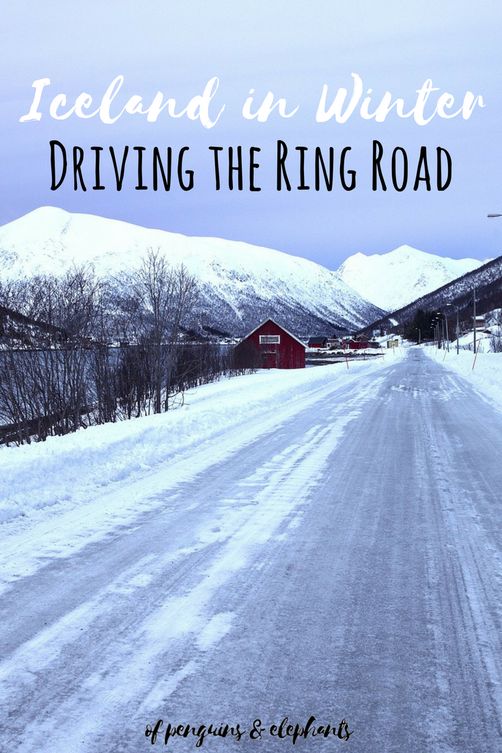 The perfect car to get for Iceland in winter
The first thing you have to deal with, is renting the right car for the winter. As you'll have to pass some mountains and might need to drive on icy streets for hours, you should definitely go for a 4x4! We have seen people driving through the snow with really small cars, but that can get quite dangerous, so make sure to get a Jeep or SUV. We rented with ProCar and totally recommend them. We reserved a Dacia Duster 4x4 and bought their full insurance, so they upgraded us for a completely new Renault Kadjar, which we loved a lot! Of course, 4x4 SUVs and their insurance are expensive, but you will not regret your decision. Feel free to look through my article about which details are important while renting a car.
If you need to decide how long you'll want to stay in Iceland, here is a little help on time needed and the best route.
Mountain roads in winter
The map below shows the complete Route 1 in Iceland. Be aware that this route includes some mountain roads, which can get quite exhausting and unsafe and also might be closed in winter. Here are the mountain roads to be aware of:
There is a section between Höfn an Djupivogur, that can get a little scary. Luckily, it wasn't snowing when we got there, but it was very foggy and the road is very high above the ocean.


The Öxi Pass, a shortcut of Route 1, is normally closed in winter. If you follow Road Nr. 1 you will be fine. You can also expand your drive and enjoy the fjords  (no mountains at all) if you take roads Nr. 96 and 92 to Egilsstadir instead of Road Nr. 1.


There will be some other mountain roads: Road Nr. 1 from Egilsstadir to Lake Myvatn is almost completely up in the mountains. There is another (but a lot shorter) mountain road between Lake Myvatn and Akureyri. From Akureyri to Reykjavik, there will be nothing bad...
How to check road conditions?
Your best friend while road tripping Iceland will be the website road.is, where you can check road conditions. 
Online you can find all the important roads through Iceland in specific colors, that tells you about the specific conditions on that street. Make sure to check the date and time of the road conditions. When we were in Iceland, they had a server problem and the website wouldn't refresh. But this normally doesn't happen - even Icelandic inhabitants were surprised. 
Also, if you have a specific question, don't hesitate to call the Icelandic Road and Coastal Administration. They do speak English and they are happy to help: +354 522 1100. I called them twice and they helped a lot!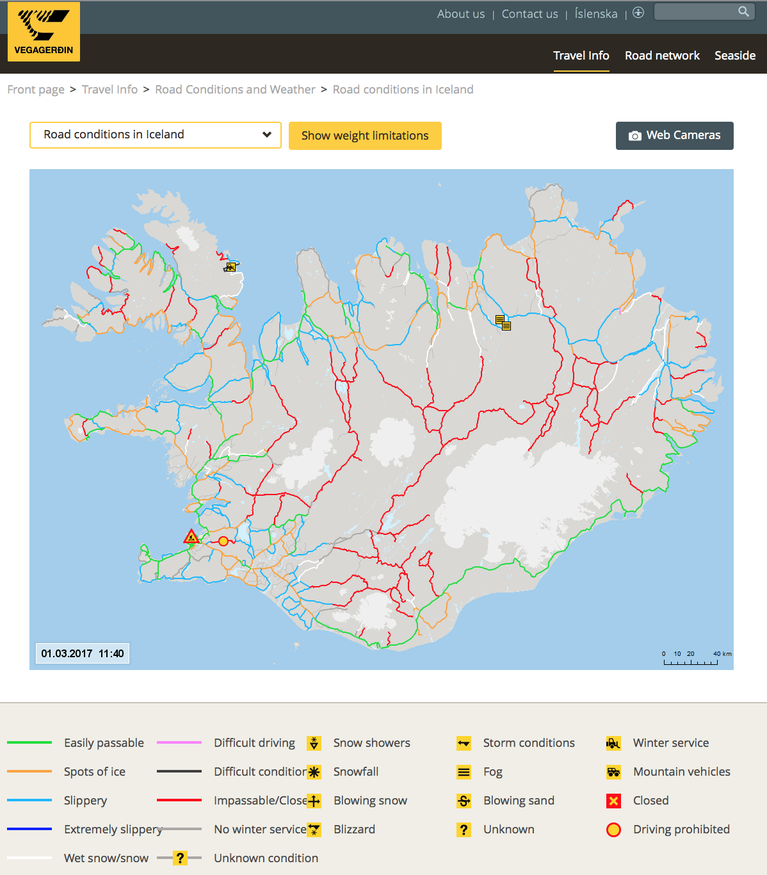 As we didn't know beforehand, how bad or good you could drive the different roads, we'd like to show you! This website helped us a lot and we drove quite a few different conditions.
easily passable
The roads are free of ice and snow and really easy to drive.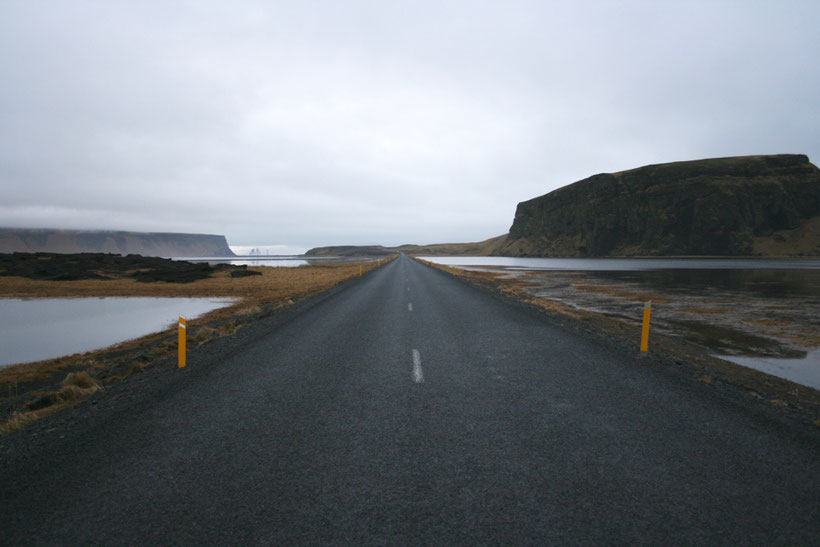 Spots of ice
Don't be afraid to drive these roads, it only means that occasionally, there are small spots of ice, which you can circuit.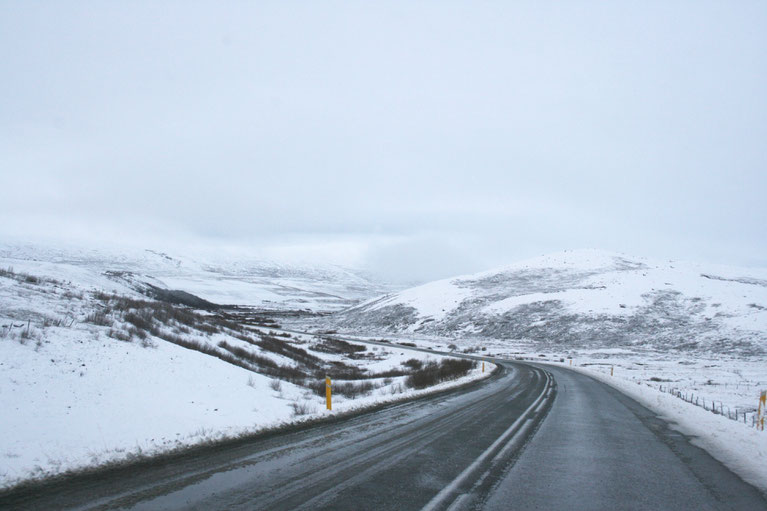 Slippery
Slippery roads are partially covered in ice or icy snow. It is very important to have a 4x4 car and spikes! We drove many of these streets and were fine, just be careful and don't drive too fast.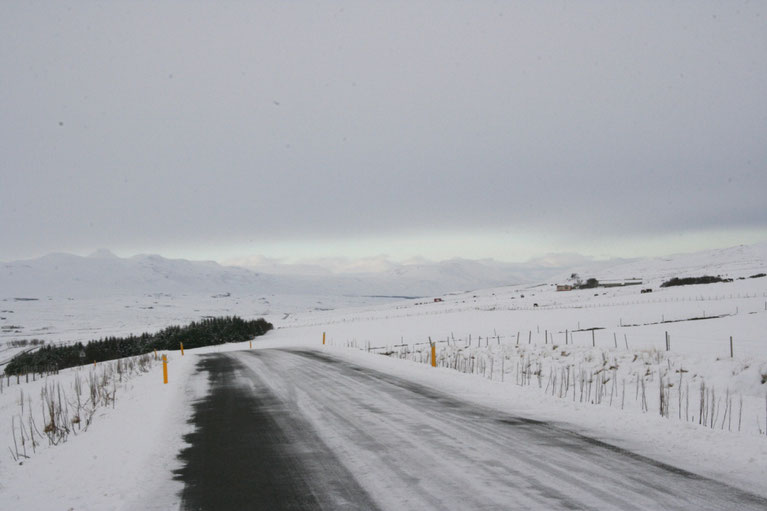 Extremely slippery
Extremely slippery roads are completely covered in ice and therefore they are dead slippery. We have never experienced driving on a completely iced road and I have almost never seen this condition on road.is. The only thing similar we experienced, was a car park covered in ice (see on the picture). It was really scary driving only a few meters, so please be very careful and avoid those roads, if possible.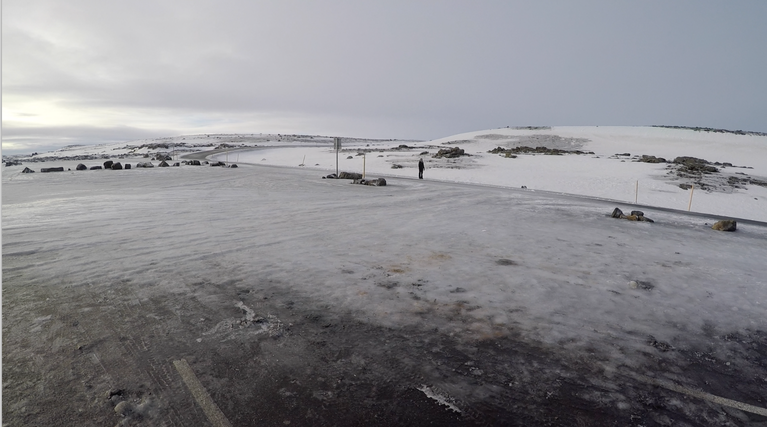 Wet snow / snow
Having the roads covered with wet snow or snow means it is snowing and the snow remains on the streets. We have experienced this description with heavy snow in the mountains as well as just a little layer of snow. So this really can mean everything - be careful though!
TIPP: Don't start driving too early! The streets are getting cleared and also better, as many others cars as possible have passed the road.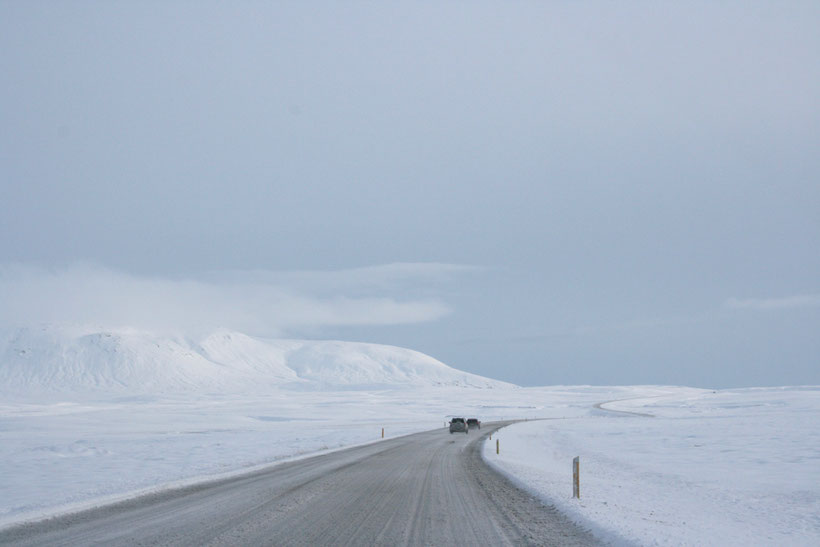 Difficult Conditions
In difficult conditions, roads are covered with a thick layer of snow. Roads do not always look as good as this one, as this was a main road. You definitely need a 4x4 car and be very very careful! Also be very careful to stay on the street - drive very slowly if you cannot see any wheel tracks. We have seen several cars in the roadside ditch!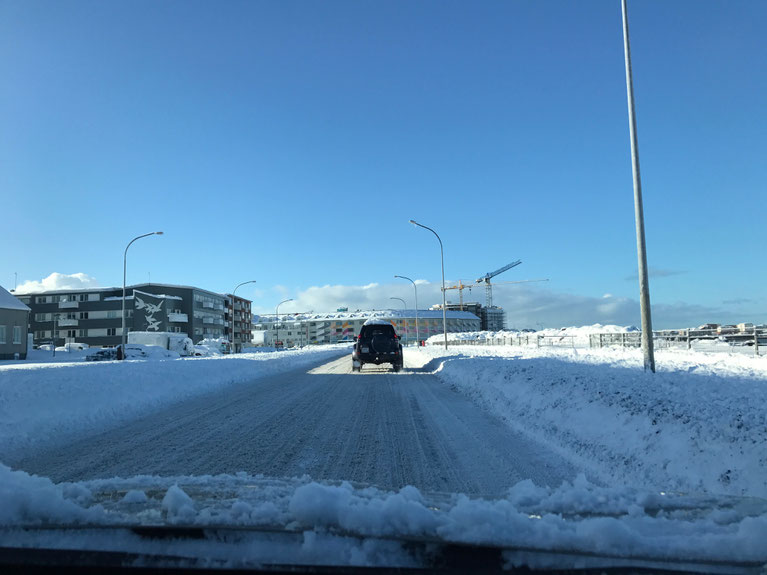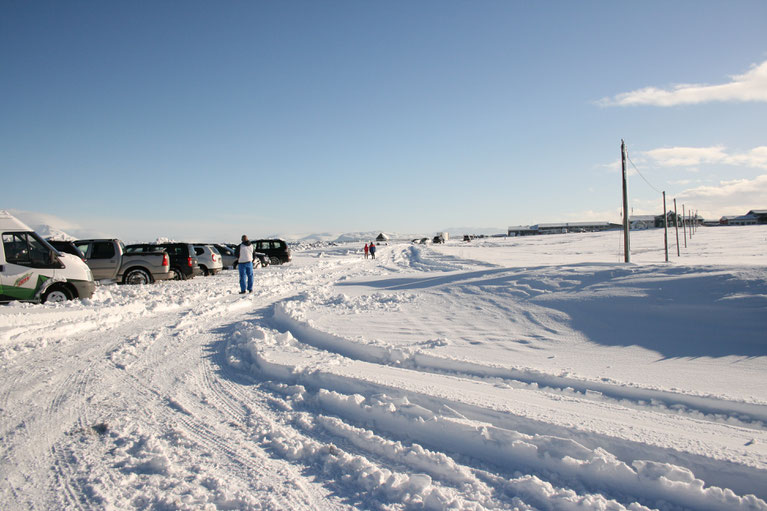 Impassable / closed / Driving prohibited
You can not drive on red streets, please don't try! Red roads are closed due to too much snow or any other reason. Sometimes, police cars even block these roads. If you still go and need help on a red road, you need to pay for the operation yourself...
And yes, roads can be closed in winter - but normally after a few hours, they'll have the streets cleared and opened again.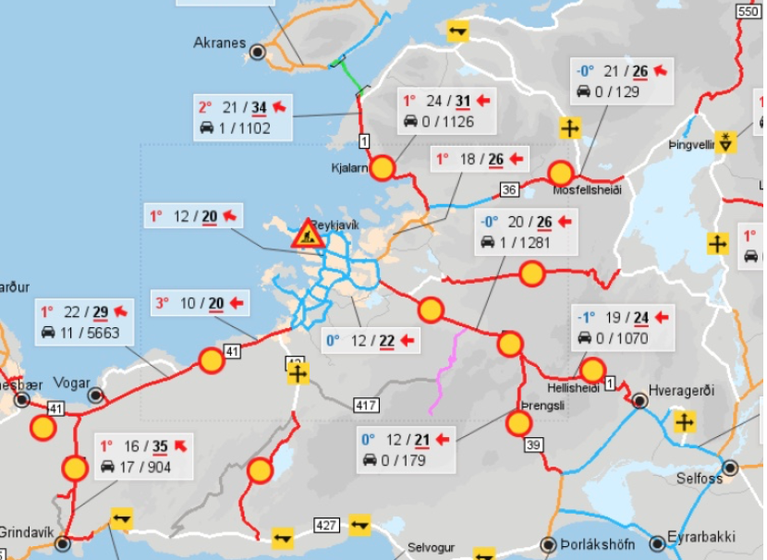 Some more tipps about driving Iceland's Ring Road in winter:
When road tripping Iceland in winter, make sure you rent a 4x4 wheel drive. Unfortunately, these cars are quite expensive, but it's worth it! Our car had spikes on its wheels. Call your rental agency beforehand and check if your car comes with spikes and/or snow chains. We did not need snow chains on our trip this february, but people said, it was a mild winter. So better be prepared. 
If you do the complete route around Iceland, I highly recommend planning some days in between. We booked a two night stay in Akureyri, even though we didn't had as much to see. This way we were still in time for the rest of our trip and our flight back, if we had any delay because of the road conditions. Speaking of road conditions: Be aware, that road conditions differ on Road 1 compared to smaller roads. We drove on a slippery gravel one lane road, which was a lot worse that the slippery Ring Road. 
Also, people say to fill up your tank as often as you see a gas station. This is a little excessive. But still, keep an eye on your gas gauge. You can find a map with all gas stations right here. We always filled our car when it was about half empty (or even less).
What about you?
Have you experienced driving the Ring Road in winter? Is there anything else you want to tell us about exploring Iceland in winter?
I'd love to hear your story!