Less than half an hour away from my grandparents house is the small town of Speyer on the Rhine. Even though I have visited my grandparents many times, I have never used the opportunity to visit Speyer. When we visited my grandparents in October, Chris and I planned to visit the nearby Speyer, which despite its small size with only about 50,000 inhabitants has much to offer.
arrival and parking in speyer
We parked our car at the nearby Königsplatz, but there is also a parking garage of Galeria Kaufhof, which you could use. After a small lunch (we do not recommend), we get ready for sightseeing.
PARKING: KÖNIGSPLATZ (IN BETWEEN KUTSCHERGASSE - SCHUSTERGASSE - LUDWIGSTRAßE - SCHULERGASSE)
sightseeing in speyer
The most visited and probably most famous sight in Speyer is the cathedral of Speyer. With a length of 134 meters and a width of 38 meters, the cathedral is the largest Romanesque church in the world and therefore belongs to the UNESCO World Cultural Heritage. There is really much to discover in this impressive church. Admission is free. So we stroll along the midship and enjoy the atmosphere. The simple interior design is really nice to look at and probably the reason why it is the favorite church of my dads. Nevertheless, my current favorite church remains the Nikolaikirche in Leipzig with its pretty pink colors. To visit the crypt you have to pay admission, which we didn't do.
SPEYER CATEHDRAL: DOMPLATZ, SPEYER
OPEN MONDAY TO SATURDAY 9AM - 5PM FROM NOVEMBER TILL MARCH / MONDAY TO SATURDAY 9AM - 7PM & SUNDAY 12PM - 5PM FROM APRIL TILL OCTOBER
PRICE: FREE ENTRANCE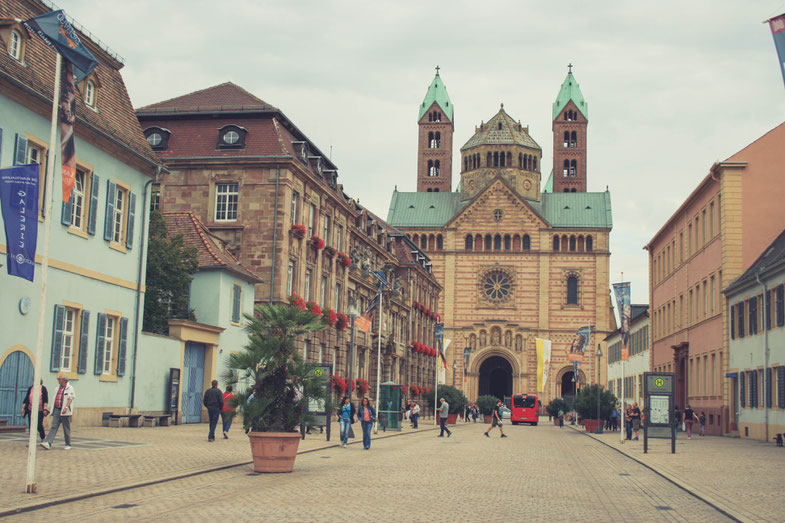 Instead, we decide to go up the tower of the cathedral with its observation platform, as I enjoy the view of the city on every trip. For that, we also needed tickets, which are available at the Visitor Center of the Cathedral. This is located south of the church in a modern small building. However, you can not simply climb up, but must go with a group at certain times. Our group was relatively small. Together with a tour guide, we ascended the steps into the Emperor's Hall and after a short time we climbed up into the tower. The view from up there was great! You can see the whole Maximilian street and admire the towers and roofs of the church from all sides.
OBSERVATION PLATTFORM
OPEN MONDAY TO SATURDAY 10AM - 5PM & SUNDAY 12PM - 5PM FROM APRIL TILL OCTOBER / CLOSED NOVEMBER TILL MARCH
PRICE: FULL PRICE 6€ / STUDENTS 3€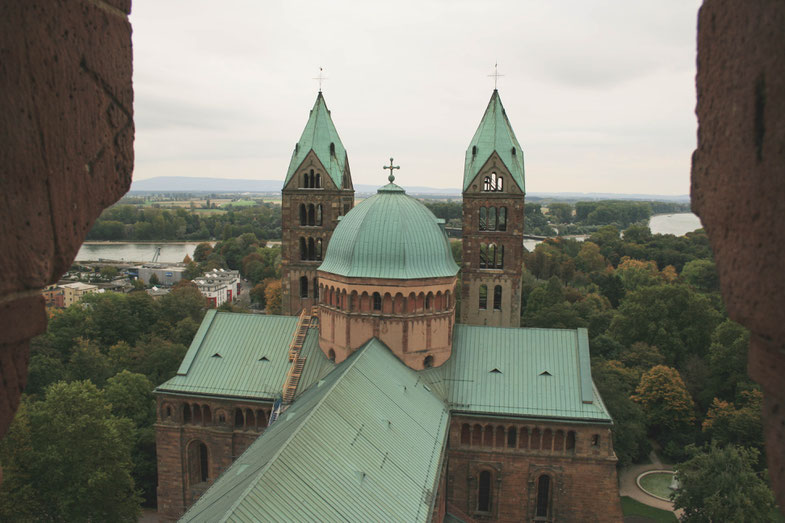 Opposite the Speyer cathedral is the Historical Museum of the Palatinate. Currently there is an exhibition about Richard Löwenherz, which we did not visit. Also the technology museum is a must visit for tech fans!
HISTORICAL MUSEUM OF THE PALATINE: DOMPLATZ 4, SPEYER
OPEN TUESDAY TO SUNDAY 10AM - 6PM
PRICE: ADMISSION VARIES: FULL PRICE BETWEEN 7€ AND 14,50€ / STUDENTS BETWEEN 3€ AND 6,50€
Back down, we walked towards the Trinity Church. Unfortunately this was disguised with scaffolding because of construction works and therefore not very pretty to look at. Instead we admired the great town hall from the Baroque period, which is located directly on Maximilian street.
TRINITY CHURCH: MAXIMILIANSTRAßE 13, SPEYER
OPEN MONDAY TO FRIDAY 9AM - 5PM & SUNDAY 10AM - 12PM FROM NOVEMBER TILL MARCH / MONDAY TO FRIDAY 9AM - 5PM, SATURDAY 10AM - 3PM & SUNDAY 10AM - 2PM FROM APRIL TILL OCTOBER
TOWN HALL: MAXIMILIANSTRAßE 12, SPEYER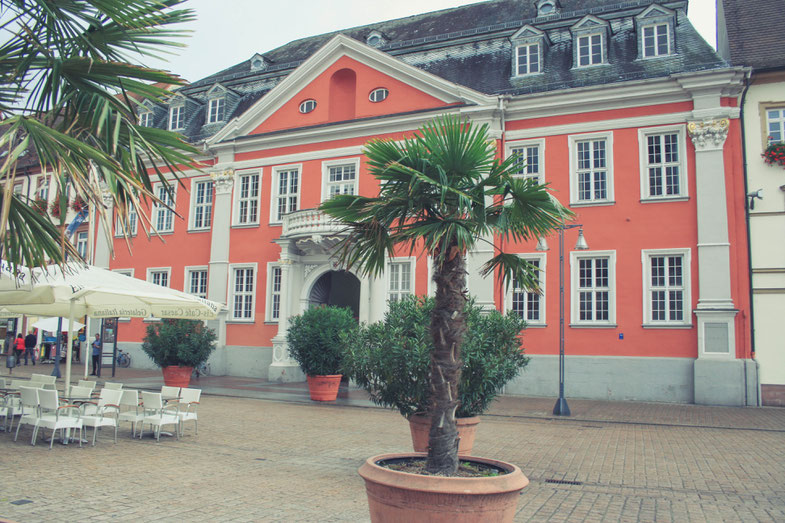 We stroll along Maximilian street and find a great little shop: Annas Landpartie sells specialities from the Palatinate. There are great things and I would have loved to buy everything. We choose wine pasta from the Palatinate, mustards made from chestnuts and delicious pralines.
ANNA'S LANDPARTIE: MAXIMILIANSTRAßE 90, SPEYER
If you turn south in one of the small streets, you will find yourself in the Jewish quarter. There you can visit the famous mikveh, which is a bath your Jewish rituals. Unfortunately we did not visit this quarter. Instead, we walked down Maximilian street to the so-called Altpörtel, a gate of the old city wall and at the same time a lookout tower.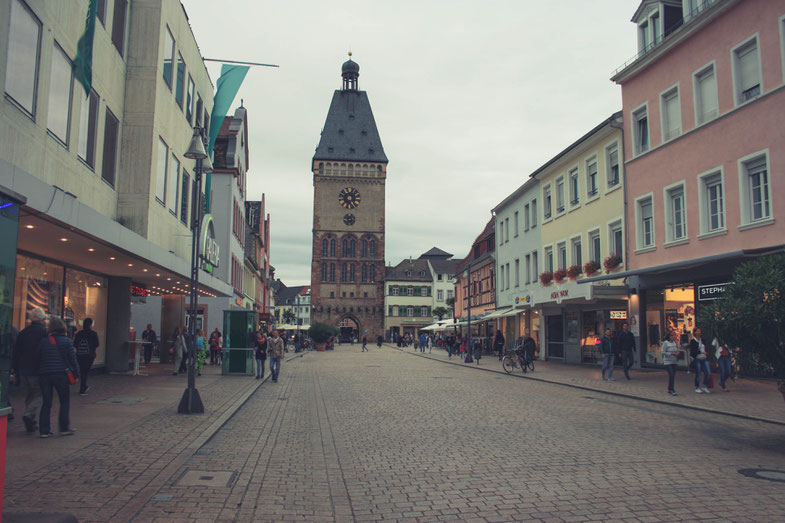 You might also like...
What about you?
Has any of you ever visited the small town of Speyer or do you have plans to do so in the future? I'd love to hear about your experience, stories and emotions! Did you like Speyer? Where you surprised about its huge Dome? Let me know in the comments!