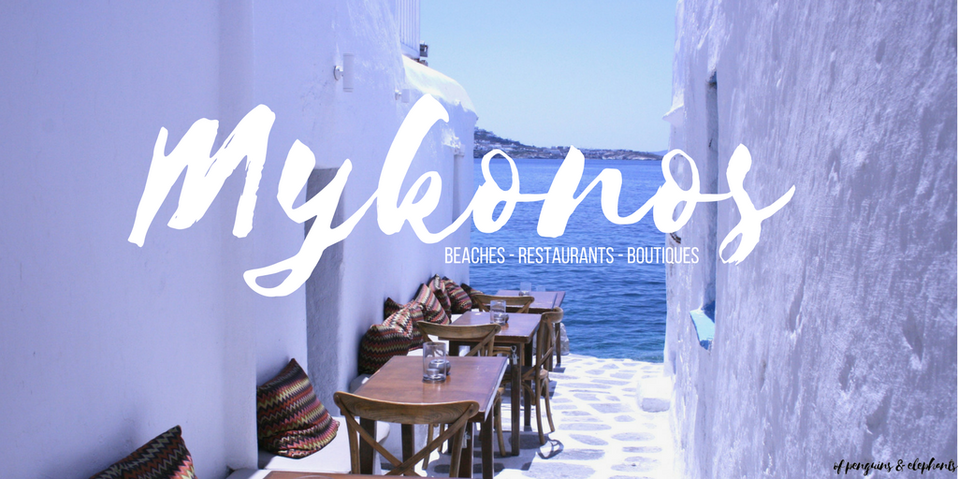 Nestled between Tinos, Naxos and Syros in the Cyclades, Mykonos is is a bucket list destination, known for luxurious lifestyle, colorful nightlife and its LGBT community. Pinterest is full of Myconian pictures and I do have to admit: the pretty white houses and the beautiful beaches are definitely worth a visit. When Chris and I found discounted flights, we booked a one week vacay on the island of the winds. 
Mykonos has always been one of our bucket list destinations and I loved to finally be able to see the pretty island. As I have been to Ibiza several times, I was quite surprised about Mykonos' small size. The island is not very big - in fact, Mykonos is only about the size of Paris in France and has about 10.000 inhabitants. It only takes you about 20 minutes to drive from North to South or East to West. So no need to drive hours to get to different beaches :)
General Tips about Mykonos
As the island is not made for pedestrians, make sure you rent a car to get around. Here are our tipps about renting a car for your vacay.

Parking in Mykonos Town can be terrible. There is a huge car park in the north of Mykonos Town, which is free. And it is only a 5 minutes walk into the city. I have marked the car park in the map on the end of this post :)

If you are staying in Mykonos for a little while, make sure to do a day trip to the island of Delos, a stunning archeological site, which is only a 30 minutes boat ride from Mykonos. More about our day trip to Delos and tipps for your visit coming soon ;-)

If you like sailing, we do totally recommend SET SAIL. They offer sailing trips in small groups for a reasonable price. You can even combine your sailing trip with visiting Delos, as they offer cruises that also go there after sailing to an uninhabited island. Our trip was awesome, thank you again, guys!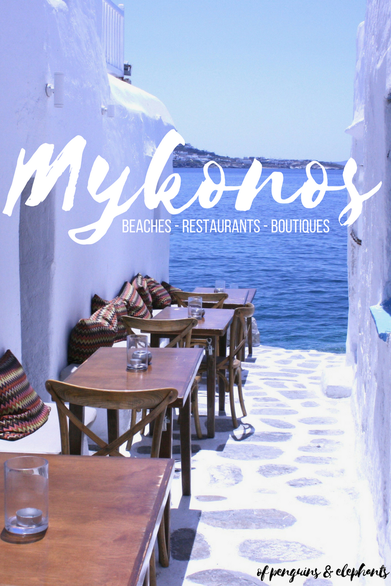 Best Beaches of Mykonos
If you are a frequent reader, you might know by now, that we are not big fans of party beaches - we prefer the calm and secluded beaches, which are less crowded. So, if you feel the same way, here are the beaches you should visit during your stay in Mykonos. 
Paralia Kapari - Secluded Beach in the South West of Mykonos
Paralia Kapari was stunning and probably the most perfect beach I have ever seen. Only about 30 meters wide with rough cliffs along both sides. When arriving by car, be aware to park along the road leading to the beach. By scooter you can drive up close to the entrance of the beach, but take care of rocks and stones. There are really small stair cases built into the cliffs to enter the beach. The water is crystal clear, light blue and turquoise colored. Waves can get quite big when a fast ferry passes the beach - otherwise it is quite calm. When we visited in May, there were quite a few people visiting, so be prepared to share the beach. Also, the beach is perfectly located to see the sunset behind the neighbor islands of Delos and Rhinos. Plan ahead, check the sunset time and bring dinner and some wine to enjoy a picture perfect sunset at the beach.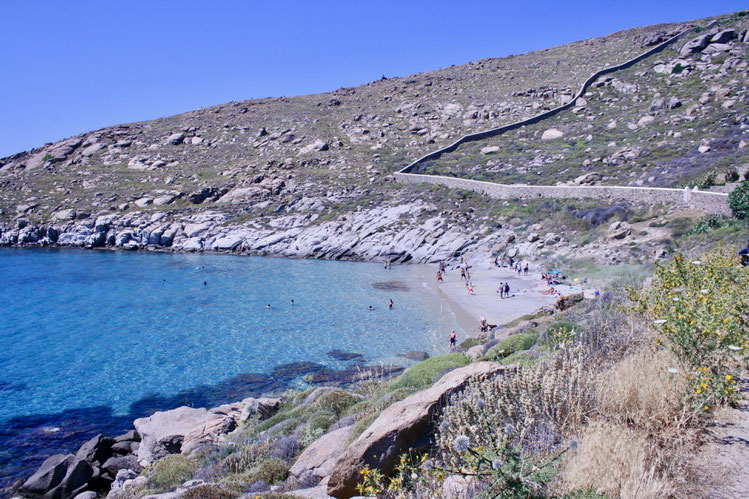 Spacious Fokos beach in the East of Mykonos
Fokos beach is located off the beaten path  on the eastern side of Mykonos. To get there you'll need to drive along a sandy and unpaved road. The beach is natural with wonderful soft sand, turquoise blue water and a little bit of flotsam. It is about 200 meters wide and when we visited in early June there were only a few people at the beach. Right behind the beach, you'll find Fokos Tavern, a restaurant overlooking the beach and serving delicious fresh food. (more infos below).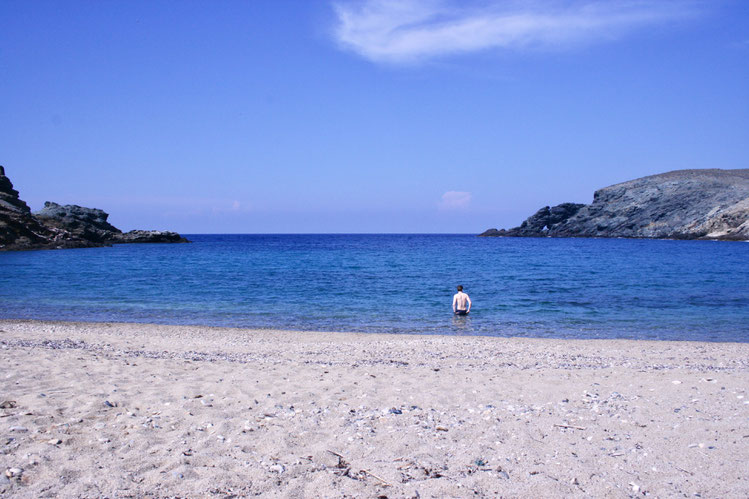 Small Agios Sostis Beach next to its huge neighbor 
Chris and I discovered this beautiful small beach, when we were heading to Kiki's Tavern, a well known restaurant overlooking the sea in the North of Mykonos. As the restaurant became Nr. 1 on TripAdvisor, people were queuing hours for a table. That's why we decided to skip lunch and discover this beautiful small beach right in front of the tavern. The main beach of Agios Sostis is huge and wasn't crowded at all. But since Chris and I love special beaches, we decided to give the little one a try. As always, be prepared to share the beach. If you have difficulties finding this beach, head over to Kiki's tavern and you will see stairs leading down to it right in front.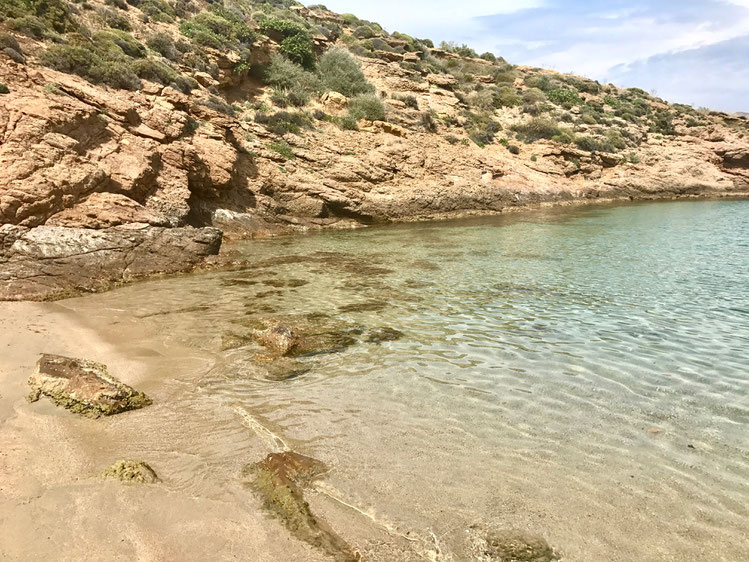 As we love to drive around, Chris and I visited quite a few beaches while driving around beautiful Mykonos. But I do have so say: Most beaches are covered with sun beds and are quite crowded. We normally prefer lying in the sand, but in Mykonos you'll have a hard time finding pretty beaches without sun beds. So be prepared to pay for beach clubs and enjoy it!
Delicious food at Mykonos restaurants
We love to eat and we love to eat out wherever we go! And since food is such an important part of getting to know a new culture, we do enjoy tasty meals at least once a day. Tasting local specialities is a must when visiting new places and Mykonos has to offer so many fancy restaurants with delicious food. Here are our favorites out of the ones we tried.
When we arrived really early on a rainy Monday morning, we came to Cosmo Café for breakfast and it was delicious. As we had breakfast included in our hotel, we only came this one time, but I do suggest it to anyone looking for a delicious breakfast place. They have a community table inside and many smaller ones outside. 
Caesar's in Mykonos town (my favorite!)
This was by far our favorite restaurant on the whole island. We discovered this pretty pearl by chance, while looking for a place for dinner. Caesar's is located in Chora, Mykonos town, right next to some other restaurants and as it is nestled into a calm corner, you can overlook it quite easily. The restaurant does not only look fabulous, we also had the most delicious food. They serve modern Mediterranean food made the traditional way and it was so good, we came twice.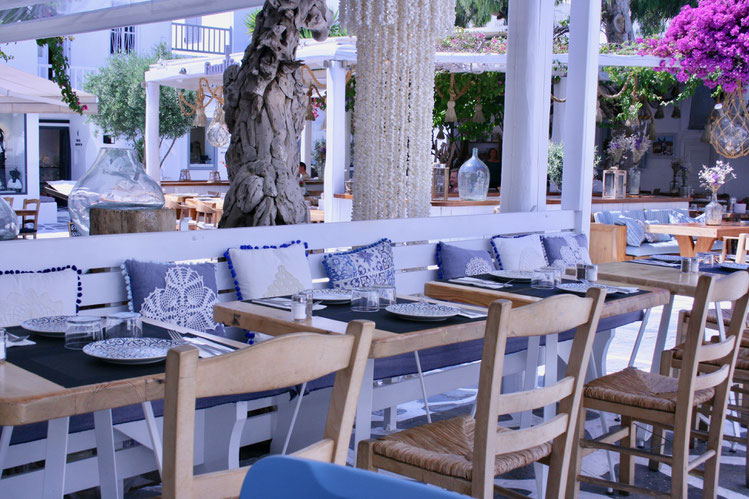 We came here after a sunny day at the beach and enjoyed a light dinner at this beautiful restaurant. You'll get here by walking along the small wooden path across the beach and the best thing is: There is no street in between the restaurant and the beach! You can sit right at the beach, overlooking the the beautiful sea. As parking is rare, we parked at the beach parking lot of Korfos beach, which is a 5 minute walk.
Located at the beach of Agia Anna, you'll enjoy fresh seafood sitting underneath shady trees. We were lucky and got a table right at the beach! Both of us had seafood pasta, enjoying the ridiculous view while having our bare feed stuck in the sand.
Nicola's Tavern was a special visit - if you wanna have delicious food at a perfect location without the party atmosphere, this is the right place for you. We loved it and we are sure you will, too!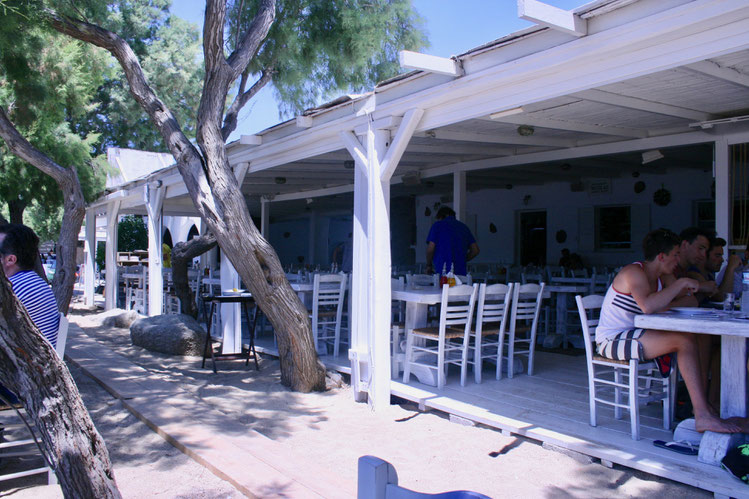 We came to eat at the Fokos Taverna on Chris's birthday. You'll need to drive to the far east end of the island, where there is literally nothing besides this jewel of a restaurant. It was delicious and we ate so much!! It was quite crowded, when we arrived for late lunch, so in high season maybe make sure to call them first before driving all the way. The food was so good, the view above the beach was stunning and we were observing geckos sitting on the stones, while enjoying our meals. 
Make sure to plan in time for the beach - beautiful and not crowded at all!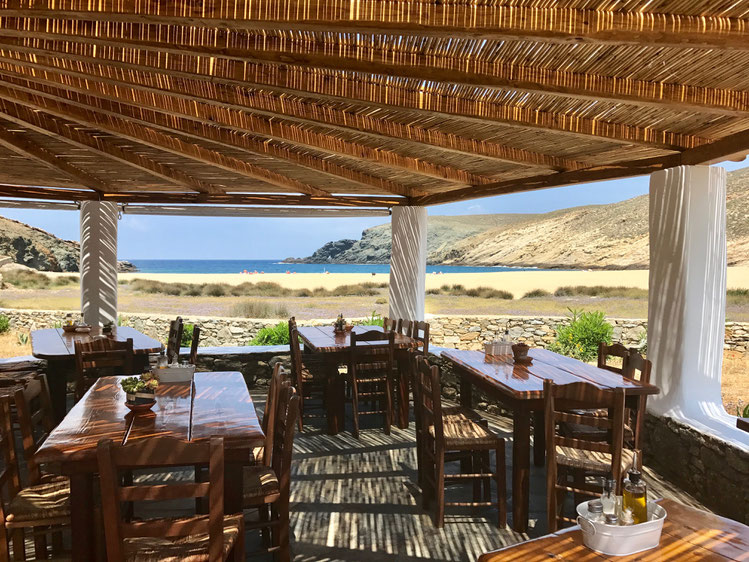 Beautiful Boutiques in Mykonos
Mykonos Town is full of luxurious shops and pretty boutiques. As we came to Greece with only our hand luggage, there was not much space to fill. But still, we did do some window shopping. Here are the few shops, that were awesome, besides the typical touristy ones!
This cute concept store is located in Chora, the Old Town of Mykonos. They offer hand made design souvenirs, decoration and gifts to bring home for your loved ones. This little boutique was awesome! Strolling around the city, you will probably see it at one point. Unfortunately, GoogleMaps doesn't find the right shop right now. Their official address is Matoyiannia, Mykonos.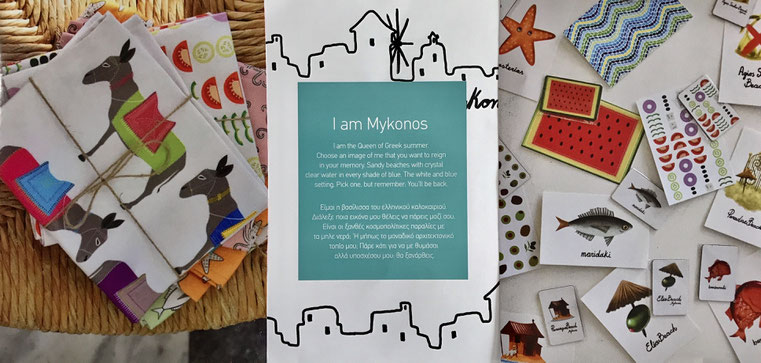 As you might see on the map: We didn't like the South with all its party locations. The North is much more natural and secluded. Just see for yourself and decide what you like more :) We do totally recommend staying at the A Hotel in Mykonos, where we stayed for seven days. The A Hotel is a very pretty but small hotel, that offers modern and spacious Cycladic styled rooms. We loved it!
You might also like...
What about you?
Have you been to Mykonos yet? Do you have any other suggestions about restaurant, beaches or boutiques? Let us know and share your stories! I'd love to hear about them!