Since I was almost never in the eastern part of Germany, I was very glad to finally visit Leipzig. With nearly 600,000 inhabitants, the city is the tenth largest city in Germany and larger than the state capital of Saxony. Leipzig has always been a popular trading and university city and has lots to offer.
arrival and accommodation in leipzig
From Cologne you can even take the IC to Leipzig without changing trains. The whole journey takes about six hours, but when listening to music, reading and planning the trip, the time passes by quite quickly. I got off the train at noon and made my way over to the hotel. The Arthotel Ana Symphonie is very modern, our room is relatively small but we have a balcony.
ARTHOTEL ANA SYMPHONIE: HAINSTR. 21, LEIPZIG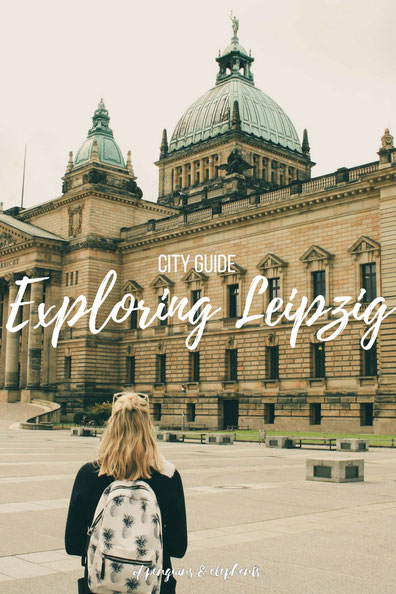 sightseeing in leipzig
After a short rest, I am going to explore the city. Since I booked a walking tour for the next day, I did not want to do the obvious things, so my first goal is the City Hochhaus with a panoramic terrace next to the university. The small entrance fee is definitely worth it, even with a cloudy sky I could enjoy a fabulous view. Especially the churches are great to see from above!
PANORAMA TOWER LEIPZIG: AUGUSTUSPLATZ 9, LEIPZIG
RESTAURANT & VIEWING PLATTFORM
PRICE VIEWING  PLATTFORM: 3€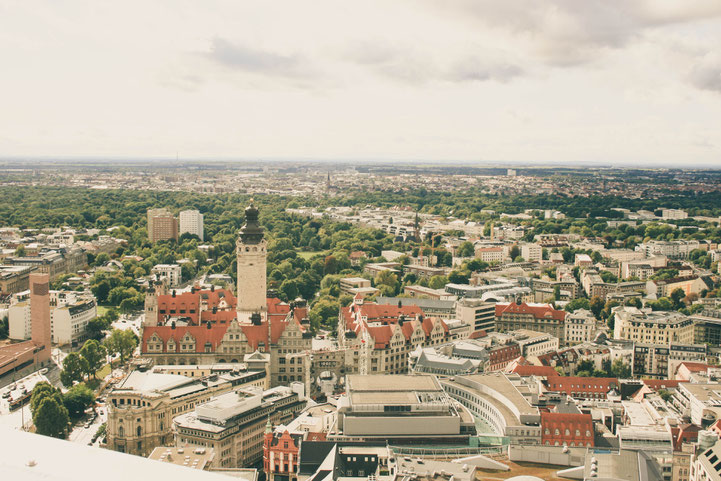 I walked further through the city center, discovered the Bach monument, the old stock market and some passages, of which there are quite a lot here in Leipzig. I especially liked Speck's Hof! But also the Mädlerpassage with the famous Auerbachs Keller is worth a visit.
SPECK'S HOF: REICHSSTR. 4, LEIPZIG
MÄDLERPASSAGE: GRIMMAISCHE STR. 2-4, LEIPZIG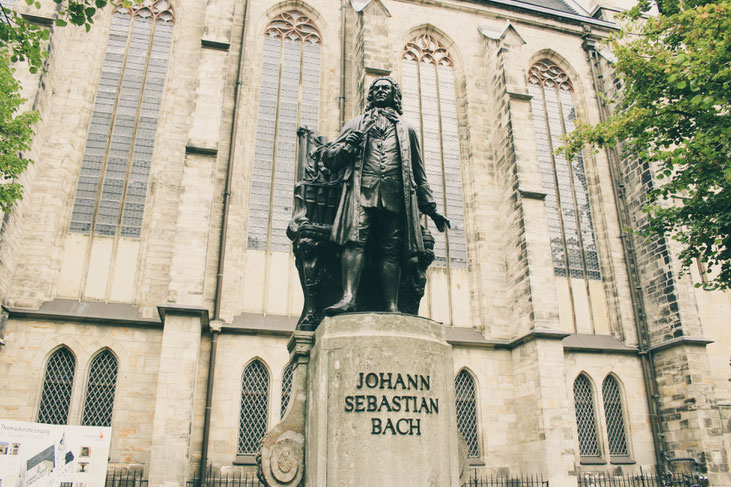 Since it rains in the afternoon, I bought some snacks and head back to the hotel, where I stayed the rest of the day.
The next day my tourist program starts. Since Chris has to work, I am on my own again today. First I go to the Café Handbrotzeit for breakfast. Their speciality is, as the name suggest, hand bread, which is a specialty from this region I like to try. So I order one with cheese and champignons and a coffee to start the day. Overall, this breakfast is very powerful, but definitely interesting.
HANDBROTZEIT: NIKOLAISTR. 12, LEIPZIG
To get some background information about Leipzig, I have already booked a free walking tour for the morning beforehand. These are based on voluntary donations and you can give your guide as much as you want. The tour started at Augustusplatz and continued to the university. I have participated in a few free walking tours already and I have to admit: I loved this tour with Matej!
FREETOUR OF LEIPZIG by MATEJ EBER
Next we visited the town hall, which is housed in the former Pleißenburg. The building is very impressive and does not remind you of an urban administration building. Around the corner is the Federal Administrative Court, which is also worth a visit.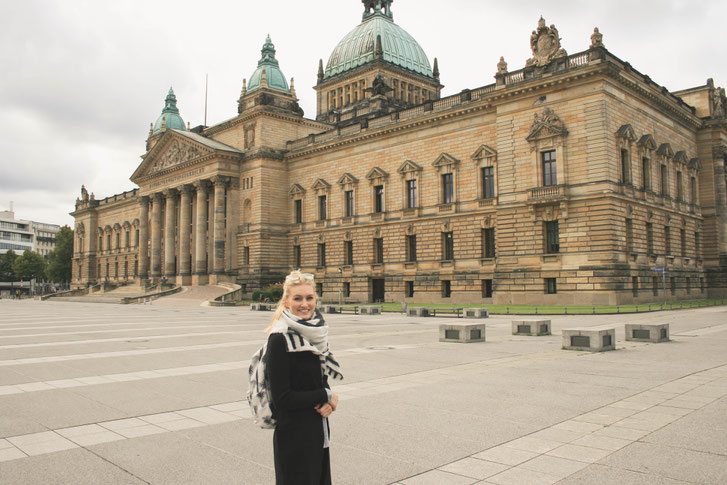 Now the tour leads back towards the city center. We visited the Thomas church and then went on towards Naschmarkt, where we could see the Alte Börse and the Goethe monument. Our last stop is the Nikolai church. This church is truly beautiful. The filigree interior is in bright colors and relatively simple. The church is one of the prettiest churches I have ever seen so far! Please do go and take a look.
lunch and dinner in leipzig
After the tour Chris and I ate a delicious bagel at Bagel Brothers, which is also a delicious breakfast or lunch option. You can choose between many different bagel varieties and there is something for every taste. We relaxed for a while and then headed off towards Sächsische Schweiz, where we will spend the next day.
BAGEL BROTHERS: NIKOLAISTR: 42, LEIPZIG
I liked the city of Leipzig very much and I will certainly come back at some point as there is so much more to see here!
You might also like...
What about you?
Have you been to Leipzig in Germany? Do you have plans to visit this truly beautiful city? Let me know if you have any questions or if there is anything you want to add to this list. I'd love to hear from you!