Israel is a small country in the Middle East with borders to Lebanon, Syria, Jordan, Egypt as well as the Palestinian territories of Gaza and the West Banks. With about 8,5 million inhabitants from which about 75 percent are Jewish, Israel is the only country with a Jewish-majority, and has the highest living standard in the Middle East. All of those interesting facts, made us wanna visit Israel so badly. And when we finally found affordable flights with Ryanair, we booked instantly and couldn't wait to get there.
We had a week off to explore the interesting country of Israel. Time flew by and we weren't even able to see all of the sights we planned to visit. Israel is a small country in size, but a huge country in terms of culture, fun activities and nature. During our seven days, we covered the stunning city of Jerusalem as well as Tel Aviv, which is very different from Jerusalem. Also, we spend a few days in the Negev desert, exploring the huge crater Machtesch Ramon and riding camels in the desert.
 When planning a road trip, I find it most convenient to see the planned route first. So here is ours. Unfortunately, we had not enough time to cover Eilat and the north of Israel. If you wanna get a first impression of the holy country, seven days are ok to cover Jerusalem, Tel Aviv and some other parts. If you wanna see everything, you'd need to stay at least 14 days. 
Day 1: Arrival & evening in Jerusalem (Mahane Jehuda market)
Day 2: Jerusalem (Old town, Free Walking Tour, Austrian Hospice, Via Dolorosa, Church of the Holy Sepulchre, Jaffa gate, Ramparts Walk)
Day 3: Jerusalem (Temple Mount including Western Wall & Dome of the Rock) · Dead Sea · Masada
Day 4: Camel ride · Crocodile farm · Scorpion's Ascent · Colored Sands · Mitzpe Ramon
Day 5: Jeep tour of Machtesch Ramon · Avdat Nationalpark · Kornmehl Farm · Tel Aviv
Day 6: Tel Aviv (Dizengoff Street, Bauhaus Center, Rothschild Blvd, Lewinsky Market, Florentin, Jaffa)
Day 7: Tel Aviv (Museum of Arts & beach)
Day 8: Departure back to Germany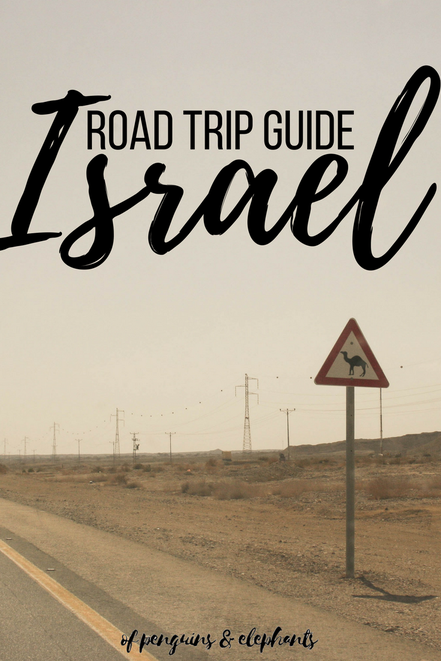 Day 1: Arrival in Jerusalem 
The flight to Tel Aviv was four hours and we started early in the morning. With Netflix, the four-hour flight time flew by. Arriving at the Ben Kurien airport in Israel, we needed to pass security and passport control, which was a lot faster than the immigration in the US.
Ben Gurion Airport is impressively huge. After we got through security, we were able to pick up our car: We got a Subaru SUV - a category better than we had booked, thanks for that. The highway on our way to Jerusalem was well developed, the driving style was a little aggressive and we needed some time to get used to it. Chris did a good job and drove us to Jerusalem safe and sound. 
Even though we arrived at Ben Gurion around 1pm, it took us quite some time to pass security, get some cash and the car and drive all the way to Jerusalem. When we arrived it was already dark, so the only thing we did was eating dinner that night. I had so many things planned for the afternoon, which we missed out on. So keep in mind, that the arrival might take the whole day. 
Day 2: Jerusalem
Exploring Jerusalem was a wonderful experience. We loved eating at the Mahane Jehuda market and walking through the Old town of Jerusalem with its Muslim, Armenian, Christian and Jewish quarter. Make sure to visit Via Dolorosa, the Church of the Holy Sepulchre, the roof terrace of the Austrian Hospice, the Ramparts Walk as well as the Temple Mount with the Western Wall and the Dome of the Rock.
Read the full story of our City Guide to Jerusalem with parking, hotel and restaurant suggestions.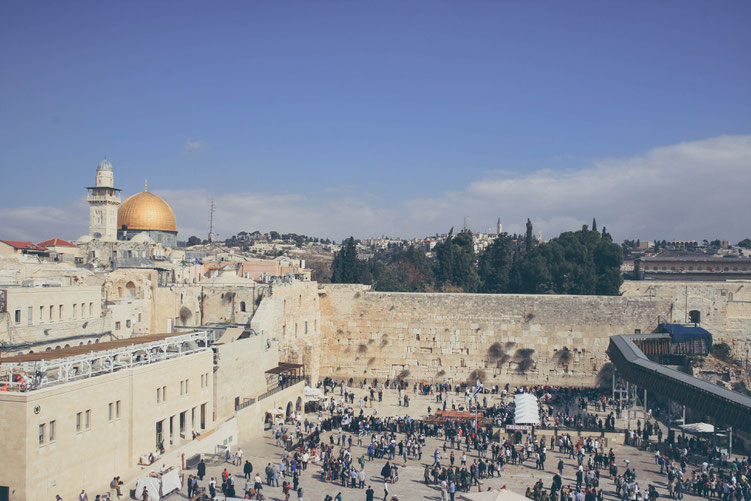 Day 3: Jerusalem to Dead Sea, Masada & Camel Farm
After breakfast we started our journey. Our route continued to the Dead Sea. On the way, we wanted to make a short stop at the lookout point of Skopus mountain. Unfortunately, we missed the exit and since we drove the right highway to the Dead Sea, we did not return, but continued driving.
In advance, I had researched a lot, which of the beaches at the Dead Sea was the best ti have a swim. The beach should be pretty but also well equipped. My choice was Kalia Beach, the northernmost beach at the Dead Sea. In about 30 minutes you can reach the beach from Jerusalem. A herd of camels was guarded in front of the driveway, which was very nice to see, as I habe never seen so many camels in nature before.
For Kalia Beach you pay admission, but there are changing rooms, showers and loungers, as well as sun chairs and beach beds available. The beach itself is not very pretty, as one of the attractions of the Dead Sea is the brown mud, you want to rub on your body. It is supposed to have a healing effect. We put our towels on the beach chairs and head over to the water. The water has a whitish color and as soon as you feel the water on your skin, you notice the high salt content. We walked in slowly and started lying on our backs. Without much effort the water carried us! We spend about 90 minutes on the beach and in the sea. This stop was really worth it: We had already decided to come back and stay a little longer at the Dead Sea.
KALIA BEACH
OPEN EVERY DAY / IN SUMMER 8AM - 7PM / IN WINTER 8AM - 6PM
PRICE: ADULTS 57 NIS (14€) / STUDENTS 46 NIS (11,50€)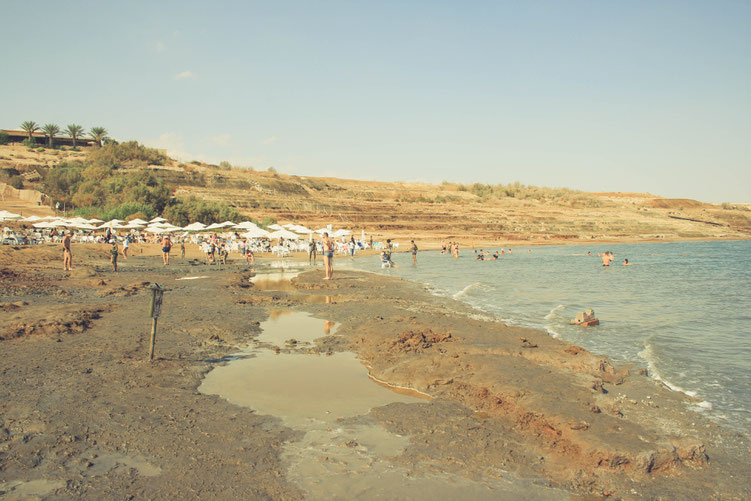 Before continuing our journey, we bought fresh dates and pistachios from the local shop, which we eat for lunch. Since time was running out unfortunately, we decided to skip Ein Gedi, which is a nature oasis in the desert, where you can hike, enjoy nature and waterfalls and swim in natural swimming pools.
Instead, we continued to Masada, a fortress built by King Herod until about 31 BC. At about three o'clock we reach the parking and have another hour to see everything. Instead of walking, we take the cable car up to the mountain. Seeing the snake path leading hikers up to the top, I am very glad we did not have to walk all the way and don't mind spending some shekels more. Nevertheless, I can imagine, next time to walk up for sunrise, because it is supposed to be particularly beautiful from Masada.
Once at the top, we explore the area with two palaces, a synagogue, a church, the thermal baths and the huge water reservoirs. Overall, the time is very short and we need to hurry a lot. If you want to see Masada in detail, you should plan to stay between two and three hours.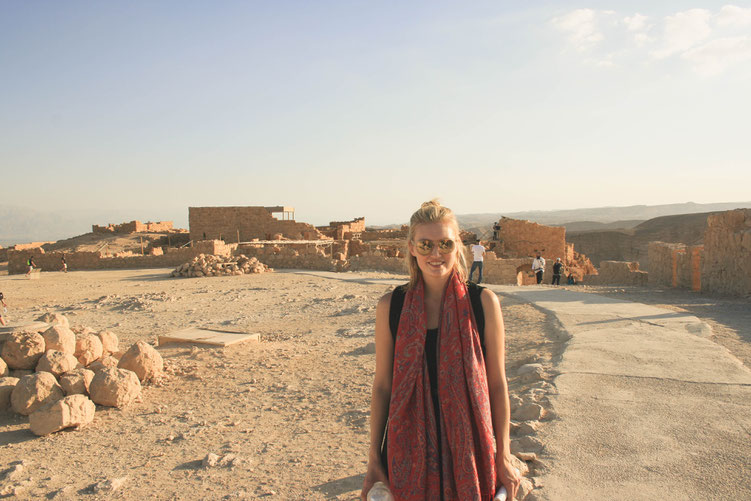 After we are drove back down by cable car, we get back into the car to get to our accommodation for the night. Our destination today is the Negev Camel Ranch near Dimona. Shortly before sunset we arrive: In the center of the complex, you can find a large camel enclosure, around there are so-called hats for the guest to sleep in. Chris and I rented one for the night. Inside are several beds and a carpet. The interior is rather sparse and relatively basic, and there is a shared bathroom, but the experience is worth it anyway.
For dinner we drove to Dimona and found a nice restaurant in the shopping center. When returning in the evening, we drank tea in the shared room, which is used as living and dining room as well as reception. We sleept wonderfully that night. Although the beds are small, the cold desert air does not cool us down, as the blankets are wonderfully warm.
Day 4: Camel Farm to Mizpe Ramon
The sun woke us up quite early, but we still cuddle up in our warm blankets. After visiting the farm during sunlight and packing the car, we had breakfast with our host Ron. We get delicious bread with butter, jam, cheese, yoghurt, halva and fresh fruits, as well as eggs and tea or coffee.
I was very excited for our following camel tour, my personal highlight of the whole trip. We were about 15 people in total. The same number of camels were attached to each other in a caravan. Ron and her colleagues helped each individual climbing up the camel. Ron led the caravan and we are heading into the desert. For about an hour we ride along a desert trail, Ron explains the area and answers questions about the camels. The one hour is enough to get sore muscles on the buttocks, but it was wonderful - I would like to stay longer on the farm.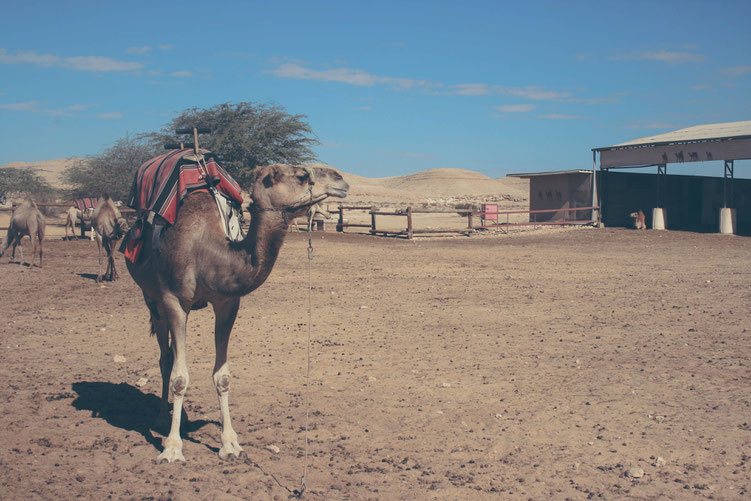 But our ride continued to Mitzpe Ramon. The direct route would have taken only about an hour, so we decided to take a detour to enjoy the beautiful scenery of the Negev desert. We accidentally passed a sign of a crocodile farm and spontaneously decided to stop there. We joined a guided tour and got told a lot about crocodiles. We were even allowed to hold one of the baby crocodiles - their leather on the stomach was really soft and the back is softer than expected.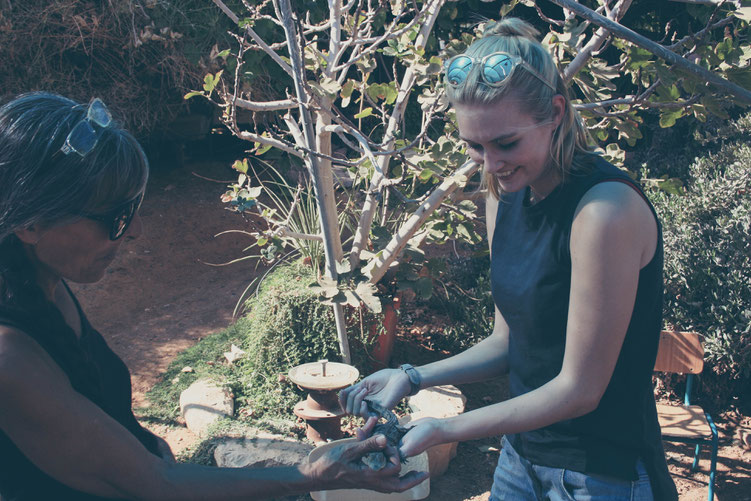 Our detour was worthwhile: the view across the desert and the Scorpions ascent was breathtaking. We stayed a little while and meet Noah, an Israeli from a nearby city. Like all Israelis, she was super nice and helpful. We talked for a while before we got back to the car.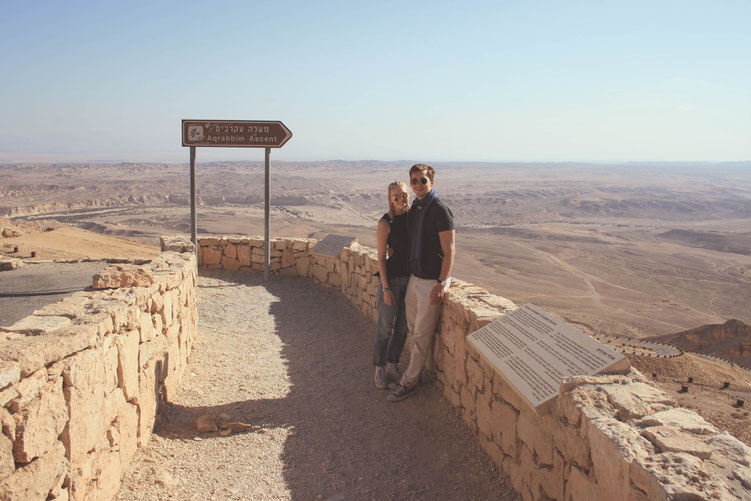 A short distance further we arrived at the Colored Sand Dunes and take a little break. The sand here was colored by different minerals and appeared in orange, red or purple. Not spectacular, but worth a stop!
Before we arrived in Mitzpe Ramon this afternoon, we stop at McDonalds and found out that the food here tastes very different, as they serve Kosher food. The fries tasted good anyway. A large group of soldiers was  there with us and we had the opportunity to see their weapons up close, which is kind of weird.
Finally we arrived in the desert town of Mitzpe Ramon. As it was still sunny, we drove to the Visitor Center and looked at the Machtesch Ramon, the biggest crater of Israel, from the viewing platform. The view was stunning and we were able to see all the way to the other side of the crater.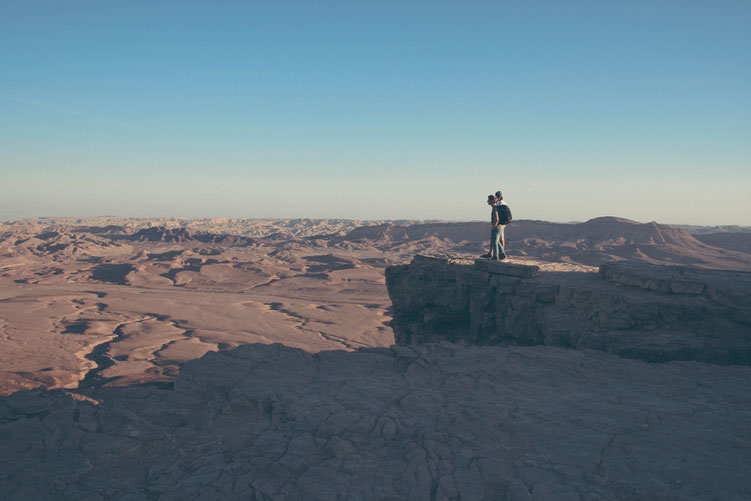 Overnight we stayed at Desert Home, a beautiful bed and breakfast in a residential area of the city. While we found the city of Mizpe Ramon very strange, we liked the accommodation very much. The decor was in beige and white colors, the bathroom was modern and clean and both the private terrace and the Jacuzzi invited to linger.
DESERT HOME: EIN SHAVIV STREET 70, MITZPE RAMON
As our host gave us a suggestion for dinner, we ate at the HaHavit restaurant today. Although the restaurant looked rather touristy from the outside, many locals were inside and the food was fantastic! My chestnut ravioli were a dream!
HAHAVIT RESTAURANT: NAKHAL TSIKHOR STREET 10, MITZPE RAMON
After the meal we wanted to observe stars, because it is supposed to be spectacular out here. You can either sit behind the hill of the Camel Lookout, so the light of the city disappears, or drive a bit outside. If you decide for the Camel Lookout, you should first check it out at daylight, otherwise you will not be able to find it. Since we have planned the viewing platform for the next day, we did not risk driving up the sandy road into the darkness, but instead drove towards the Alpaka Farm, where the light of the city also disappeared. Unfortunately, it was almost full moon and so we do not see as much as desired.
Tired but happy, we fell into a wonderful bed today.
Day 5: Mizpe Ramon to Tel Aviv
After a restful sleep we got breakfast on our own terrace. We got delicious home made bread with jam, halva, olives, labaneh, cereals, fruits, cheese, butter and tahini and we could sit in the fresh air and enjoy the morning. After check out we drove to the Green Backpackers Hostel, where our jeep tour through Ramon Crater was supposed to start.
In Mitzpe Ramon it is not easy to find a suitable tour: Most private tours are calculated per jeep, which is good, if you are planning on doing the tour with your whole family, but very expensive if there is only two of you. Fortunately, you can also book individual seats at 4XDesert.
All in all we were four: In addition to the guide Avinoam and us, a dutchman participated as well. Avi has put a lot of effort into it. He told us about the city's origin in the mid-20th century and the construction of a road right through the crater. Off Road we drove off the main road now and into the desert landscape of the crater. He showed us different plants and their characteristics as well as the best views above the crater. We even got to see those special Dorcas gazelles, which live in the crater. Chris was particularly interested in the functioning of the Land Rover.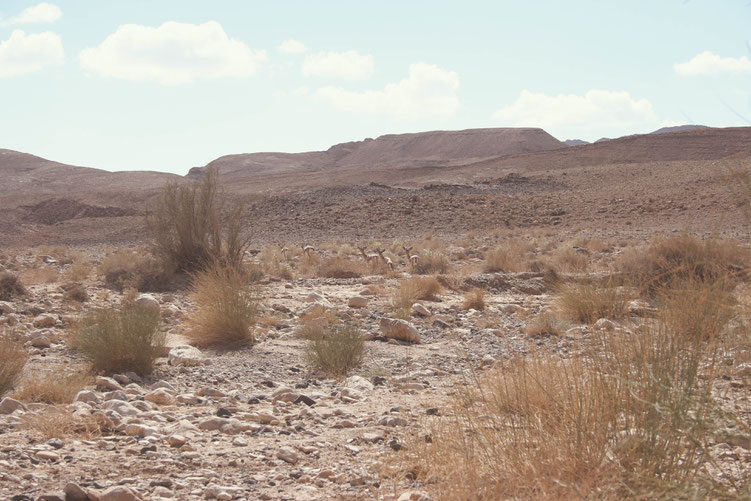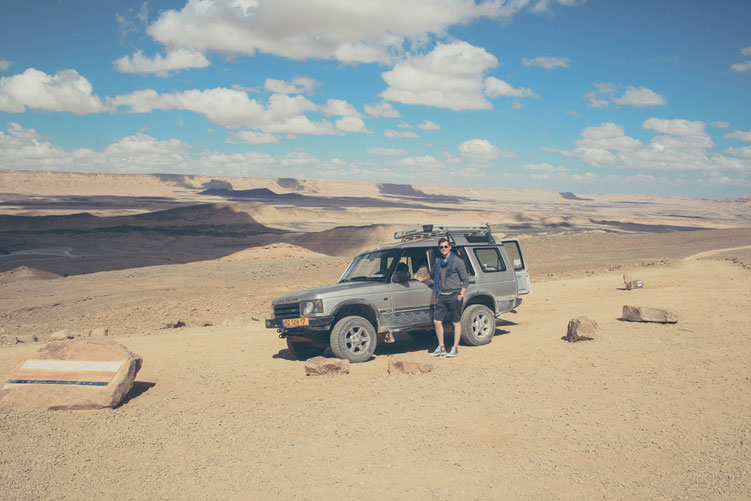 After about two and a half hours, we went back to the city. Before Chris and I wanted to turn our backs on Mitzpe Ramon, we ended up on the Camel Lookout with a fantastic view of the Machtesch Ramon.
Our next destination was the Avdat National Park, a fortress on a hill that the Nabataeans once built on their incense road. The fortress was similar to Masada, but much more was preserved here. Once you have bought a ticket, you can drive up to the top of the mountain. Overall, there were only a few visitors and so we explored the place comfortably. In addition to a lookout tower, two churches, a wine press, a villa, a farmhouse and many other interesting buildings, especially the large number of cisterns was interesting.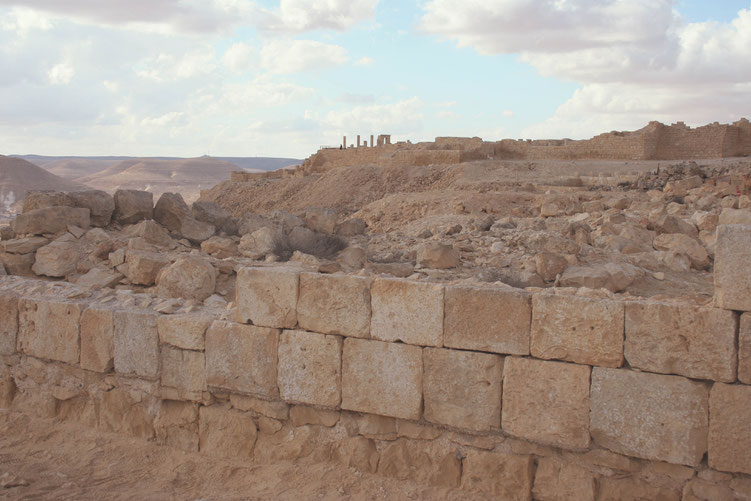 We continued to Tel Aviv. But there was another stop, which I highly recommend visiting: Anat and Daniel Kornmehl operate a goat farm on their Kornmehl Farm. Their cheese is offered in various forms in the restaurant and in their shop. The restaurant was nicely decorated: we sat outside on cozy colorful pillows and enjoyed the view above the countryside. Chris and I shared a cheese platter, which was really delicious!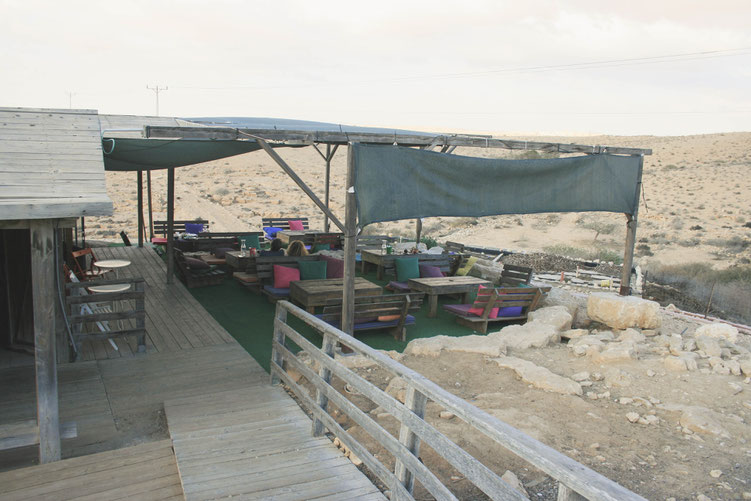 We continue driving to Tel Aviv. It took ages to get there during rush hour, so instead of 90 minutes, it took two and a half hours. When we arrived it was already dark - but we were happy to be in the beautiful city of Tel Aviv.
Day 6 + 7: Tel Aviv
Tel Aviv is a city that you will fall in love with very quickly. Although it is a huge city with many skyscrapers, there is nature everywhere in the city center. You will find trees in front of every house, the weather is particularly sunny and you can decide if you wanna enjoy the sun at the beach or go shopping instead. Of course, you will also find some sights and museums, that you shouldn't miss.
Read the full story of our City Guide to Tel Aviv with parking, hotel and restaurant suggestions.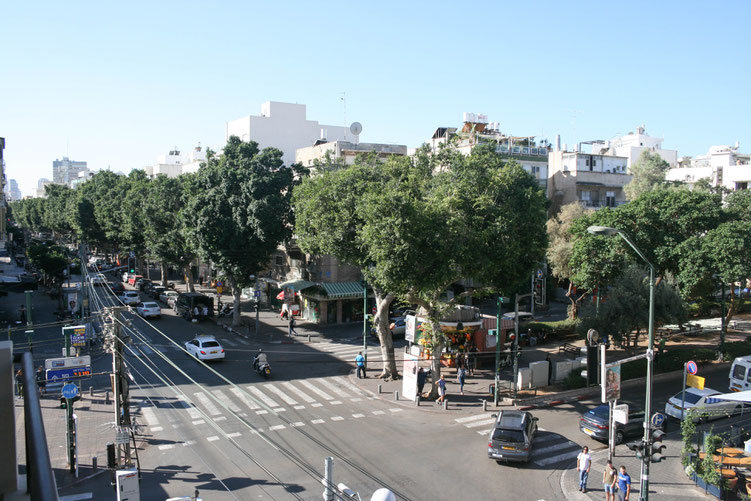 Day 8: Departure
As our flight departed at 2pm on an sunny Sunday afternoon, we had a delicious breakfast in the morning before heading to the airport, returning the car and standing in line for security, passport control and luggage check. The whole process from entering the airport to arriving at the terminal took us over three hours and we only arrived when they called out for the passengers of our flight. 
As safety and security is very important in Israel, make sure to get to the airport as early as possible. 
You might also like...
What about you?
Have you visited Israel before? How did your road trip look like? Where else did you go? What other sights I have missed during my visit would you recommend visiting? I'd love to hear about your opinion.