Our Scotland trip started in beautiful Glasgow. So before we were about to drive to the Highlands, we had the opportunity to see this pretty city for about two days.
With about 580,000 inhabitants, Glasgow is the largest city in Scotland and thus also larger than the Scottish capital Edinburgh. Before visiting this city, I imagined Glasgow to be mostly about industrial manufacturing. Contrary to expectations, Glasgow showed itself on its green side: All over the city, we came across parks and green areas that invited us to linger. In addition to four universities, the city also offers some cultural highlights.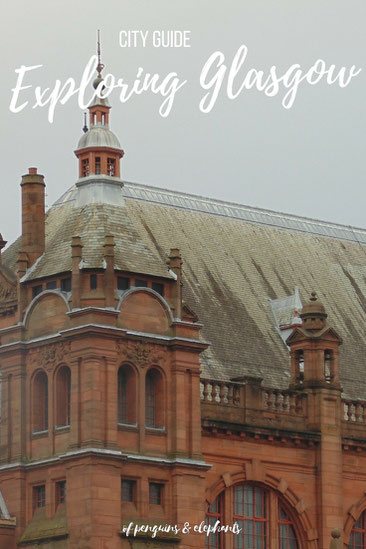 Accomodation in Glasgow
From the airport it is only a few kilometers to the inner city and so we already checked in to our beautifully located hotel mid day. The Ambassador Hotel was located directly next to the Botanical Garden. Our rooms were right underneath the roof, a little small, but very cozy and most importantly a lot cheaper than other hotels in Glasgow.
AMBASSADOR HOTEL: 7 KELVIN DRIVE, GLASGOW
East End Walking Tour
I had booked a sightseeing tour for our first day in advance already, to get to know the East End of the city. After a lunch to go and a short sunbathing in the Botanical Garden, we already met our guide. As no one else has signed up for the East End Walking Tour that day, we did get a private tour with no-one else besides the four of us (whole family traveling ;-)).
EAST END WALKING TOUR BY: WALKING IN GLASGOW 
We start at the Botanical Garden. On this beautiful sunny day the park was full of families, students and seniors. People made picnics and walked through the pretty garden. While strolling through the park, we discover the glas pavilion as well as a former underground train station. Very interesting and quite strange to see the deserted tracks underneath the garden.
The nice guide leads us along Byres Road, a busy shopping street with beautiful individual furnishing and decoration shops as well as cafes and restaurants. We did come back later for a little bit of shopping.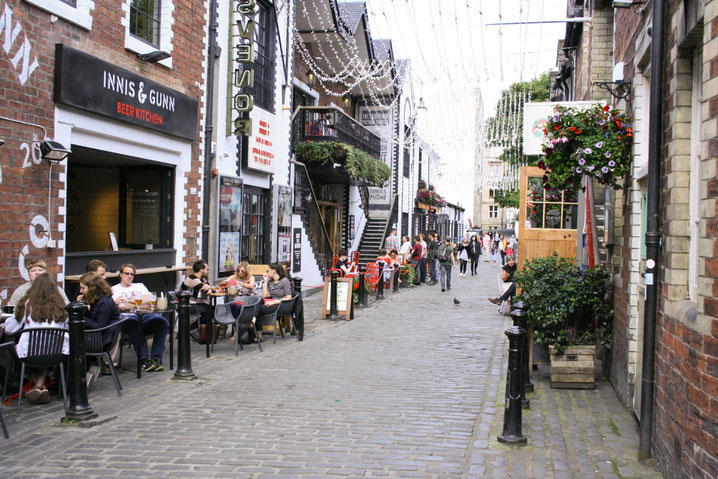 Glasgow University & Kelvingrove Gallery
Walking further, we reach the Glasgow University. The main building of the university dates back to 1451 and is incredibly beautiful. We would probably not have dared to walk in all by ourselves, but walking with our tour guide, she takes us to the heart of the university and shows us the beautiful courtyard of the ancient estate.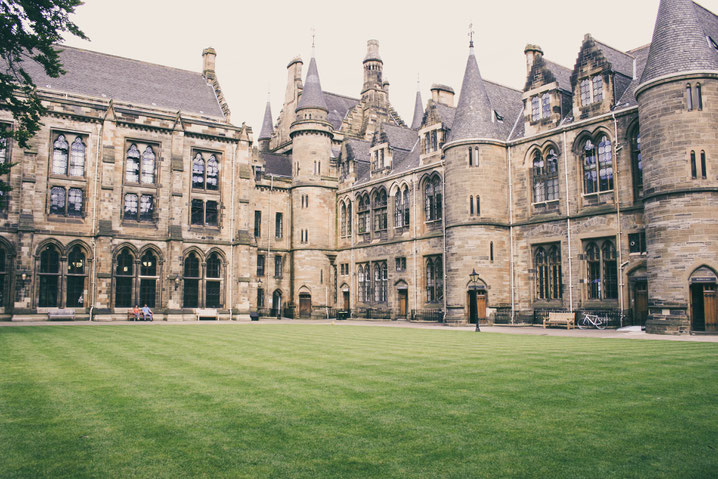 We continue walking through Kelvingrove Park to Kelvingrove Gallery. Since the admission is free, the Kelvingrove Gallery is worthwhile because of its great interior architecture.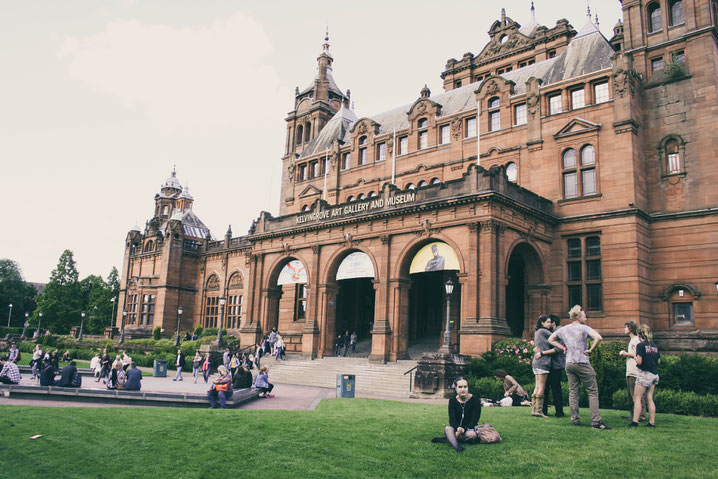 KELVINGROVE ART GALLERY: ARGYLE STREET, GLASGOW
OPENING TIMES OF KELVINGROVE GALLERY:  MONDAYS - SATURDAYS 10 AM - 5 PM, SUNDAYS 11 AM - 5 PM
PRICES: FREE ENTRY
Dinner in Glasgow
As the tour was over, we made a short break in the opposite BrewDogs, where everyone could enjoy a Scottish beer or a coke (as I don't really like beer…).
BREWDOGS: 1397 ARGYLE STREET, GLASGOW 
In the evening we had a delicious dinner before we all went to bed.
Breakfast in Glasgow
For the next day, we had planned to explore the Glasgow City Center. But first, we enjoyed an extensive breakfast. Being located in the East End of Glasgow, we found Kember & Jones, a super stylish café with the most delicious breakfast!!
KEMBER & JONES: 134 BYRES ROAD, GLASGOW
OPENING TIMES: 8 AM - 10 PM
Glasgow City Center Sightseeing
Afterwards we made our way to the city center. As the East End is in quite a distance to the center, we called a Uber, which brought us directly to the Glasgow Cathedral. It can be viewed for free, even pastors and employees are available for questions. Just around the corner, we visited the Necropolis cemetery. This beautiful cemetery is located next to the church on a little hill, so you can overlook the city from above and especially enjoy the unique view above the cathedral.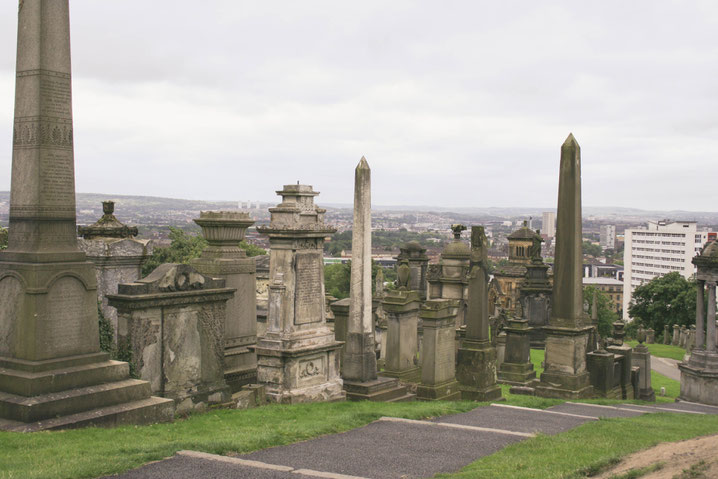 Next we walked through George Street towards George Square. On the way we could discover a few graffiti paintins. These are really impressive and absolutely recommendable.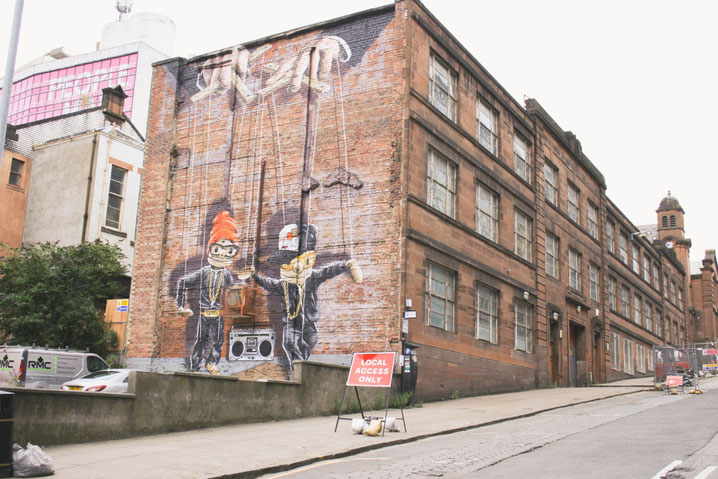 The Lighthouse & Willow Tea Rooms by Macintosh
Before taking a break, we visited The Lighthouse, a very cool museum. In addition to a permanent Mackintosh exhibition and changing modern exhibitions, especially the viewing terrace is worth a visit. Even the insane spiral staircase is interesting and must be walked to enjoy the view.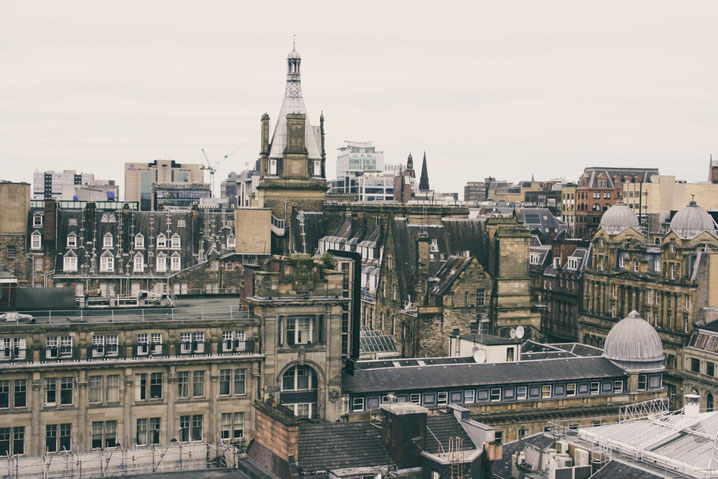 THE LIGHTHOUSE: 11 MITCHELL LANE, GLASGOW
OPENING TIMES OF THE LIGHTHOUSE: MONDAYS - SATURDAYS 10.30 AM - 5 PM, SUNDAYS 12 PM - 5 PM
PRICES: FREE ENTRANCE
Only a few blocks away, we found one of the Willow Tea Rooms, which were designed by Mackintosh - and since my mom is a great tea fan, we visited the cafe around noon. We were able to recover from the strenuous running and could enjoy the homemade scones. These are really a dream!
WILLOW TEA ROOMS: 97 BUCHANAN STREET, GLASGOW 
The rest of the day we did a bit of shopping, as you can find lovely brands like Topshop or All Saints in Glasgow. Towards the end of our tour we made a trip to the Glasgow School of Art, before heading back to the accommodation to head up to the Highlands.
Glasgow really surprised me and I loved it with its many green parks and gardens. The city is described as "Big Brother" compared to Edinburgh, while Edinburgh is rather the "top model". But this warmth and closeness of the Glaswegians gives the city its charm. I am sure to come back at some points!
You might also like...
What about you?
What do you all think about Glasgow? Have you been or do you want to go? Are there any favorite restaurants or breakfast spots to check out? Have I missed any must see sights? Let me know!