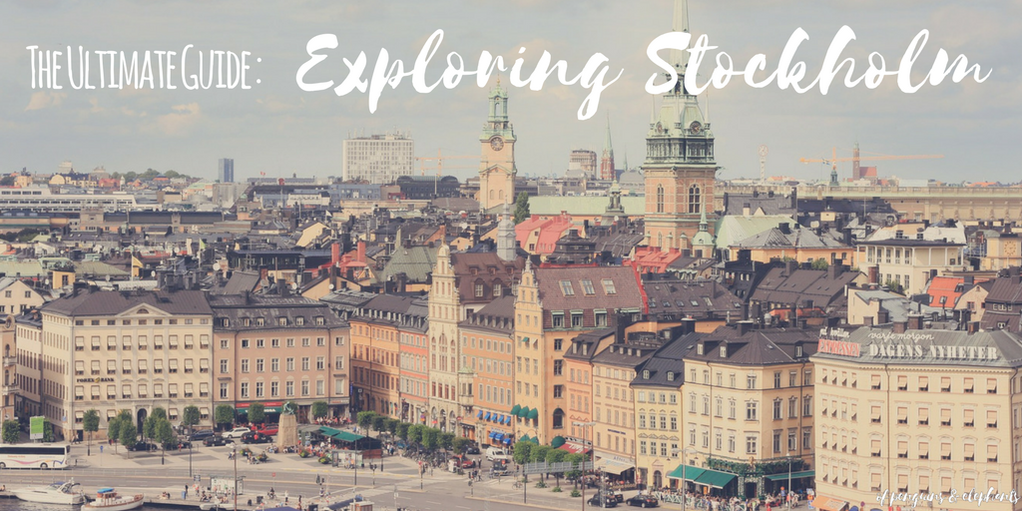 Stockholm is one of those cities, that is on everyone's bucket list. Everything I knew about Stockholm was that it is a beautiful city with classy buildings and a hip lifestyle. When my parents called me last summer to ask if I'd like to join their trip to Stockholm I was very excited. Plane ticket and hotel room were bought quite quickly and I started planning right away. I had very high expectations and Stockholm had 6 days to show us its awesomeness.
When my friend Aline told me about her upcoming trip to Stockholm with her sister, it reminded me to finally write this blog post about the Swedish capital. So here it is :-)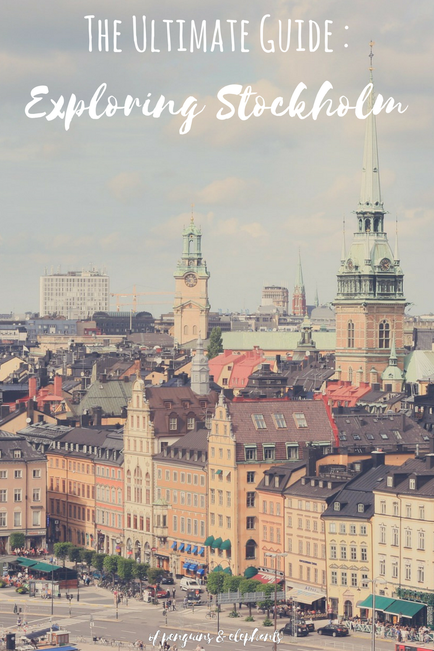 Getting into the city: The Arlanda Express
As we arrived by plane, we took the Arlanda Express to Stockholm central station. The train runs several times per hour and was very relaxed. Tickets start from 150 SEK ( about 15€) for a discounted single Youth ticket and the ride is 20 minutes long. There are also buses that'll bring you into the city for less.
How to see everything of Stockholm
As Stockholm is built onto many islands, we decided to check them out one by one. Not all islands are connected by bridges, so we though it would be best to explore an island completely before heading over to another one.
These are the most important islands to visit: Gamla Stan, Normallm, Ostermalm, Djurgarden, Södermalm, Kastellholmen, Kungsholmen and Skeppsholmen.
There are different boat tours offered to see Stockholm from the sea. We did the "Under the bridges of Stockholm" tour on our last day and I wished we had done this earlier. I would even recommend doing a boat tour on your first day - you'll see beautiful places which you can visit in your upcoming days in Stockholm.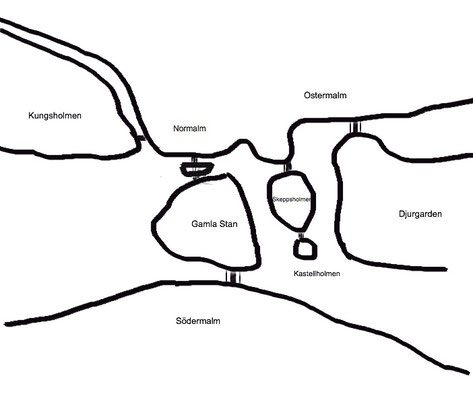 Island Nr. 1: Gamla Stan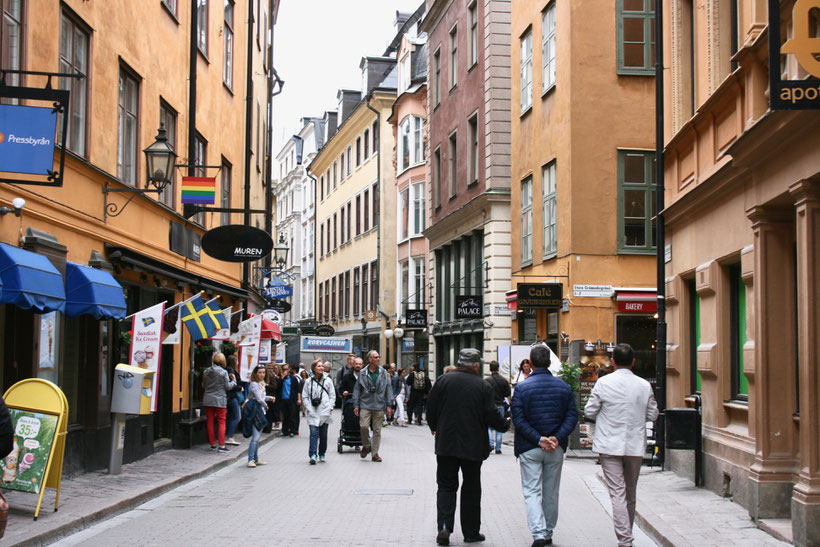 Gamla Stan is the old town of the city, offering pretty alleyways with cute nordic shops. Stroll around the small island of Gamla Stan, have a coffee at the famous café called Kaffeekoppen (meaning coffee cup) at the main plaza of Stortorget and get to know the castle of Stockholm, which now is a museum. Don't forget to watch the changing of the guards, which is quite musical, offering a huge orchestra. Head over to Marten Trotzigs Gränd - a very small walkway between two old houses sprayed all over with graffiti. At the southern end of Gamla Stan, you can find my favorite Swedish bakery: Bröd & Salt - it is a chain of bakeries, but there are not many to find. You definitely need to try a Kanelbulle - a Swedish cinnamon bun, which is absolutely delicious!
Stortorget - the main plaza of Gamla Stan
The pretty facade of the houses of Gamla Stan are very symbolic for Stockholm. You'll see many tourists taking their selfies in front of them, so maybe you want to take one for yourself? Cafe Kaffeekoppen is the most famous café on the plaza and you need to be lucky to get hold to a table. Once you sit, relax and enjoy some people watching while feasting a delicious blueberry tarte.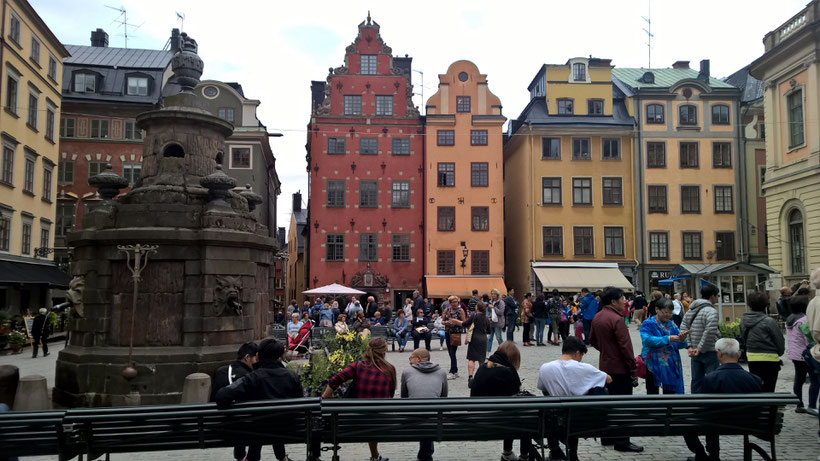 The Royal Palace & Changing of the guards
As the Royal family does not live in the Royal Palace anymore, it is now open to the public. The rooms itself are quite interesting, but obviously quite similar to other castles I've visited. The entrance fee for students is 80 SEK (about 8€).
If you've been to London, you have probably already seen a changing of the guards - but this one is very different! It takes place in the outer courtyard of the Royal Palace and starts at 12.15pm on weekdays and 1.15pm on Sundays. The whole ceremony is quite musical and lasts about 40 minutes. Make sure to arrive early, to get a good spot to watch everything.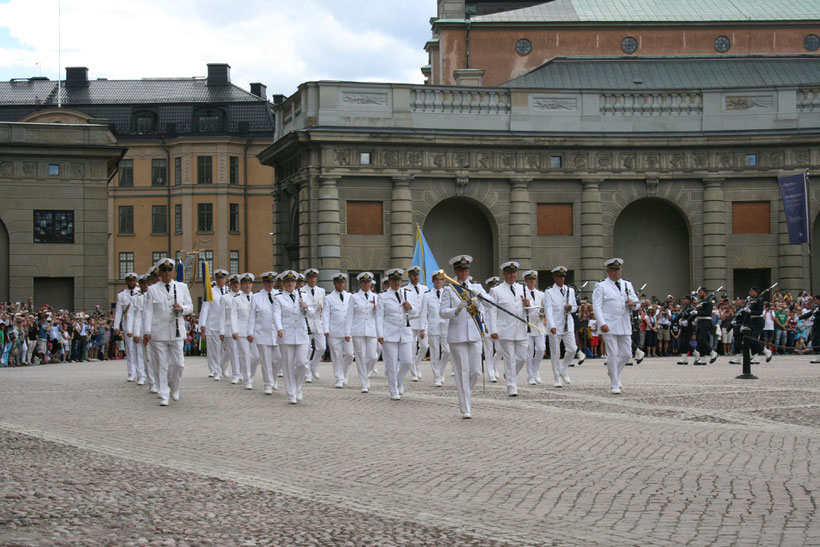 Martin Trotzigs Gränd
The small Street is only about 90cm wide. In the 19th century people though it was to small and closed the street - in the 20th century it was reopened to the public. Walking along the street is fun and worth doing so - it can get quite cuddly due to two day traffic  though...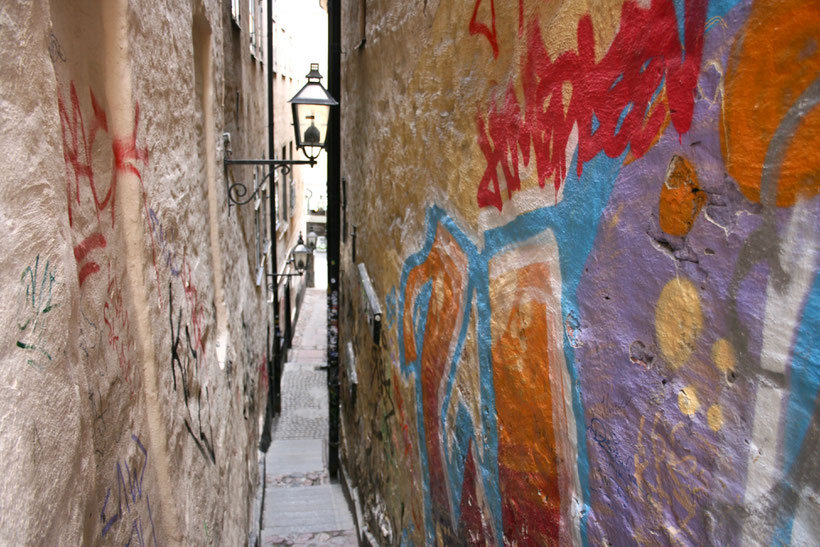 Bröd & Salt Bakery
This bakery is just awesome. It has the most delicious pastries and a stylish interior design. I'd suggest buying some Kanelbulles (cinnamon buns) for the day, but they have loads and loads of other yummy things.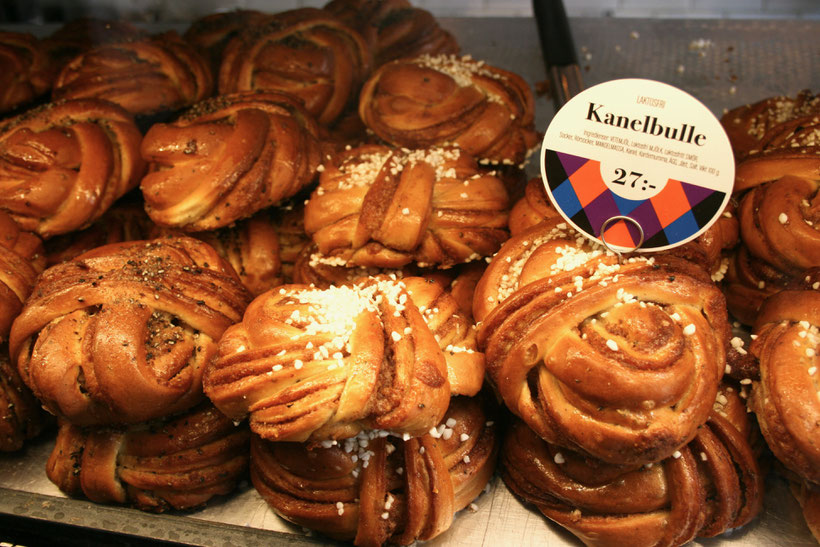 Island Nr. 2: Södermalm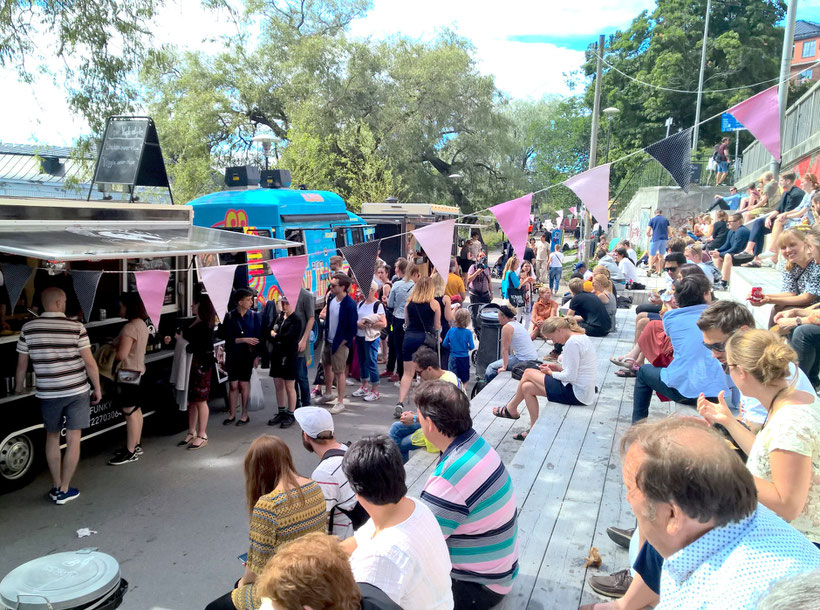 Södermalm is the trendy part of Stockholm, offering some cool cafés, the SoFo area, a flea market and second hand shops as well as the Fotografisch museum and beautiful views of Stockholm. You can either come here by T-baba (tube) or walk. I did liked Södermalm very much and I hope you'll like it as well.
Breakfast at Pom & Flora
Head over to Södermalm for a good breakfast at Pom & Flora - be early though, the small café can fill up quite quickly. That's what happened to us: When we arrived there was no table left. We had breakfast at Bröd & Salt then, which is delicious and a lot cheaper than haven a big breakfast in a café. There are also some cafés around Nytorget, a small garden.
Viewing Platform Gondeln
After breakfast head up to the viewing platform near the port in Södermalm. There is a restaurant in front, but don't be afraid to walk further to the platform high above Stockholm. You'll enjoy a wonderful view. The entrance is free.
Monteliusvägen
When heading over to the west of the island, you shouldn't miss this cute walkway along the cliffs, called Monteliusvägen. The view above the other islands is spectacular and it is a cute detour.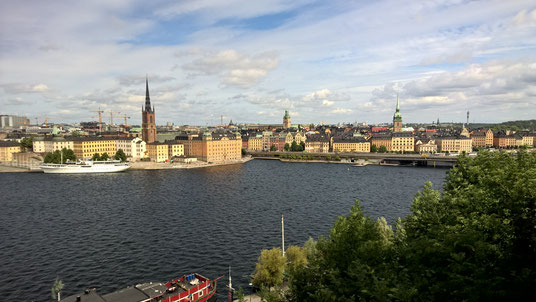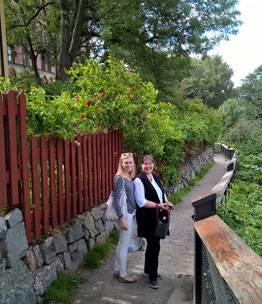 Second Hand Shopping
Still on your way to the west of the island, we did walk all the way of Hornsgatan and there are two second hand shops I'd like to recommend: The first one is Myrorna, offering affordable clothes, pottery and other stuff. Opposite of the first one, you'll find Judits, where I bought a dress, sunglasses and a shirt...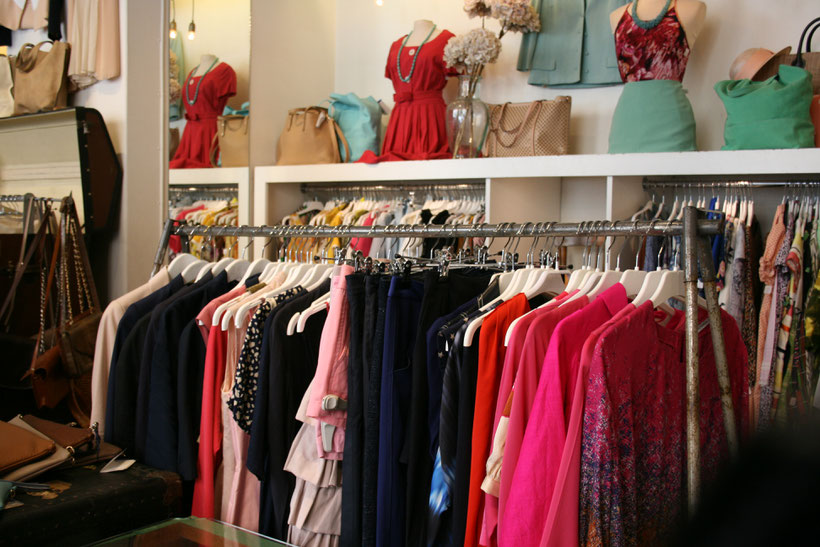 Hornstulls flea market
The Hornstull flea market is one of the coolest flea markets I've ever been to taking place every Saturday and Sunday in Summer. Check their opening times here. Right next to the sea, underneath some shady trees, there are some booths of clothes and other vintage things lined up next to each other. At one end of the market, you can enjoy some good food. When I went with my parents, my dad was kind of scared about it, as he hates vintage things - but he did admit, that it was quite good!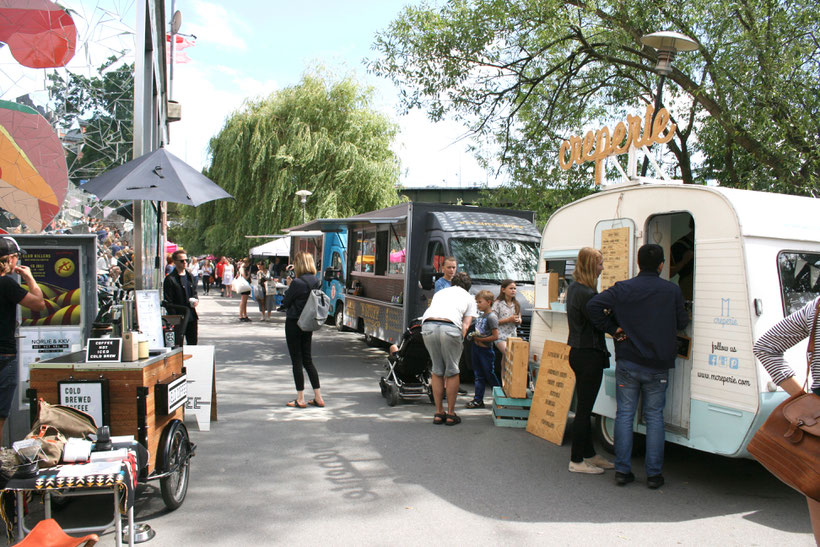 Fotografiska museum
The Fotografiska is a famous photography museum, that shows exhibitions of well known photographs as well as young talents. I did like the museum a lot. Check out their current exhibitions before visiting though.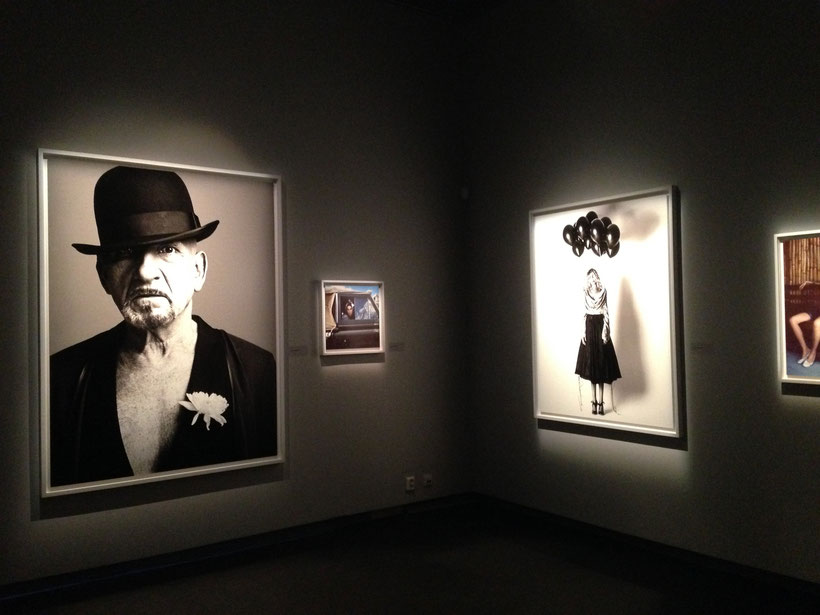 Enjoy the SoFo area
SoFo is the area "south of Folkungagatan", which offers loads of cool and trendy design and vintage shops. Take a stroll in the afternoon and relax at one of its many cafés or restaurant.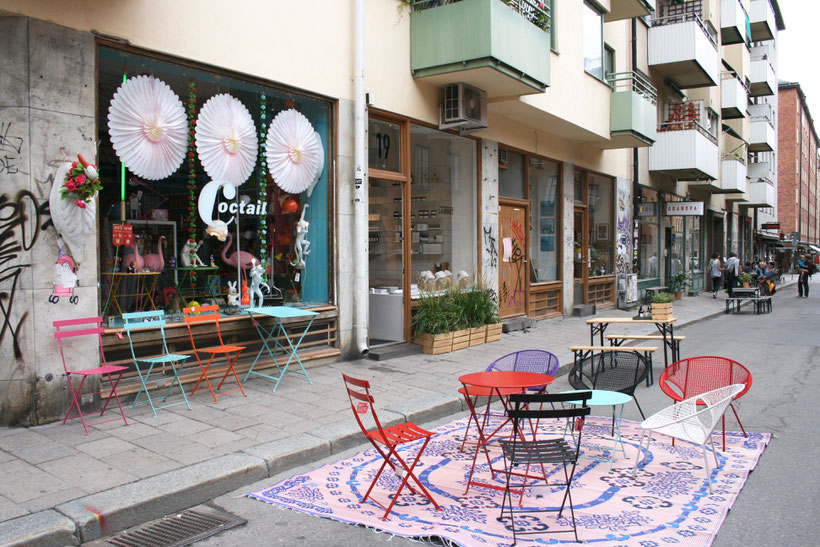 Islands Nr. 3 + 4: Skeppsholmen & Kastellholmen
Skeppsholmen is the island where you'll find the museum of modern art. It is a cute little and calm island and it is nice to walk around it. Right next to the island of Skeppsholmen and only accessible through it, you'll find Kastellholmen with a castle.
Museum of Modern Art
When we visited, the museum hosted an exhibition of Yayoi Kusama - the renowned Japanese artist who had been designing the windows for Louis Vuitton. Her exhibition was gorgeous! Check their current exhibitions here before visiting. The normal exhibitions are free to visit.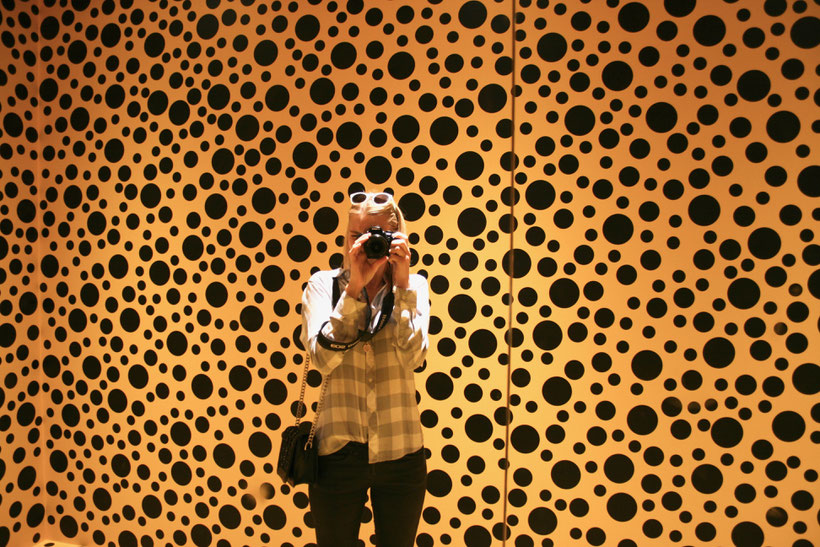 Region Nr. 5 Östermalm
Östermalm is not an island by itself, that's why I call it region. It is supposed to be the posh place of Stockholm. This time I'll not suggest to see and visit the whole area completely before heading over to another place. There are two things worth visiting in Östermalm. You should walk along Strandvägen, the street next to the sea and enjoy the pretty town houses. Also, there is a food hall in Östermalm, called Saluhall. 
We walked along Strandvägen on our way to Djurgarden and visited the food hall on our wax back to the hotel, which was quite convenient.
Strandvägen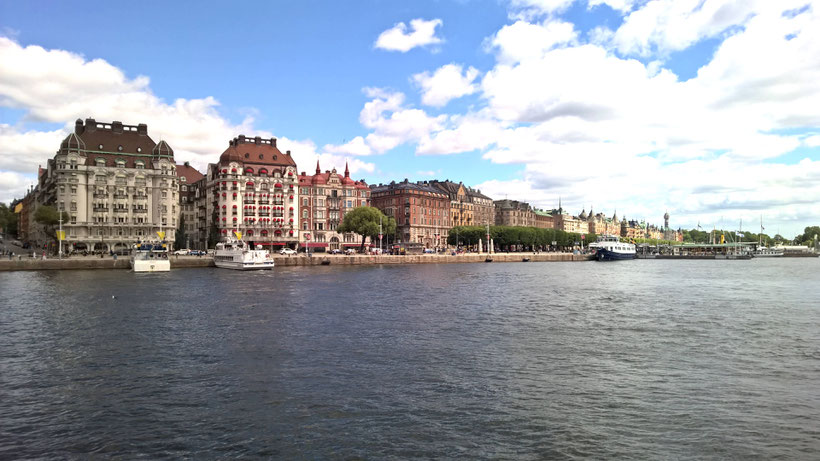 Östermalm Saluhall
The Saluhall is supposed to be a posh food hall. When we visited, the Saluhall got renovated, wich is why we couln't visit. Check their website, if they are still renovating before visiting.
Island Nr. 6: Djurgarden
Djrugarden is a very green island of Stockholm. If you have enough time, people said it is quite nice to rent a bike a ride along the island of Djurgarden. Besides that, Djurgarden hosts a variety of museums, which we visited: The Junibacken museum for children, the Vasa museum, the ABBA museum and the open air museum of Skansen.
The Junibacken museum
The Junibacken museum is dedicated to all the figures in swedish childrens books. If you know Pippi Longstockings, Ronja, the robber's daughter or Emil of Lönneberga, all by Astrid Lindgren, you already know quite some figures of the museum. I was very excited about this visit, but when we arrived the line of parents with their babies and little children was huge, so we decided to skip it. But I did take a picture with Astrid Lindgren.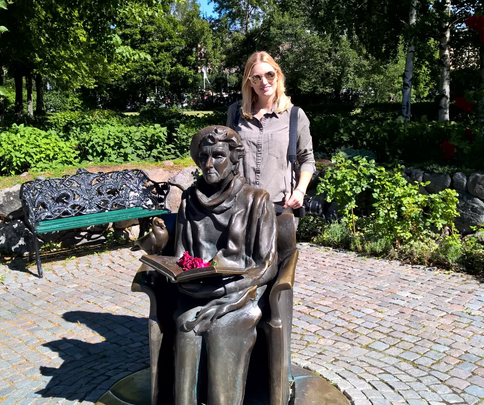 The Vasa museum
The vasa museum truly is an amazing museum. It exhibits and explains the history of the ship called Vasa, which sank on its first voyage in 1628 right in the harbor of Stockholm due to instability. But the museums does not only exhibits the four story tall ship wreck, but also quite a lot of information about the ship and the people from the time.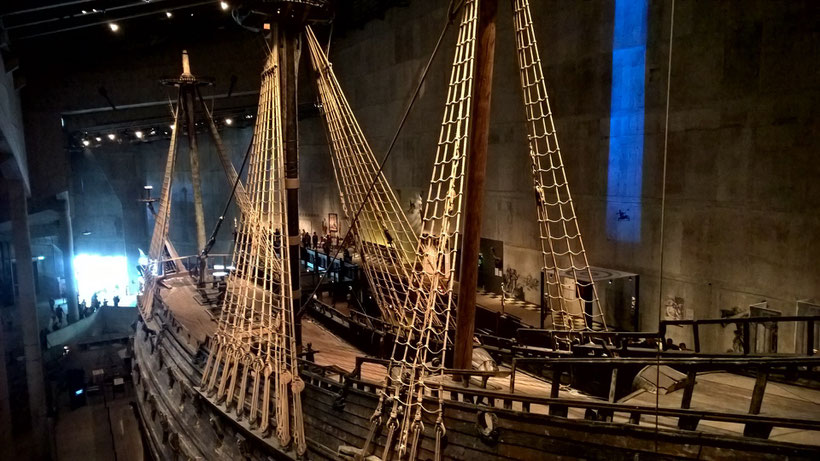 The Abba museum
The Abba museum was fun! You'll not only learn loads about the Swedish band, you can also try singing yourself and participate in other interactive actions. If you are going to Stockholm, the ABBA Museum is definitely a must.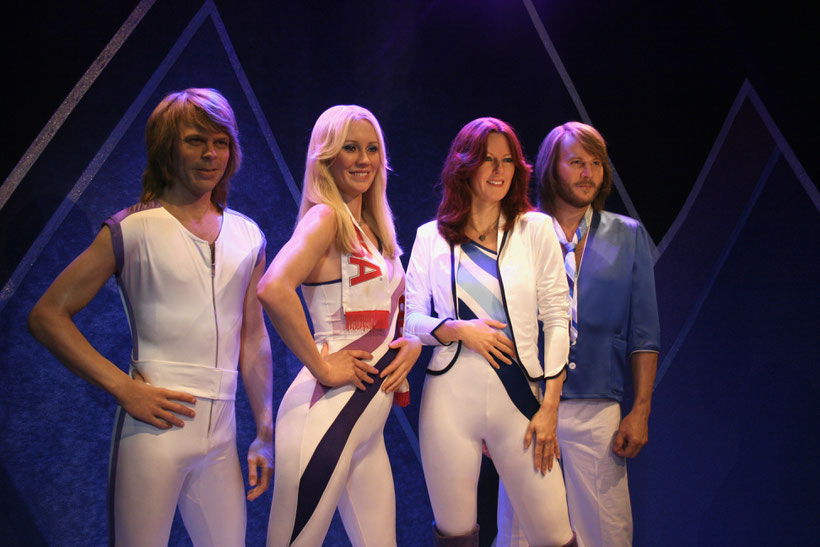 Open-Air museum Skansen
At first, we weren't sure about visiting the open air museum, as we have seen so many already and mostly, houses and techniques are kind of similar in many different areas of Europe. But we did still go and were positively surprised: The museum is huge and offers interesting houses and buildings, like the book bindery and the bakery. Also, you have the opportunity to see an elk.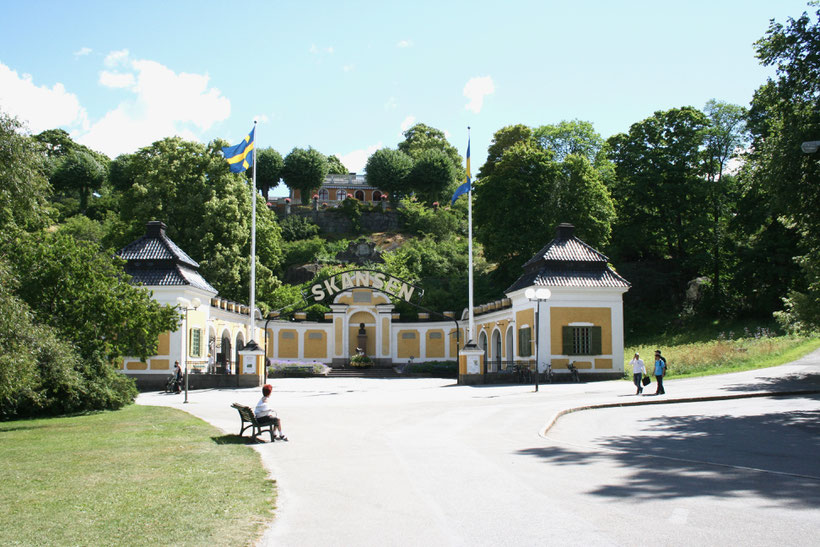 Gröna Lund amusement park
If you are into amusement parks, you shouldn't miss Stockholm's Gröna Lund. As we came to see Stockholm, we didn't visit, but if you like these kind of things, it is definitely worth it. 
Region Nr. 7: Normalm
Normalm is the city center of Stockholm, where you'll find the central station as well as many shops and department stores. It is nice to stroll around Ahlens, which is Sweden's biggest chain of department stores. You'll find interesting Swedish things, like a crisp bread rolling pin...
NOMAD bar & restaurant
We came across this cute little restaurant by chance. It is very small, but very comfy and offers traditional Swedish food with modern influences. We loved this and it gave us the opportunity to try different kinds of Swedish food, as you can order small tapas-like plates. Very delicious and totally worth a visit!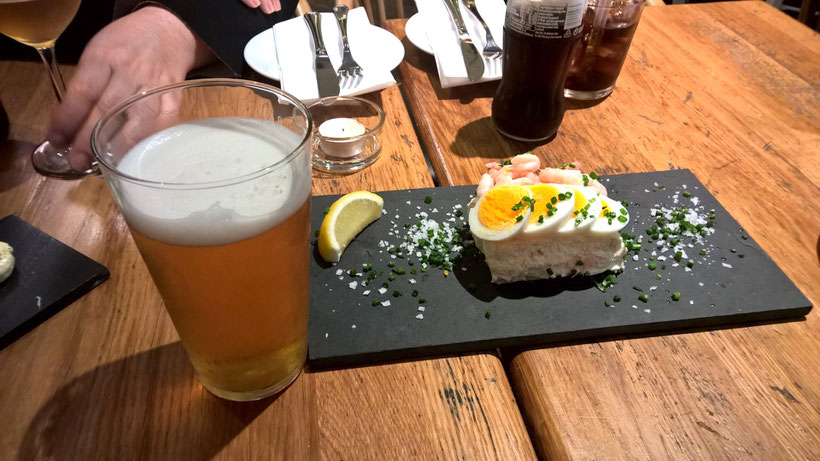 Island Nr. 8: Kungsholmen
The island of Kungsholmen doesn't offer that much in terms of sightseeing, but it does have the Stadshuset, the town house of Stockholm. There are tours to visit the inside of the Stadshuset, which is quite interesting as the awarding of the Nobel prize takes place in this building.
Extra Shopping Tipp: Acne Archive
Stockholm has much to offer in terms of shopping. I loved Södermalm for second hand and vintage shopping. Please stay away from chain stores in Normalm, as you might have most of them in every bigger city. There is one outlet store in the north of Stockholm I do recommend visiting, if you are into fashion: Stockholm has its own Acne Archive, an Acne Outlet with clothes of their last seasons.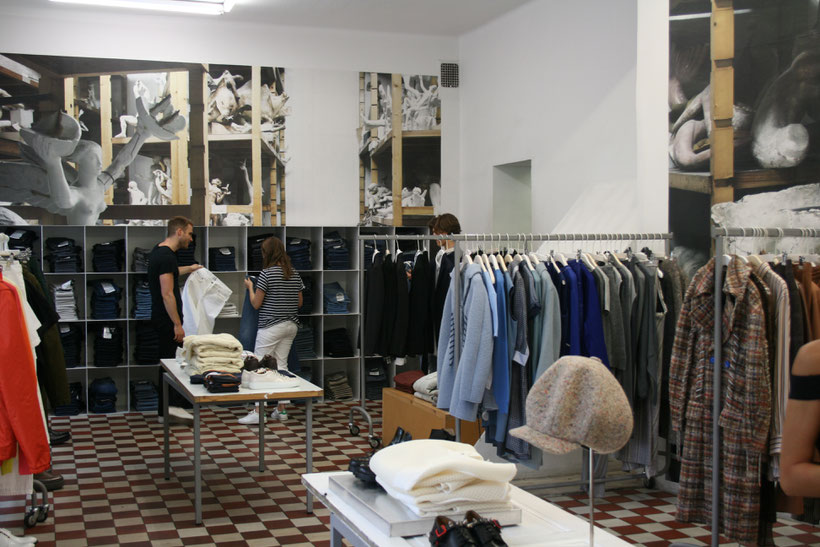 See everything on this map and download it to your phone.
You might also like...
What about you?
Have you been to Stockholm? Share your thoughts with us. If you haven't been, I hope you will enjoy your trip to Stockholm! Let me know, if you liked it there and please feel free to add anything you think is worth sharing!