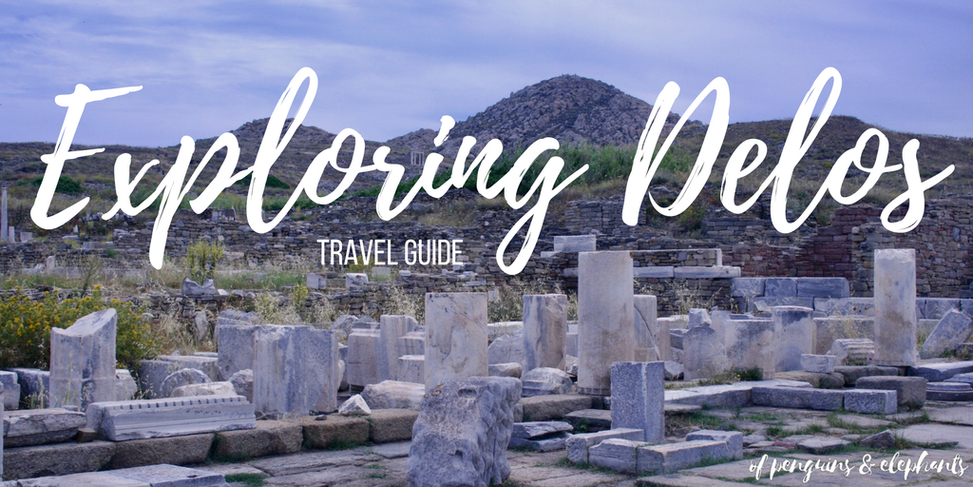 Visiting the archaeological site of Delos is literally a must do when staying on the island of Mykonos. Delos is a tiny island around 30 min from Mykonos by boat and has a stunning history. If you know a little bit about Greek Mythology (well, I didn't...), you might have heard about this place: Delos is the birth place of Artemis and Apollo. The Mythology of this island is very interesting and you can read more below.
When Chris and I were looking up the different possibilities on how to visit Delos, we were a little disappointed as we couldn't find any travel guide or relevant information. That's why we booked a guided tour. As we have been to Delos by now, we would like to tell you about it in our own travel guide. Hopefully, we can help you organizing your Delos visit, so you can visit by yourself without doing a guided tour.
With this post you'll be able to visit sacred Delos the best way possible.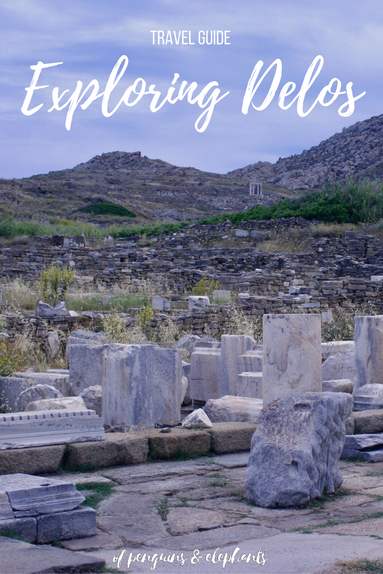 Mythology and history of Delos
 As I already mentioned above, Delos is the birth place of Artemis, the goddess of the moon, and her twin Apollo, the god of sunlight. Their parents were Leto, goddess of motherhood, and famous Zeus, god of the sky. But they weren't married and Zeus' wife Hera (who was also Zeus' sister...) wasn't amused when she found out about Leto's pregnancy. 
She threatened Leto and banned her from giving birth on any solid land. Leto was searching the whole world for a place to give birth at. Finally, she found the floating island of Delos where Artemis was born first, without any travail. Many other goddesses were presence, with exception of Hera (remember Zeus's wife..). Meanwhile, Hera kidnapped the goddess of childbirth, which is why Leto labored for nine days. But with the help of her first child, Artemis, she managed to finally give birth to Apollo as well.
Around 2.500 BC the island became inhabited. To have the possibility to observe the sea, they built their houses on top of the island's hill. Later on, at the end of the 15th century, people started building their village down by the sea, where we still find it today. In 167 BC, Delos became a free port, which was the basis for a prompt change: The Mediterranean trade was moved to the island and many influential people moved here. Soon Delos became the center of commercialism.
I feel like it is hard to imagine, that Delos was quite a big village and frequented by many many merchant ships. It was the worldly center of trade and many rich people moved over to Delos. They are the reason, why we can admire these wonderful houses and mosaics today. Imagine the city to be quite small. Streets were narrow and houses were built cramped to each other. But the houses you'll visit during your visit to Delos must have cost a lot of money: they have a terrace in the middle of the houses, they were decorated for a lot of money and some of them even had a second floor...
As Delos was such a sacred place due to Artemis and Apollo, people decided nobody was allowed to be born or die on this island. They had to go to the neighbor island of Rhinos to do so. But this idea also helped those immigrated rich to prevent anyone born on the island claiming Delos their land. I loved this idea!
The island later was attacked twice, in 88 BC and 68 BC and the city fell apart and started to decay.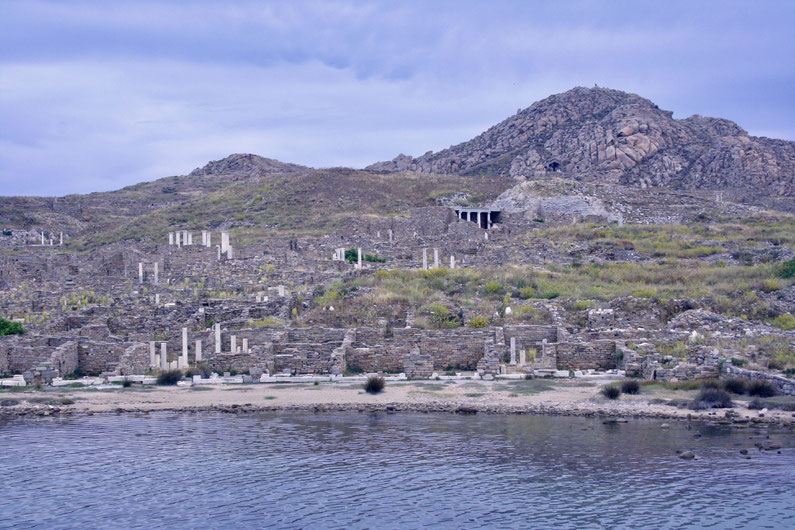 Things to bring to Delos island
Delos is super hot. All houses are decayed, there is no roof or wall to get some shade. Therefor you definitely need to wear airy clothes and a sun hat. I was wearing a long skirt and was fine. Additionally, you need comfortable shoes that you can walk with easily. The ground at Delos is quite rough, so go for sandals or sneakers, depending on how much you plan to walk. And don't forget to bring sunscreen!
Most importantly, bring loads of water. Delos is not inhabited, which means: There are no shops to buy water, food or anything else.  You can buy some bottles at the ferry, but as always, these are probably more expensive. If you get thirsty after touring the island, you also have the opportunity to have a coffee at the only café on the island. But I'd prefer to bring enough drinks, yummy snacks and have a picnic somewhere lonely.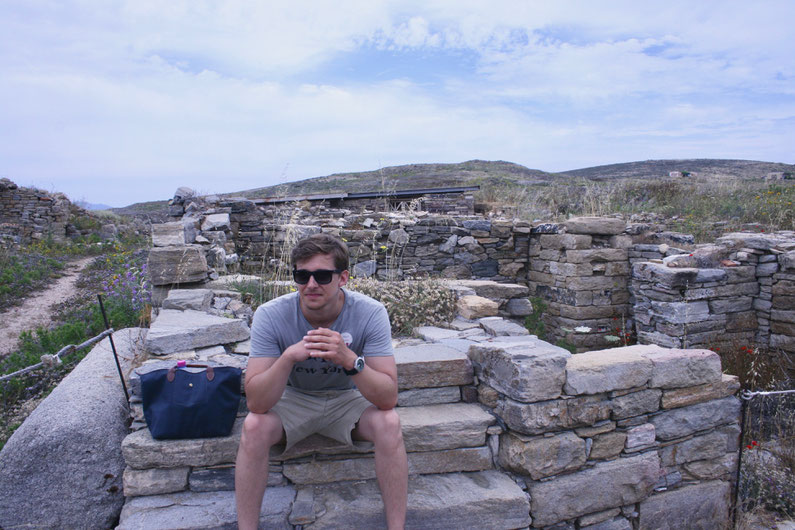 How to get to Delos island from Mykonos
As Delos is a teeny tiny island next to Mykonos, the most obvious way to visit Delos is by ferry - and unless you have a boat - it is also the only way possible. There are some other tour operators that are coming from other islands, but Mykonos has a regular ferry service. You can by your ferry ticket here. It is 20€ for a round trip and there is only this one operator to go with from Mykonos (at least I couldn't find any others).
If you like sailing and don't mind spending a day on a boat, we suggest booking a sailing tour with SET SAIL. They offer day tours visiting the neighbor island of Rhinos as well as the historical island of Delos, where you will be doing a private tour with your own guide. Unfortunaltey, we already booked our tickets for Delos, when we found out about SET SAIL. Don't be afraid to contact them about prices, we paid around 80€ per person for the whole day trip!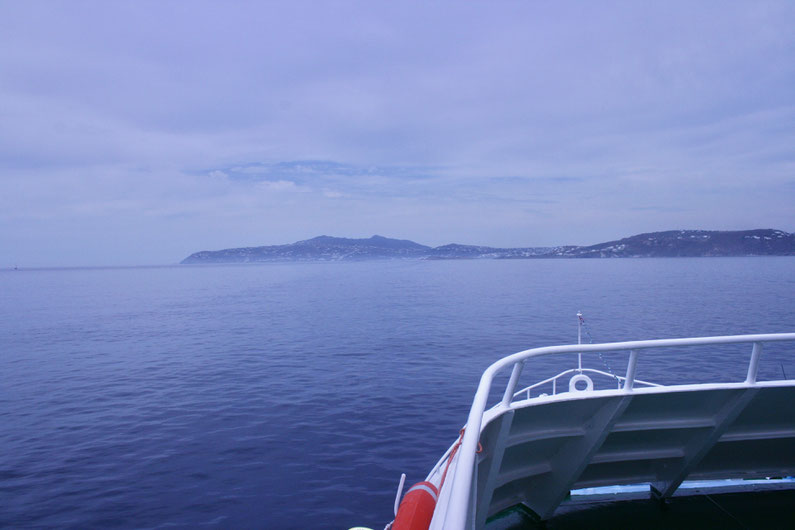 Expenses to visit Delos island
Visiting Delos can add up quite quickly: The ferry is 20€ for a round trip. The entrance fee to the site costs 12€ full price or 6€ for students (information found here), which makes 32€ for adults or 26€ for students. You can also do a  Guided Half day tour, that costs 50€, but includes the ferry and the entrance to the site. 
When Chris and I visited Delos, we did book the guided tour, just because we couldn't find any information about how to visit the island on our own. As you will have our information, we do not recommend participating in a tour. The tour was very crowded and only walked us along a small area of the island.
If you are not interested in doing a sailing tour, I'd recommend paying for the ferry and the entrance to the site to do your own tour.
Best time to visit Delos island
Delos doesn't have a lot of shade, therefore prepare for standing in the blazing sun the whole time. As most of you will probably be on vacation while thinking about Mykonos, there is no better time in terms of season. You have the possibility now, so go. But having in mind that Delos is super hot, I recommend visiting when the weather forecast says it is going to be cloudy. 
There is a ferry that departs Tuesday to Sunday at 9 in the morning. This ferry is not operated on Mondays. If you have the chance, wake up early enough to catch this one. As all guided tours start at 10am or 5pm - these ferries will get quite crowded. Arriving an hour earlier in the morning, you will have enough time to visit the island on your own before the crowds arrive. 
Ferris from Mykonos to Delos run at 10am and 5pm every day (both with guided tours) and 9am as well as 11.30am from Tuesday to Sunday. You can take any ferry back to Mykonos at 1.30pm and 7.30pm every day (with guided tours) and 12pm and 3pm from Tuesday to Sunday. 
For a short visit, I'd recommend going from 9am to 12pm. If you plan on staying a little longer: All official tours depart at 1.30pm, which gives you some time alone on the island. You can then depart at 3pm, which gives you six fun hours on the island.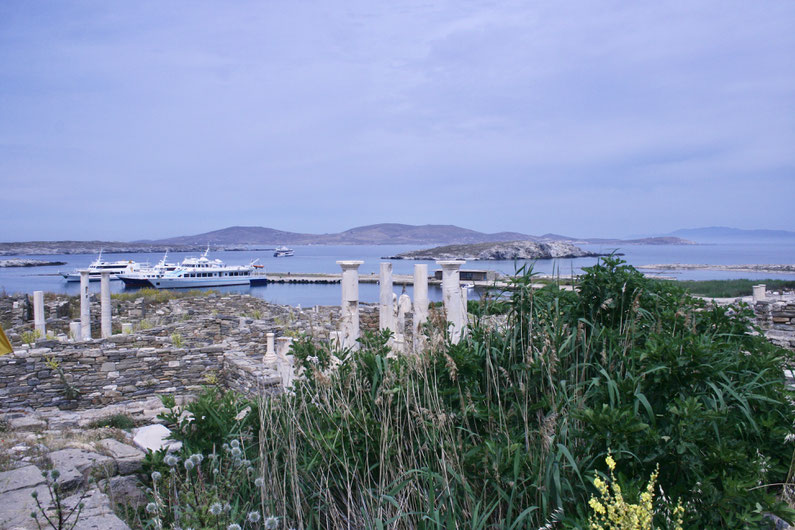 Exploring Delos
When we tried to organize our Delos visit, we couldn't  find any reliable information about self guided walking tours and main sights. Arriving at the island of Delos, you will get a map with three possible walking tours. Depending on how much you want to see and how long you plan to stay, you can choose between a 90 minutes, a 3 hours and a 5 hours walk. Just look at what interests you the most. You can find a full list of sights here and luckily, their online numbers are the same as their printed ones. So you can look for the numbers on my uploaded map.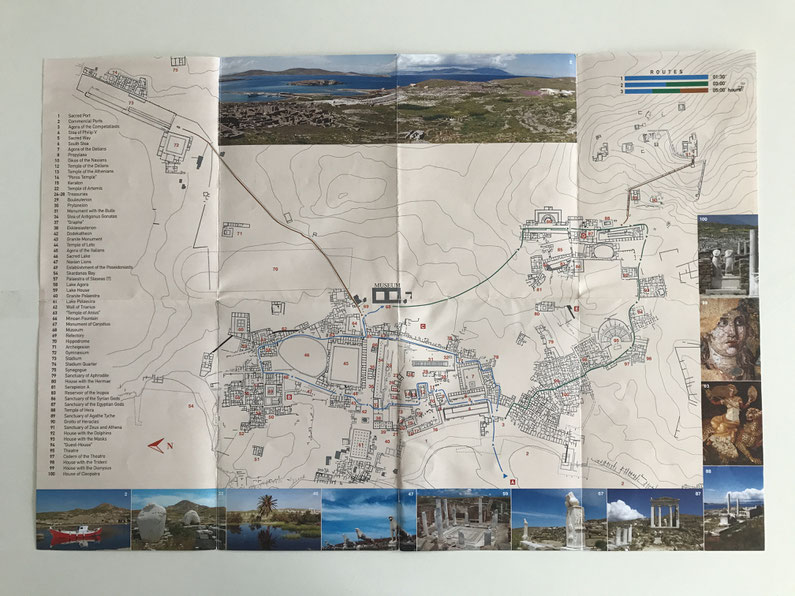 You will be arriving at A on the bottom of this map. Most guided tours will walk the green line starting at sight number 3 to sight number 95 as well as the lower side of the blue line. Therefor I'd recommend visiting these areas before or after tours are operated.
The must see sights are the famous Naxian lions (47), the temple of Artemis (22), the theater (95) and its cistern (96) as well as some houses, like the house of the dolphins (92), the house of the masks (93) or the house of Cleopatra (not the famous one though...; 100) I'd also go up to the sanctuary of the Syrian God (86), the grotto of Heracles (Hercules; 90) as well as the sanctuary of Zeus and Athena (91). 
The museum is also a must see, as it hosts many ancient sculptures, as many of the ones you see around the island are replicas. Sadly, when we visited, the museum was closed for renovation. 
I hope you will have a wonderful day exploring Delos! Enjoy!
You might also like...
What about you?
Have you visited Delos before? Are there any other information you are looking for? Or do you have additional thoughts to share? I'd love to hear them!