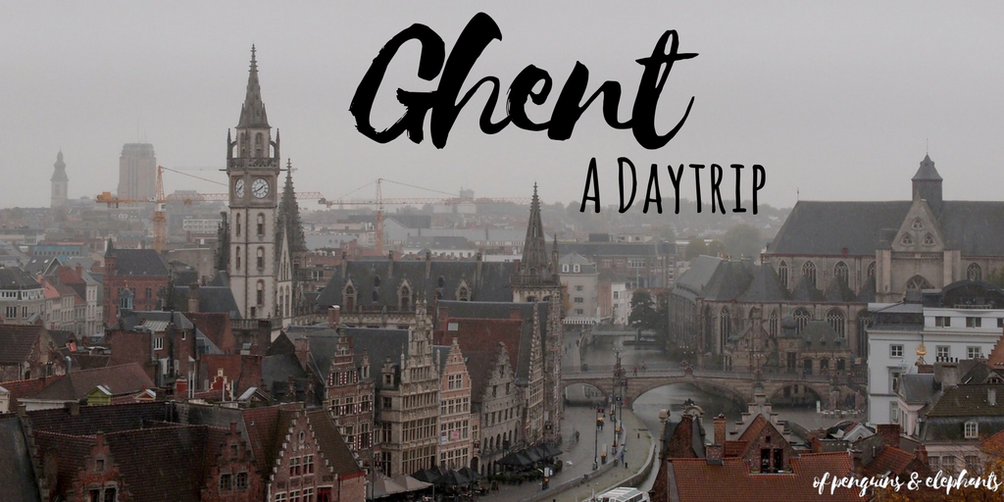 Belgium has so many fascinating spots all over the country. My bucket list is filled with Belgian gems like Ghent, Antwerp, Leuven, Ostend and so many more and two weeks ago I could check off two of them: As my friend Lena moved to Brussels in Belgium for an internship, I could explore the vibrant city of Brussels on my own as Lena went to work that Friday. I you want to know more about my day in the capital of Belgium, you can read more in my previous blog post about Brussels. 
So, the city we planned to visit together on the following Saturday was Ghent, which is only a 30 minutes train ride away from Brussels. We took the Inter City train (the fast one) from Brussels-Midi and payed only 10€ each for a weekend fare return ticket - I think that is quite cheap, as a 30 minute IC train ride in Germany would cost me much much more even for a one way ticket! There were many people with the same idea of a beautiful day trip to Ghent, so the train was packed and we had to stand in the aisle, but we didn't mind.
Waffles for breakfast at the river Leie
Arriving in Ghent, you should get off at the Sint-Pieters station, as the walk into the city is much nicer than the way from the other big train station - at least that's what people told us. The first super cool store we found on our way into the city was a shop called Katastrof, a designer second hand and outlet store, which we loved.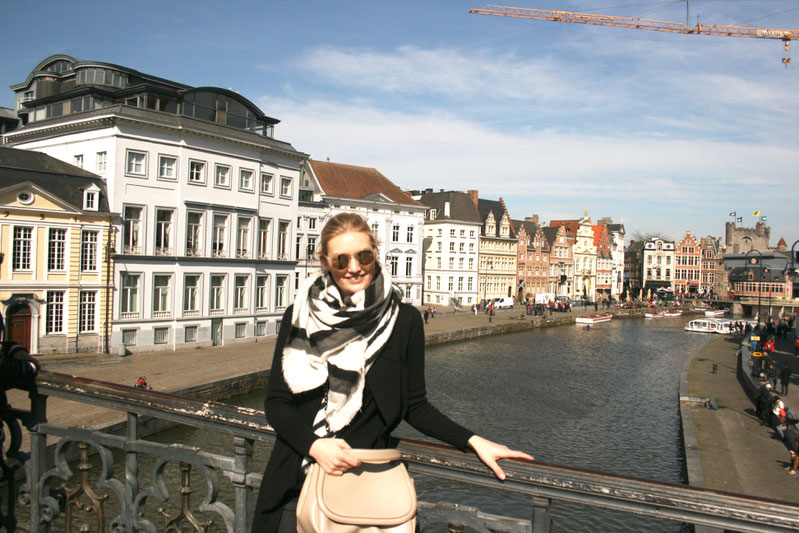 Our first stop in the Old town were the two streets called Korenlei and Graslei right next to the river Leie, where we wanted to have a breakfast in the morning sun. As all the cafés were pretty expensive, we decided to switch our breakfast for some sugar waffles. Sitting on a small wall overlooking the river and the pretty facades of the town houses, both of us had two delicious waffles. Don't forget to take a picture of St- Michael's bridge, that connects both sides of the river.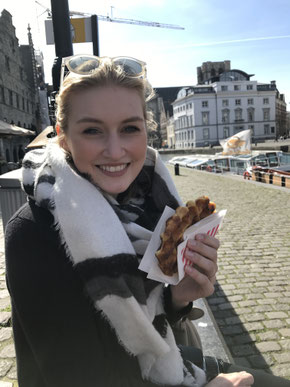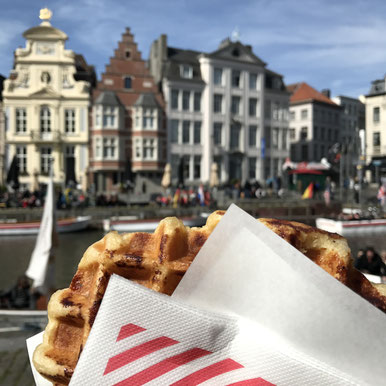 Castle Gravensteen & Fish market
Our next stop was the medieval castle Gravensteen from the 12th century that is set right in the center of the city. We didn't go in, but it is probably quite interesting and I read it is a perfect spot to overlook the city. Right across the castle, you'll find an old fish market. Inside you'll find the tourist information (go and collect some discount vouchers of the Bell tower!) and a fancy restaurant. Make sure to look at the stunning entrance of the fish market where Neptune takes care of the market.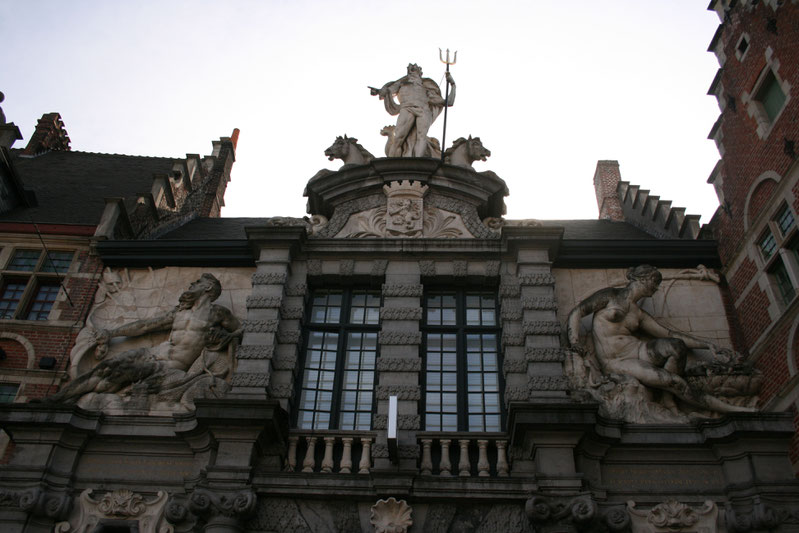 Graffiti street in Ghent
From here it is only a short walk to the famous graffiti street. Don't expect to much - it is a nasty and smelly small walkway with grifittis sprayed all over the walls. When we visited, they did some construction work, so the street wasn't as stinky as we though it would be, but we heard stories…
Some of the grafittis are quite cool, but not all of them - go and check it out!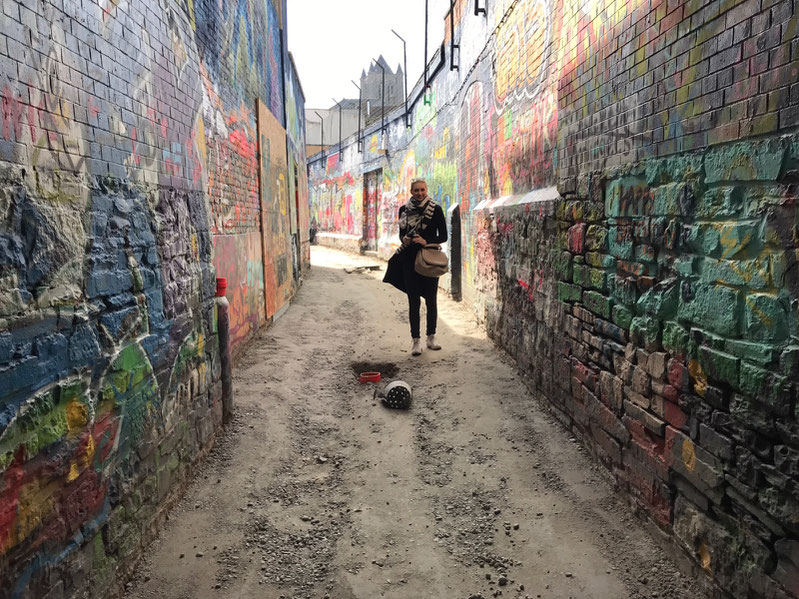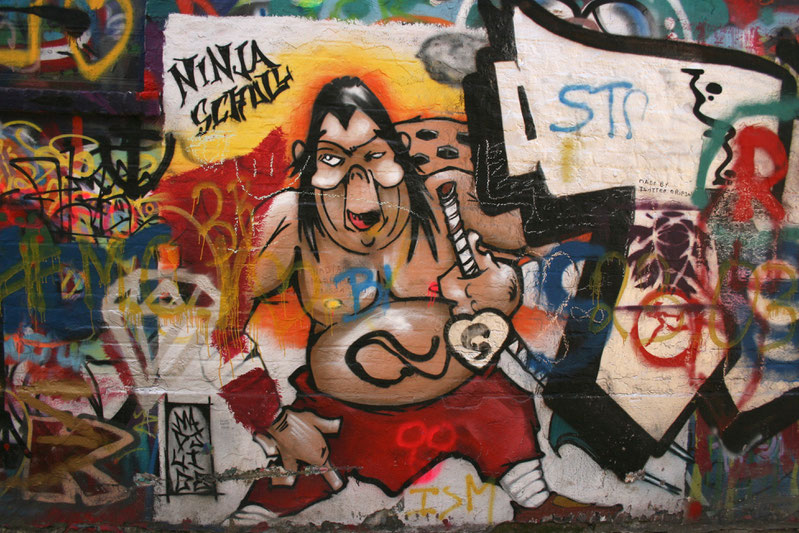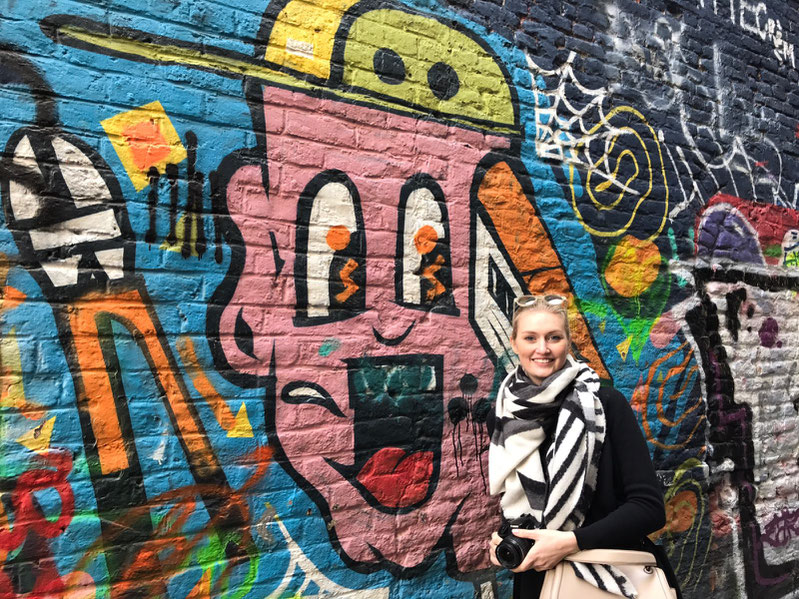 Het Belfort van Ghent - Seeing Ghent from above
Now it's time to see Ghent from above. Find your way over to the Belltower, called Het Belfort van Gent. Show your discount ticket that you collected at the tourist information and your student ID and you'll only have to pay around one Euro (Yeah!). The view is nice - but we found the tower even more spectacular! The outside corridor at the top of the bell tower is literally only a few centimeters wide and it is windy as hell. Take care of your sun glasses and hold on to your phones and cameras… We took the elevator up to the top and tried to walk back down the spiral stairs. We could only do this for one level, as it was too narrow and steep. Both of us normally don't mind spiral stairs at all - and still: At one point we met someone coming up and I was scared as hell. So, if you are scared, just stay safe and take the elevator up and down.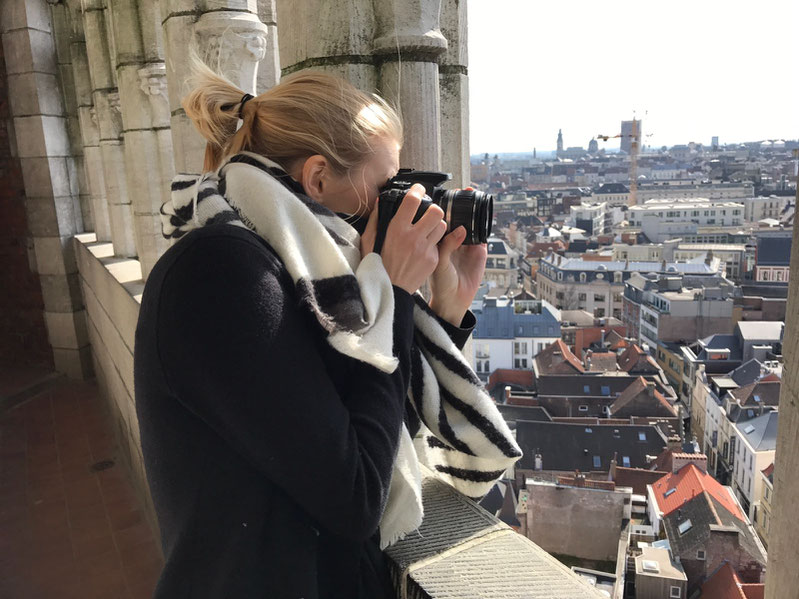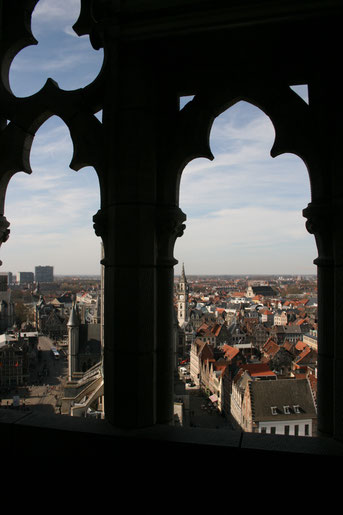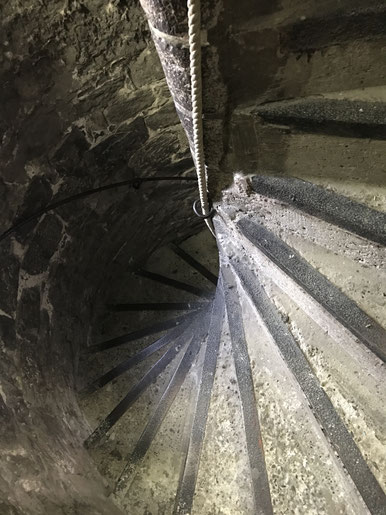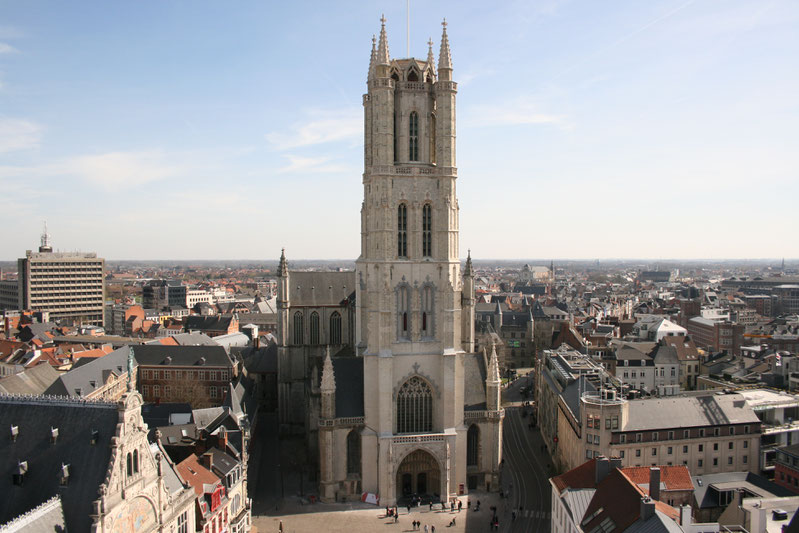 Holy food market
From up above, you could already see the St.-Bavo Cathedrale. Another church is up north - the Sint Jacobskerk church. We only viewed the churches from the outside. Even if you are not very religious, the next stop was stunning! We visited the Holy Food market - an old church turned into a food market. If you like that kind of lunch, go ahead and grab a seat. Please take many pictures of the interior. Around the corner, you might find a flea market that takes place Friday, Saturday and Sunday - I don't know why but we missed it….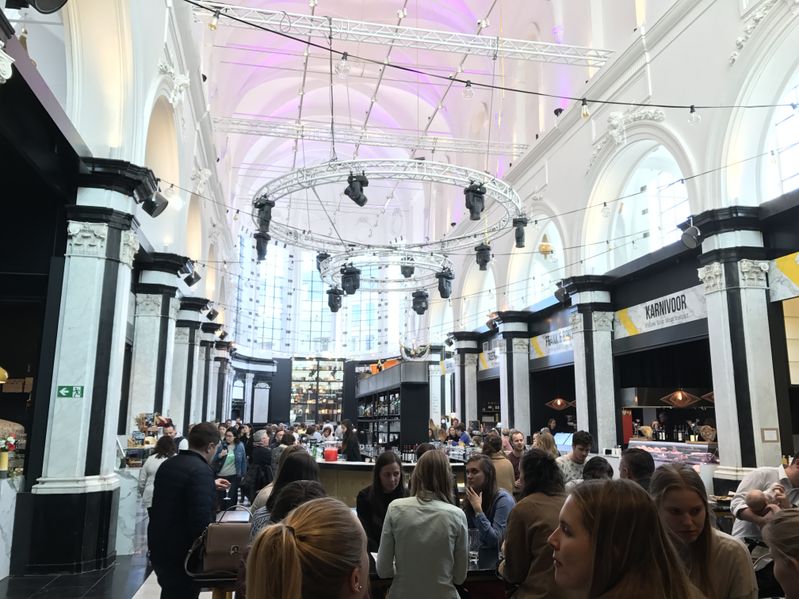 They day with Lena in Ghent was very fun.  We couldn't stay too long, as my train was leaving in Brussels in the evening, but we found very cool shops while strolling around, so here are my favorites.
Elisa Lee - a modern jewelry brand with wonderful windows. We stumped upon her shop on our way to the graffiti street and I loved their beautifully designed samples.
Katastrof - as mentioned in the beginning, we spend quite some time in here, looking for a fashion hunt. Their clothes, bags and shoes are organized in colors and they do have second hand and new outlet ware.
The Other Shop - We found this cool book store by chance and loved their humorous books and post cards. They had everything from note books, travel books to fun gifts.
Super Trash Brandstore - A cool and modern fashion bran, where I could have bought almost everything!
Axeswar Design - I needed like an hour to understand that Axeswar was named after accessories... They had cool lamps and useful things for everyday. 
Le Pain de Sébastien - a biological bakery with delicious bread. 
Würst - the guys at Würst sell you the most delicious haute dogs, as they call it. Modern design with modern story.
As always, you'll find all locations in the map underneath :)
You might also like...
What about you?
Have you been to the beautiful city of Ghent? Did you like it? Is there anything else you want to share with us about the city? I'd love hear your secret!