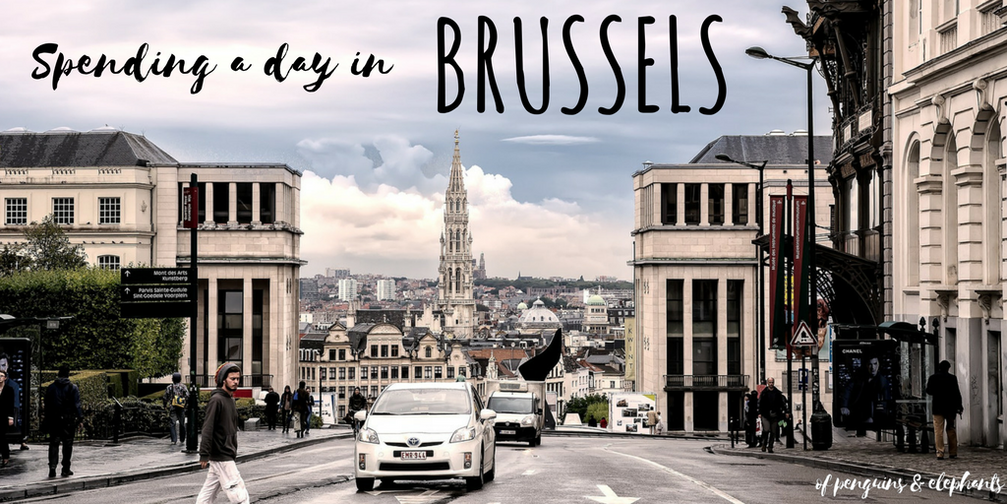 Brussels is a city with its own culture. Walking through the vibrant city with all its different influences, I got really excited to get to know the city of diversity and culture. You see beautiful old houses nestled along with new shiny buildings. The multicultural city is home to many foreigners, which is why you can talk English to almost everyone. Still, try to be a pleasant traveler and remember to say at least Bonjour and Merci. You'll be thanked with a smile.
As my friend Lena works in Brussels as an intern for a few months, it was time for me to catch a train to visit her and explore the city. The train ride from Cologne took only about two hours and luckily I got myself a window seat. Since the terror attack in Brussels in 2016 and the continuous threat of following bombings, arriving in Brussels by train means to have your luggage sniffed by specially trained dogs which detect any kind of explosives. But this wasn't the only time for me to see armed policemen - they are everywhere! They walk around in the city center and keep an eye on everyone. When we went to the Place du Luxembourg for happy hours drinks, they walked through the people sitting on the grass sipping their drinks and really observed everyone. At the time, I was quite scared, as it is not common for me to see a city being as protected as Brussels.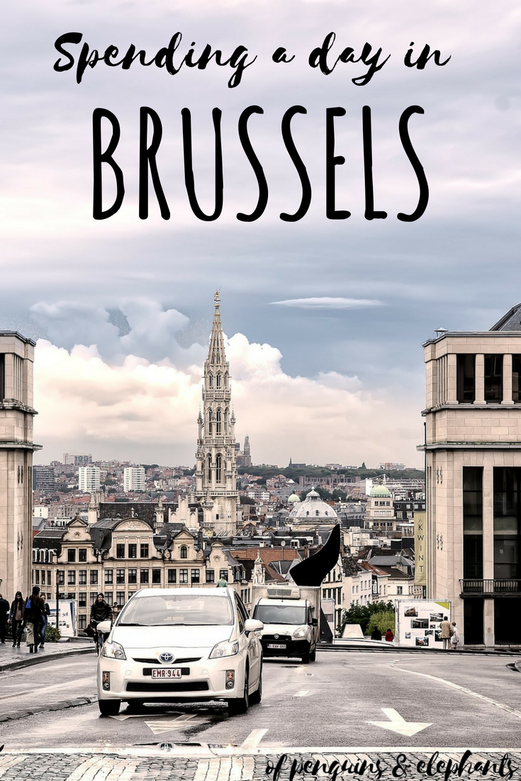 After drinking some Spritz, we had dinner in a nice bistro near Lena's place and went home, as it was a Thursday night and Lena had to work the next day. I was amazed by the beauty of her pretty flat with its high ceilings and the squeaking floor boards that started shaking from time to time - I'm not sure if it does so when someone walks above or if a metro passes the flat - but anyways, it added personality to the old pretty flat.
Exploring Brussels
Friday morning Lena left for work, while I started to get ready for a beautiful day. I hopped on a bus to get breakfast. But since the bus and metro stations are labeled with two names: its French and Belgian name, it happened to me what Lena warned me about the night before: I hopped off of the bus at the wrong station because I got confused by the different names. The weather was beautiful, so I started walking. I got to the Palais Royal first, which I visited with my family two years ago.
Starting the day with breakfast & coffee
I strolled along the Parc of Brussels and eventually found the small coffee shop I was looking for, called My little Cup. I ate the only breakfast they offered: a croissant, a cappuccino and a self made apple juice. It was delicious! When I was about to leave, they offered me another treat - a self made little French biscuit, crunchy from the outside and soft from the inside. The two guys told me, they'd bake everything by themselves. It was so good!
Cathédrale Saints-Michel-et-Gudule &  Galeries Royales Saint-Hubert
I started walking towards the locations I marked with a star in Google Maps and got to the church of Cathédrale Saints-Michel-et-Gudule. The facade with all its little details looked stunning so I had to circle the church before continuing my way. I kept walking through the old city, found the beautiful Galeries Royales Saint-Hubert with all it's yummy chocolate, macaron and pralines boutiques. When I came across a Leonidas shop, I just needed to get myself some pralines: I played safe and got the white chocolate and coffee ones I always liked. As Chris liked their Nougat very much last time, I just had to buy him a small treat.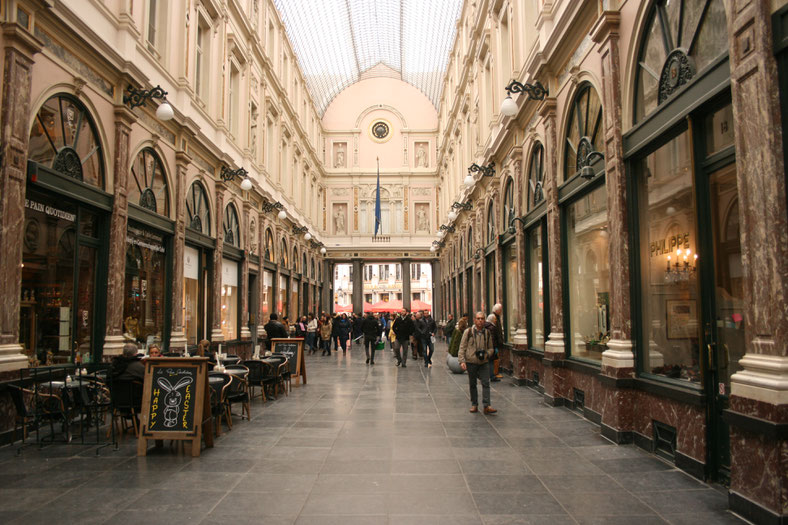 Stunning Grande Place
Not far from here is the Grande Place, where I have also been before. Brussels has one of the most amazing market squares I have ever seen. Standing in the middle of this place, surrounded by those beautiful buildings and their golden stucco was wonderful. I took some pictures of the  city hall, the city museum and all the other ones - trying to capture the beauty.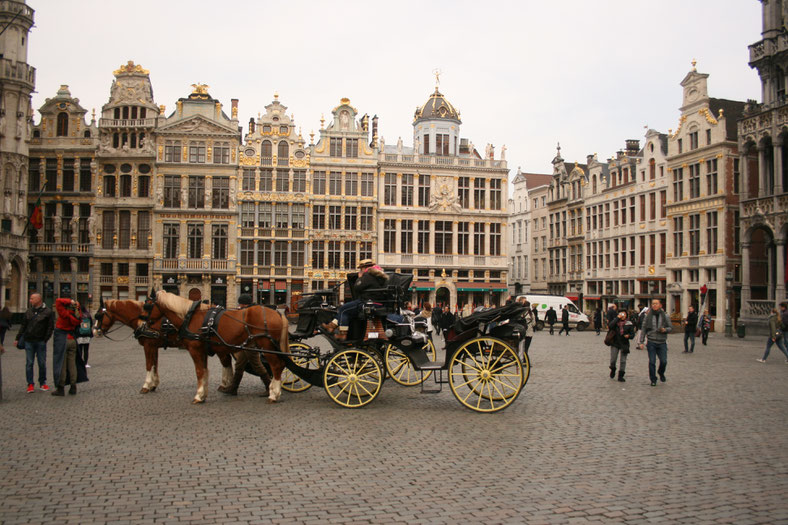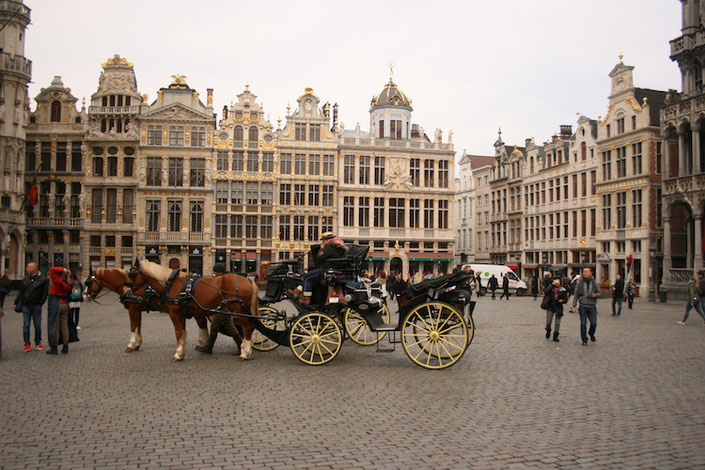 Manneken Pis, Jeanneken Pis & Zinneke Pis
When I could finally tear myself away, I started another mission: My first stop was the Manneken Pis, a fountain with a figure of a little boy peeing. It is quite famous for Brussels, but what most people don't know is that there is also a fountain with a little girl peeing, the Jeanneken Pis, and a dog, called Zinneke Pis, peeing somewhere. While looking for all the statues, I listened to someone telling a story about how those figures are linked together: The only way the two kids knew how to train their dog to pee outside was to show him in person...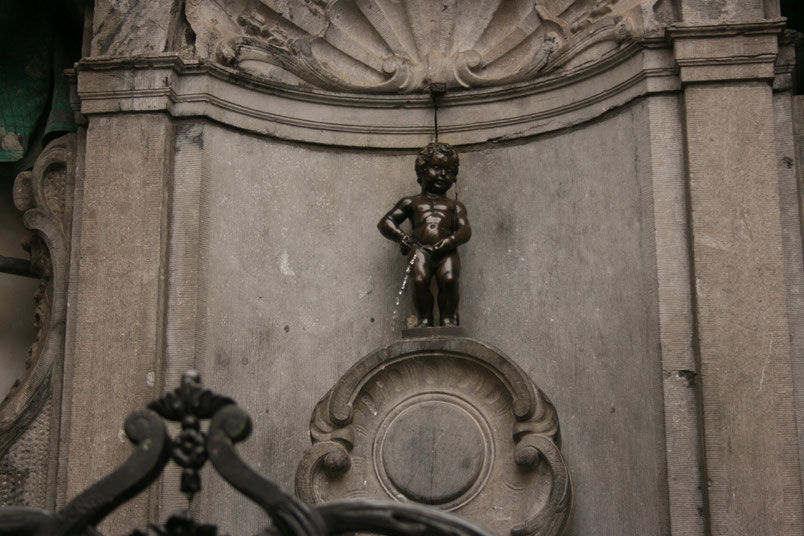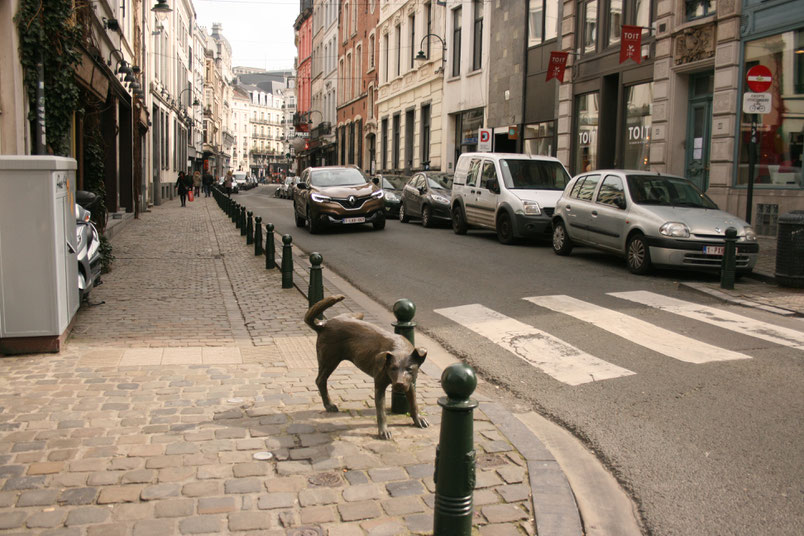 Comic book paintings
Another special attraction in Brussels is their comic book route with 41 comic paintings all over the city. I have found five different ones just by walking around and liked them a lot. If you want to see some more comic paintings, there is a map that shows you where to find all of them.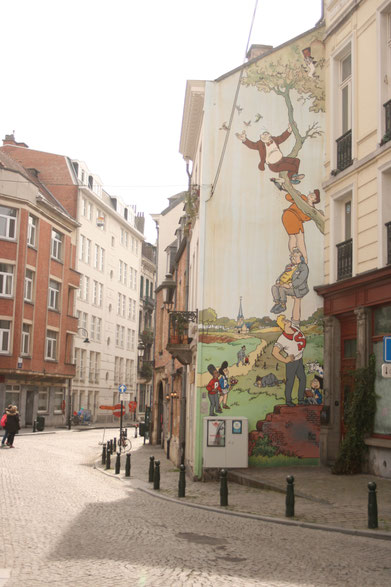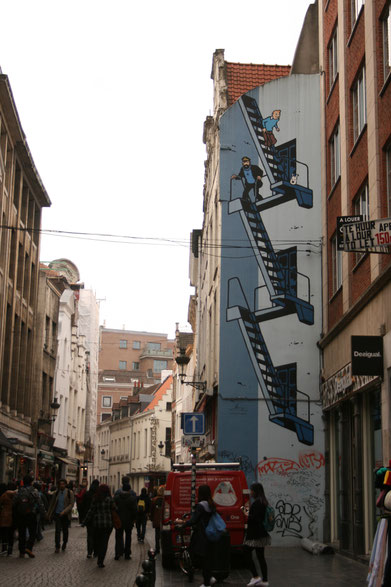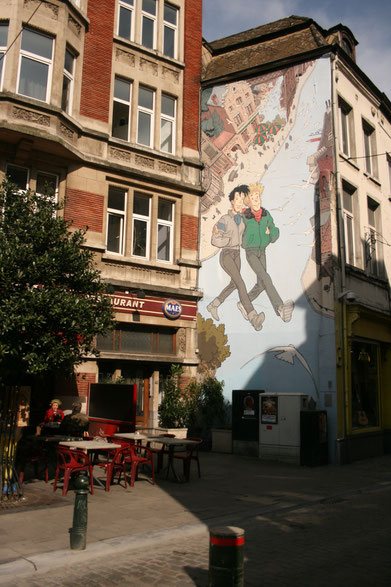 Favorite shops in Brussels
While strolling through the city, looking for all the statues, I found so many wonderful shops and cafés, I would like to share with you:
Dille & Kamille - I found this pretty boutique near the Grand Place, where you can look for anything cooking, gardening and your home. Their beautiful design made my heart beat faster and I wanted to fill my shopping basket with all their stationary, their kitchen utensils and flower napkins. 
Aux Merveilleux de Fred - Right across the street from Dille & Kamille I noticed a delicious smell from a beautiful patisserie. I could not pass, so I got myself a squeezy sugar bun, that tastes delicious!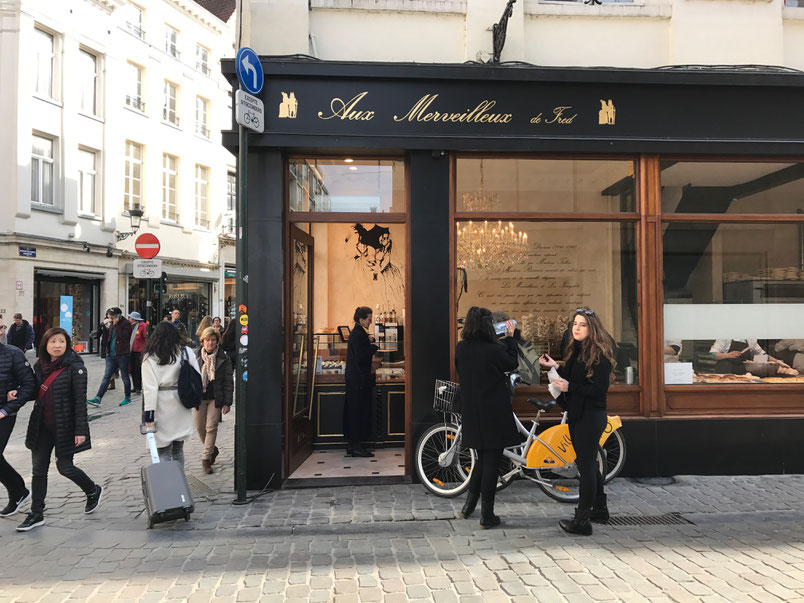 Café Capitale - a modern looking Café with free wifi & free daily newspapers playing only vinyl records. A perfect place to get some laptop work done.
H.Y.P. Store - On my way to Manneken Pis I passed this awesome concept store. Created by a stylist, a designer and a photographer, they really know the cool stuff.
Barbeton - The Café / bar reminded me of the Barbican in London (probably just because of the name) and was a cool bar at the corner of a street. Definitely worth a visit.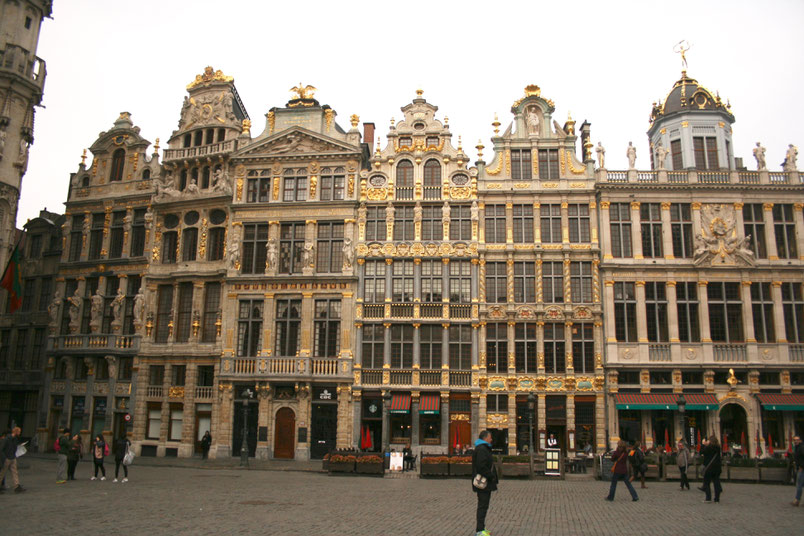 Brussels was absolutely stunning! You should definitely add this place to your bucket list to see the golden facades at the Grande Place. Grab some fries, chocolate or a waffle and enjoy the beautiful atmosphere. 
As I haven't done everything that's on my list, I'll definately come back to visit again!
You might also like...
What about you?
Have you visited Brussels yet? Do you have any special tips for us? Any places to visit or shops to look for? I'd love to hear about your experience!