Visiting the small town of Rothenburg ob der Tauber has always been on my travel wish list. The only things I knew about the village was that it was supposed to be very cute. And yes, Rothenburg is a popular destination for a reason. Although the small town has only about 10,000 inhabitants, every year about 2 million tourists come to this beautiful little village to admire the half-timbered houses of the medieval city. Especially in winter, the town looks like a winter wonderland.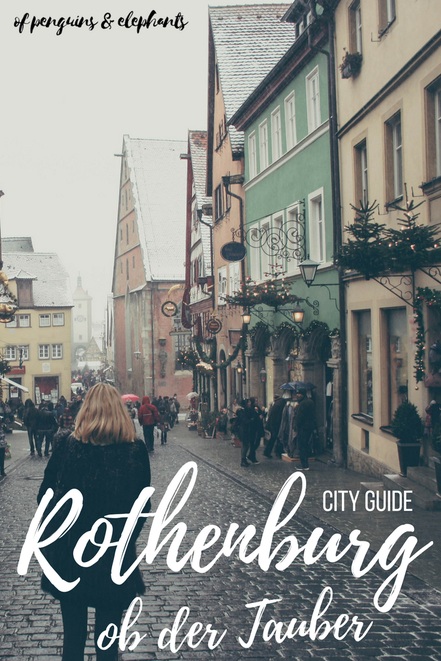 arrival & parking in Rothenburg ob der Tauber
Since Rothenburg ob der Tauber is only about an hour's drive from Nuremberg, we combined our visit to Nuremberg with a detour into the pretty city from the Middle Ages. We arrived by car, drove further into the inner city and parked our car at P1 (car park Nr. 1). The different parking lots are well signposted and despite my fears, the city could burst at the seams, especially on this Advent weekend, we easily got a parking space.
PARKING IN ROTHENBURG OB DER TAUBER: MORE THAN 1,000 PARKING SPOTS AT CAR PARK 1 - 5
sightseeing in Rothenburg ob der Tauber
In just a few minutes we arrived at the city wall and entered the old town through the Plönlein, one of the gates of the city wall. The old, colorful houses, the Christmas decoration and the traditional shops make the city of Rothenburg ob der Tauber fairly magical. Everywhere around, Christmas market stalls were set up, everyone was drinking mulled wine and ate many different specialties. The city was quite crowded, I have to admit, but it was manageable. First, we walked along the streets and alleys, visited the small Christmas market and one of the local shops of Kathe Wohlfahrt. There is even a Christmas museum in one of them.
CHRISTMAS MARKET IN ROTHENBURG: FROM ABOUT END OF NOVEMBER / BEGINNING OF DECEMBER TILL DECEMBER 23RD
OPEN MONDAY TO THURSDAY 11AM - 7PM / FRIDAY TILL SUNDAY 11AM - 8PM
KAETHE WOHLFAHRT: THERE ARE 5 DIFFERENT LOCATIONS IN ROTHENBURG (!!!)
BEST ONE: CHRISTMAS VILLAGE @ HERRNGASSE 1, ROTHENBURG
OPEN JANUARY TO NOVEMBER MONDAY TO FRIDAY 9AM - 6PM, SATURDAY 9AM - 6.30PM & SUNDAY 10AM - 6PM /
DECEMBER MONDAY TO FRIDAY 9AM - 7PM, SATURDAY 9AM - 8PM & SUNDAY 10AM - 6PM
CHRISTMAS MUSEUM: HERRNGASSE 1, ROTHENBURG (BELONGS TO KAETHE WOHLFAHRT)
OPEN APRIL TILL DECEMBER 24TH 10AM - 5PM
PRICE: FULL PRICE 4€ / STUDENTS 2,50€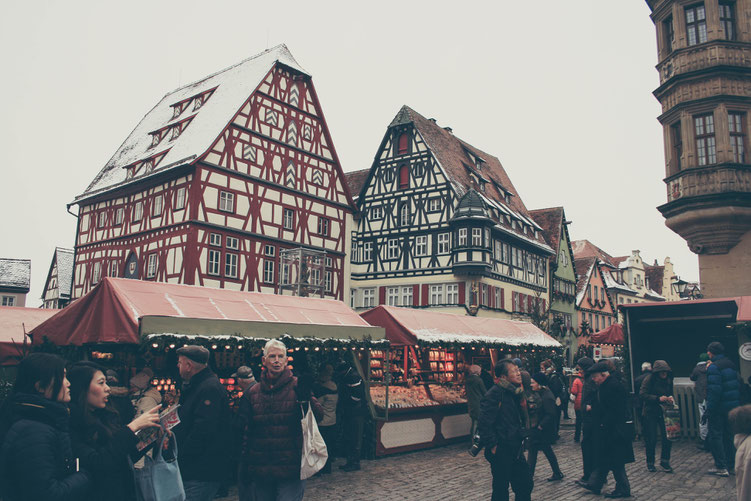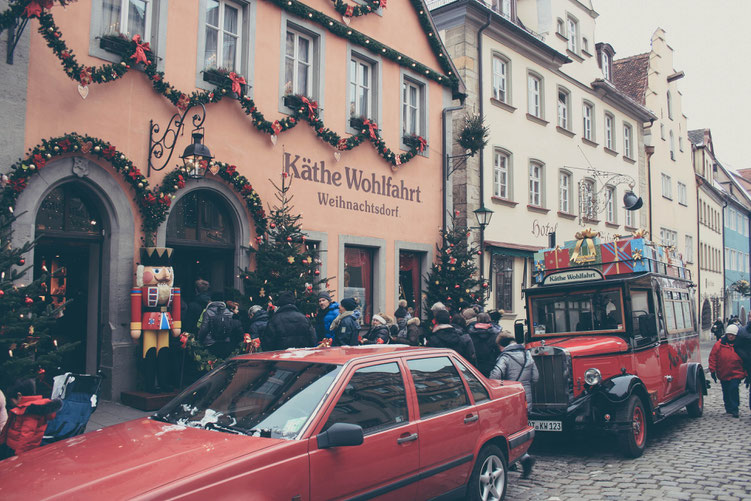 Since I like to see cities from above, we decided to climb the town hall tower. We enter the town hall and walked into a kind of attic, from which one enters the tower. Since only 20 people were allowed to go up at the same time, we had to wait a few minutes before entering. The way up was difficult: narrow wooden stairs lined up. Sometimes the clearance height was less than 1.50 meters. When we did arrive in the tower room, there was one last staircase to climb: a ladder to the top, from which you pull out through a hatch outside. I'm already accustomed to weird and narrow staircases (the observation tower in Bruges is very narrow and very steep for example), but today's tower climb was by far the most exciting! The view is so worth it, though!
TOWN HALL TOWER: MARKTPLATZ 1, ROTHENBURG (ENTER THE MAIN DOOR @ MAIN SQUARE)
OPEN JANUARY TILL MARCH & NOVEMBER SATURDAY & SUNDAY NOON - 3PM / APRIL TILL OCTOBER DAILY 9.30AM - 12.30PM & 1PM - 5PM /
DURING CHRISTMAS TIME DAILY 10.30AM - 2PM & 2.30PM - 6PM
PRICE: 2€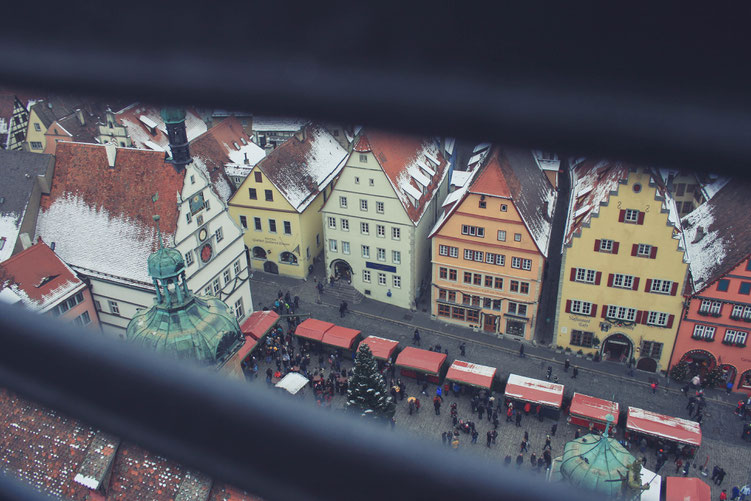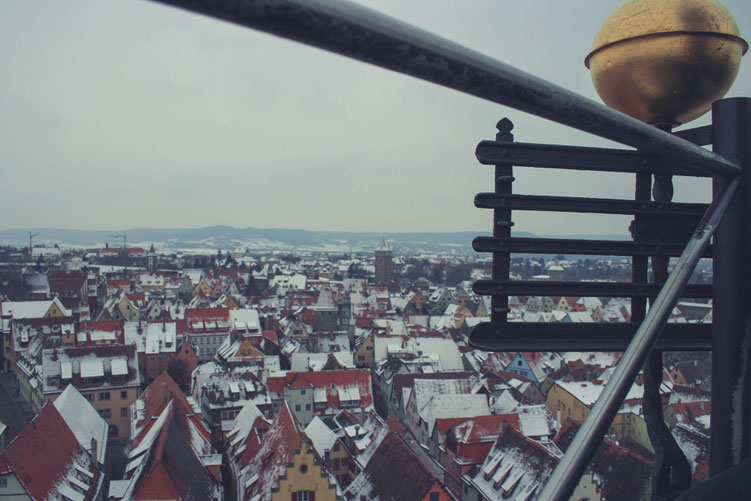 Once back down at the market square, we were just in time for the hourly clock demonstration: In addition to the loud bells, two windows of the Ratstrinkstube (Councillor's Tavern) open on the hour: You can see a scepter swinging Tilly and a drinking mayor Nusch. The windows tell the legend, that the troops of Tilly had besieged the place in the 17th century and only wanted to spare it, if someone manages to drink three liters of wine in one go. Fortunately, the then mayor Nusch was a good drinker and was able to protect his city.
 CLOCK DEMONSTRATION: 10AM - 10 PM ON EVERY HOUR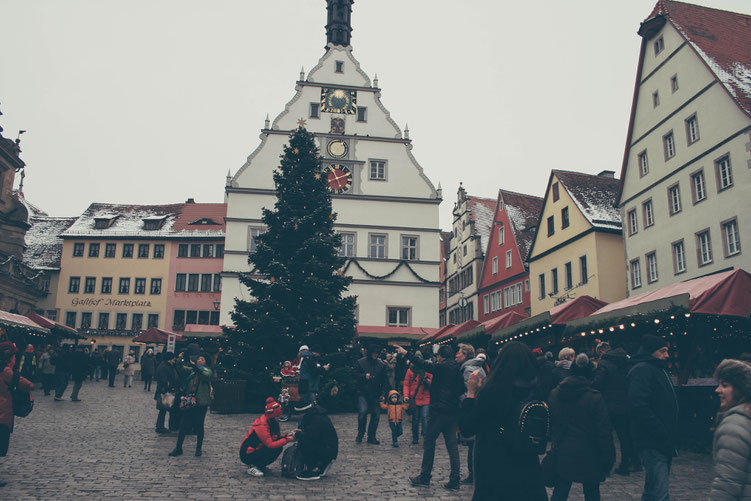 coffee break in Rothenburg ob der Tauber
Before we walked further, we wanted to take a coffee break and found the Cafe Lebenslust (lust for life) next to St. Jacobs church. We warmed up with a cup of hot tea and a waffle. Today it was really cold: Chris was only  wearing a coat and a thin scarf, while I wore a long woolen sweater, a coat and a fur vest over my shirt. But still, if it wouldn't have been so cold, we would certainly have walked along the city wall. These can be climbed at some places to walk along the city wall - a nice way to get to know the city from a different perspective.
CAFÉ LEBENSLUST: KIRCHGASSE 5, ROTHENBURG
churches in Rothenburg ob der Tauber
The church St. Jacob, that we sat next to in a café was impressive from the outside already, so we decided to have a look inside. In simple light gray splendor, the church enchants me above all by its elegance. I do not like the typical colorful stained glass windows so much, I like churches, showing their natural stone. The Franciscan Church, to which we walked afterwards, was also worthwhile.
CHURCH OF ST. JACOB: KLOSTERGASSE 15, ROTHENBURG
OPEN JANURAY TILL MARCH & NOVEMBER DAILY 10AM - NOON & 2PM - 4PM / APRIL TILL OCTOBER 9AM - 5PM / DECEMBER 10AM - 4.45PM
FRANCISCAN CHURCH: HERRENGASSE, ROTHENBURG
OPEN DAILY 10AM - NOON & 2PM - 4PM / CLOSED JANUARY TILL MARCH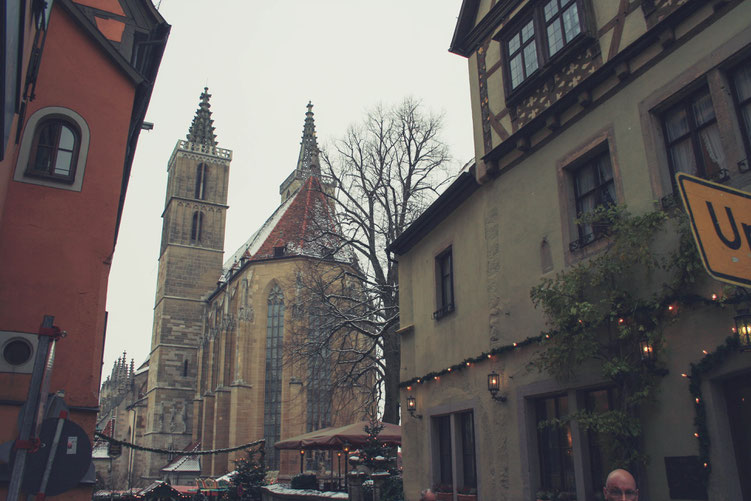 As it was snowing very much and the temperatures were below zero, we did not spend too much time exploring the wonderful city. We stayed for about three hours, but when visiting all the museums as well, you should certainly plan for staying the day. 
You might also like...
What about you?
What are your favorite sights in Rothenburg? Tell me about your adventures in the city? Has anyone visited in summer?