The small spa town of Baden-Baden in southwestern Germany was our destination on a Saturday in late October. We set our alarm clocks and started the day very early to get to southern Germany before the weekend traffic. The three and a half hours car ride from Cologne went by quickly, so we arrived at 11 clock and could explore the village. The reason for our little trip was actually our trip to Israel, because the cheapest flights we found departed from Baden-Baden. Perfect for us, as we love exploring little german towns as well.
accomodation in baden-baden
As we visited Baden-Baden during peak time, we slept in the Arcona Living Batschari 8 hotel about 10 minutes walk away from the city center. All their rooms are suites and we had a huge room with a kitchen and a bathroom. Unfortunately, the design was not very new, but the price was ok.
ARCONA LIVING BATSCHARI 8: MOZARTSTR. 8, BADEN-BADEN
BOOK ARCONA LIVING BATSCHARI 8
 If you wanna spend some more money, I'd highly recommend to stay at the Roomners hotel around the corner of the Ancona Living Batschari 8 hotel. We went there for dinner at their restaurant and the whole design was very cool. Unfortunately, it was already fully booked when I was looking for a hotel. Maybe you'll have more luck.
ROOMERS HOTEL: LANGE STRAßE 100, BADEN-BADEN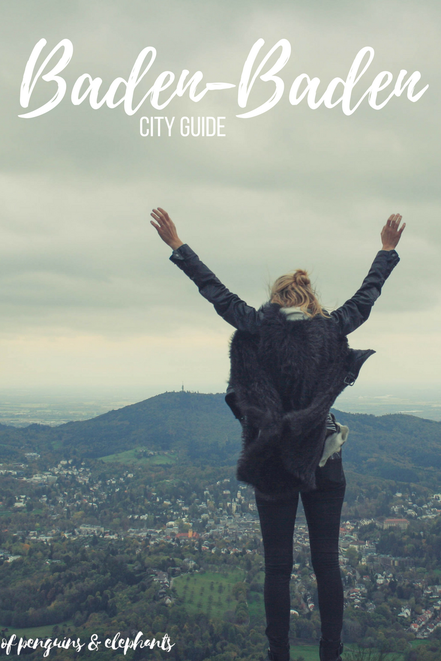 sightseeing in baden-baden
After a short stroll through the pedestrian area, we walked over to the tourist office at the pump house to check up our plans of hiking in the afternoon. Walking along the famous Kurhaus and Casino of Baden-Baden, we found the beautiful restaurant Rizzi: a wine bar with a modern design and a cozy fire. Chris and I were lucky and got the last free table! Although the nice waitress explained that we have probably caught a particularly full weekend, nevertheless it is recommended to reserve here. Chris ordered a delicious burger with truffle fries and I had mashed potatoes with scallops and truffles, really tasty.
RIZZI WINEBISTRO & RESTAURANT: AUGUSTAPLATZ 1, BADEN-BADEN
OPEN: DAILY 12PM - 1AM
CALL FOR RESERVATION: +49 7221 25838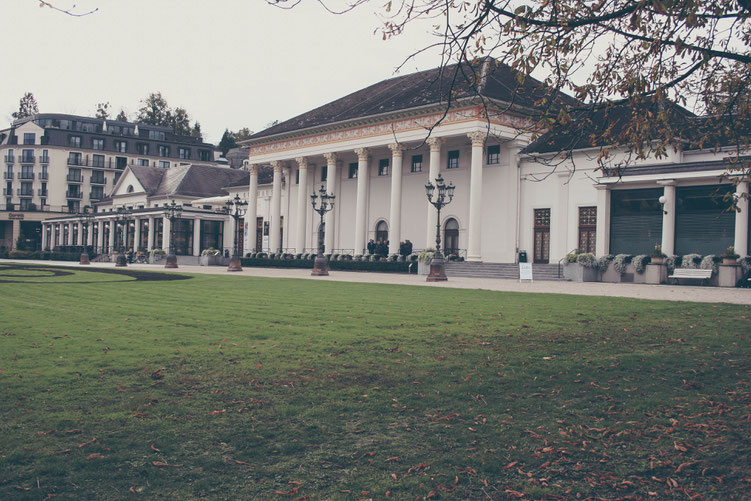 Only a short walk away, you can find the famous Frieder Burda Museum of Modern Art, which we visited right after lunch. Although the entrance fee is relatively high, we liked the architecture of the museum as well as the current exhibition Lightboxes by Rodney Graham. Instead of renting audio guides for 4€ per person, we decided to explore the exhibition on our own. All of Rodney Graham's art was wonderful, but I did find some favorites in between. There is also an interactive area in the basement, in which you became part of the artwork. And of course, Chris and I participated.
FRIEDER BURDA MUSEUM: LICHTENTALER ALLEE 8B, BADEN-BADEN
OPEN: TUESDAY TO SUNDAY 10AM - 6PM
PRICE: ADULTS 13€ / STUDENTS 11€
Right next door is the Staatliche Kunsthalle Baden-Baden. The current exhibitions did not interest us that much, otherwise a combination ticket of both museums would have been worthwhile.
STAATLICHE KUNSTHALLE BADEN-BADEN: LICHTENTALER ALLEE 8A, BADEN-BADEN
OPEN: TUESDAY TO SUNDAY 10AM - 6PM
PRICE: ADULTS 7€ / STUDENTS 5€
COMBINATION TICKET FOR BOTH MUSEUMS: ADULTS 17€ / STUDENTS 13€
Coincidentally, I also heard about a Frida Kahlo exhibition just outside the center. Fortunately, we got the last free parking lot of our hotel, so we left the car and focused on everything within walking distance downtown.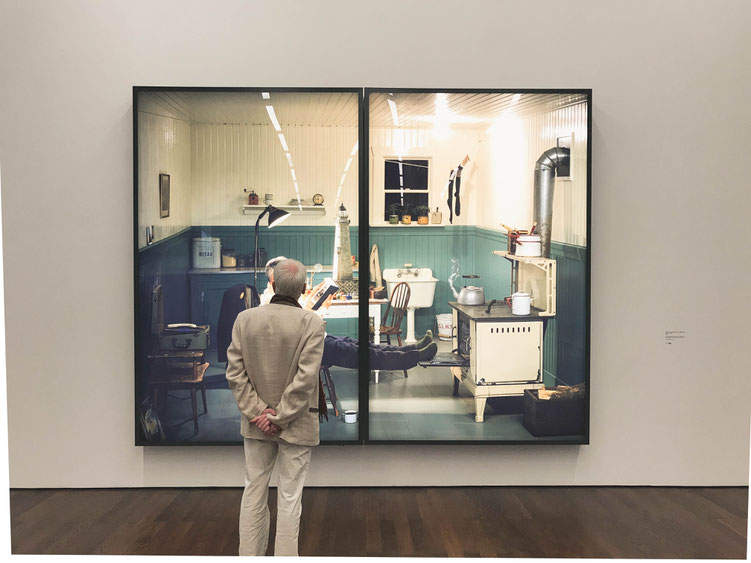 Our next destination is the Merkur mountain with its viewing tower. In the tourist center we were encouraged to walk. Although the path is not far, it is so exhausting walking all the way, as the slope is extremely steep! After about 30 minutes of strenuous walking, we arrived and drove up the Merkur mountain by railway. The path of the railway is even steeper than the street before, but the view of the tracks is quiet exciting. Once at the top, you have a wonderful view over Baden-Baden and the surrounding countryside with its hills. If you want to go further up, you can go to a lookout tower on the top of the mountain. The observation deck is particularly windy, which is why we descended relatively quickly again. Back to the center we took the bus instead of walking, which took us there in a few minutes.
BERGBAHN TALSTATION (CABLE RAILWAY STATION): MERKURIUSBERG 2, BADEN-BADEN
OPEN: DAILY 10AM - 10PM
PRICE: ADULTS 4€ FOR DRIVING UP & DOWN / 2€ FOR ONE WAY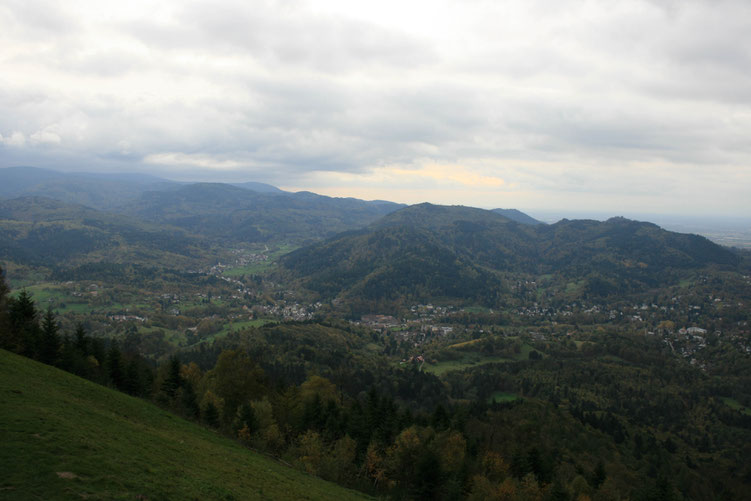 Another interesting hike would be around the opposite Battert hill, where the old castle can be found. Although it is a ruin, it is certainly very interesting. But since we only had one day in the city, we decided to do only one mountain ascent. You can also see the ruins of the castle in distance from the city center.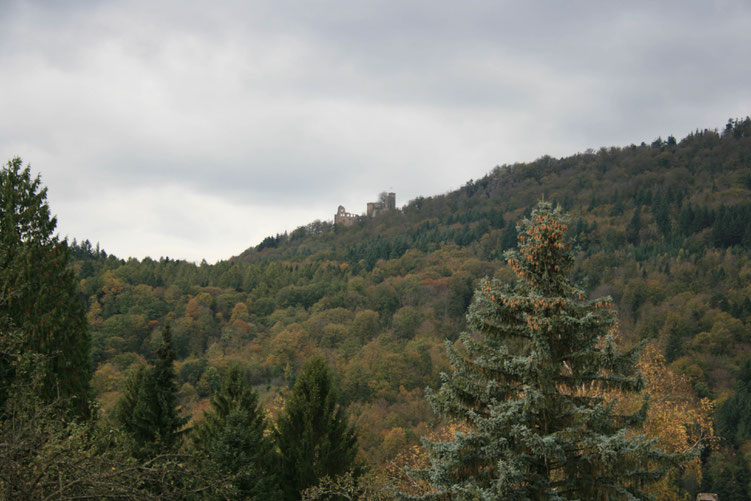 In the center we wanted to marvel at the old Roman Bath. No one wanted to let us in at 3.45 pm, because the bath closes at 4 pm, too bad! Nevertheless, we could already see a lot from the entrance. Right next door is the famous spa of the place. So if you want to relax in the evening, it's right here. Instead, we made our way downtown through the city back to the hotel and had a break before we went to dinner.
CARACALLA THERME (SPA): RÖMERPLATZ 1, BADEN-BADEN
OPEN: DAILY 8AM - 10PM
PRICE: 16€ FOR TWO HOURS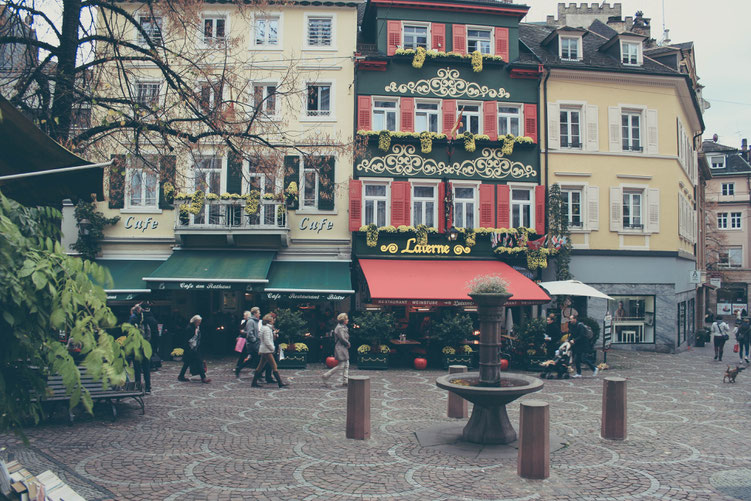 One thing is certain: In Baden-Baden you should definitely book a table beforehand! Online we did still got a table at the Moriki restaurant (lucky us!), a fancy Japanese restaurant at the Hotel Booker. The food was excellent, especially great was my delicious drink from their special menu.
MORIKI RESTAURANT: LANGE STRAßE 100, BADEN-BADEN (@ HOTEL ROOMERS)
OPEN: DAILY 12PM - 12AM
CALL FOR RESERVATION: +49 7221 90193901 / BOOK A TABLE ONLINE
After dinner, one last thing was on the program before we went to sleep as early as possible to be fit for our flight the next morning. We went to the casino of the city. Although I have already been to a casino a few times, the casino in Baden-Baden surpasses my expectations: All guests are in evening gown, the rooms are beautifully decorated and some tables are about a lot of money! We had twenty euros in chips, but after the first two games, we were not so lucky and the money was gone quickly. Nevertheless, the visit was a lot of fun, especially watching all the people was very fun.
CASINO BADEN-BADEN: KAISERALLE 1, BADEN-BADEN
OPEN: ALL GAMES HAVE DIFFERENT TIMES / MAIN HOURS ARE BETWEEN 8PM - 1.30AM (CHECK OPENING TIMES HERE)
PRICE: ADULTS 5€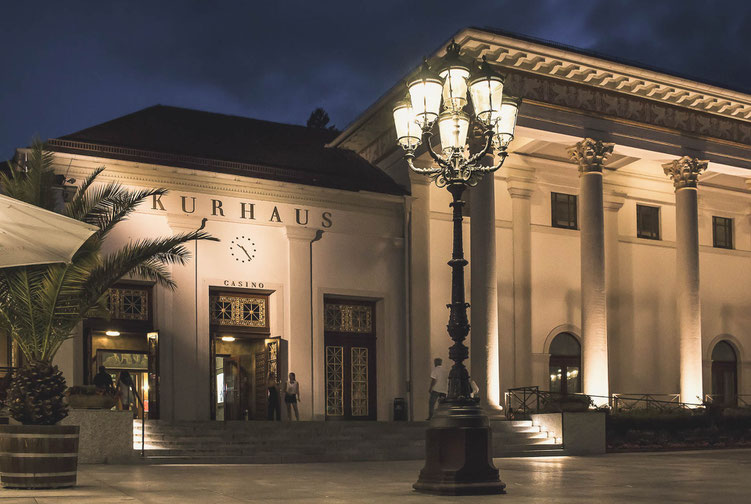 You might also like...
If you would like to find out a little more about restaurants, hotels, activities or wellness, head over to I love Baden-Baden, a whole website dedicated to this special city or check out the local Tourist Information, when you arrive in Baden-Baden.
What about you?
What are your thoughts about the small spa town of Baden-Baden? Have your ever visited or do you have plans to visit? Have you even heard of it before reading my article about it? Let me know what you feel about Baden-Baden? Did you have fun at the casino as well, or did you maybe enjoy the thermal spa in the city center? I'd love to hear your story of the small town in Baden-Wurttemberg!