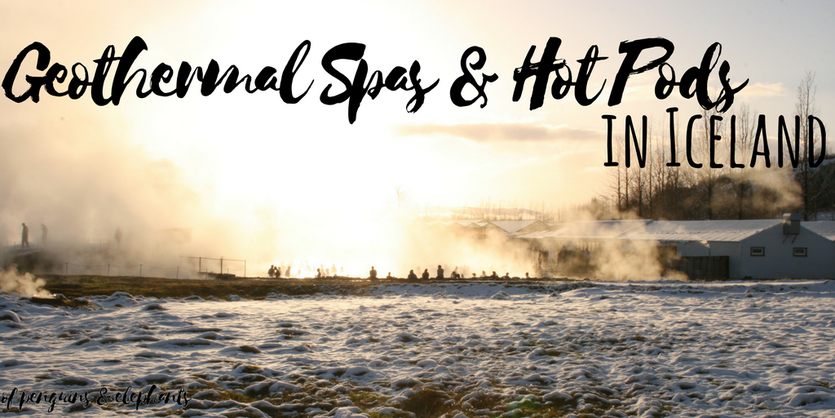 Because of its strong volcanic activity, Iceland is full of boiling water and hot springs. Therefore heating and also electricity comes almost entirely from renewable resources. But this is not the only advantage of the volcanic island - Iceland is full of geothermal spas and natural hot pods, which everyone can enjoy. Icelanders love their swimming pools and as a tourist, you shouldn't miss this wonderful opportunity. 
There are different kinds of spas and swimming pools:
Geothermal Spas (like Blue Lagoon, Myvatn Nature Baths, Secret Lagoon) are luxurious swimming pools filled with hot and mineral rich water coming from natural springs. They mostly offer special treatments, a sauna and a restaurant, but prices are very high! The temperature of the water normally stays between 38-42 degrees Celsius. 
Public swimming pools are simple pools, that mostly offer one or two hot tubs. In Iceland, even the smallest village has its own local swimming pool. For a short relaxation, public swimming pools are a cheap way to do so.
Hot Pods are small natural wholes or man made tubs, which get hot its water from a natural resource. Therefor the temperature can differ strongly! These come for free or for a really small fee.
In Iceland it is very important to wash yourself before entering any kind of bath. I was surprised about their common changing room. Instead of many small private changing rooms, there is only one big room for everyone, where you need to change (men and women are separated of course). You are advised to shower naked, even though many people stay in their bikini and you should also wash your hear before entering the pool.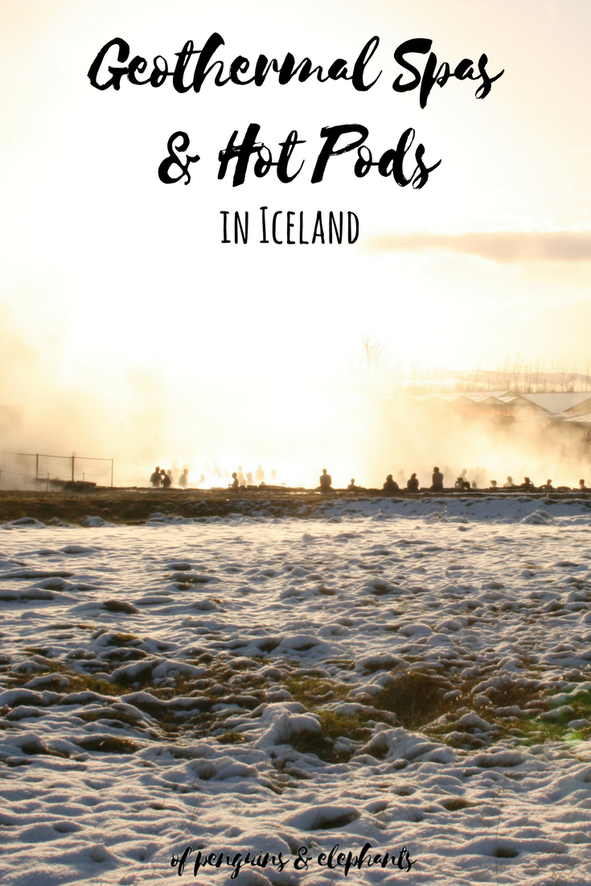 The Blue Lagoon near Keflavik airport ist one of the most visited tourists attractions in Iceland. Because of its high entrance fee, its large number of visitors and good alternatives, people keep saying not to visit the Blue Lagoon. We have visited many Hot Pods and two other geothermal spas and despite the admission of about 50€ per person,  Blue Lagoon was our favorite.
Make sure to book your ticket as far in advance as possible, as prices are rising depending on the number of tickets sold. There are different kinds of tickets - I suggest buying the standard admission for around 50€ with only entrance and a Silicia mud mask included that comes free for everyone. The more expensive tickets include a towel, a drink, slippers or a reservation at their restaurant...
Chris and I arrived in Iceland in the early afternoon and started our two week road trip with a relaxed evening at the Blue Lagoon. When we arrived, the car park was filled with many cars and some buses - luckily, it wasn't overcrowded at the pool area. Surely, the pool bar is highly occupied, but you can easily buy your drink and go somewhere lonely, as the pool is huge and kind of foggy. 
The Blue Lagoon pool is built into volcanic rocks and the ground is made of something like cement and Silicia mud. At the edges of the pool you can find "chairs" as well as lower water and Silicia mud for a face mask. 
We truly enjoyed the Blue Lagoon and highly recommend visiting!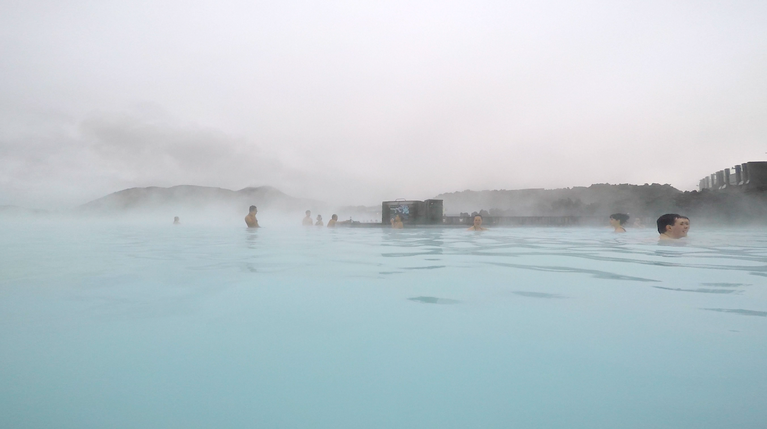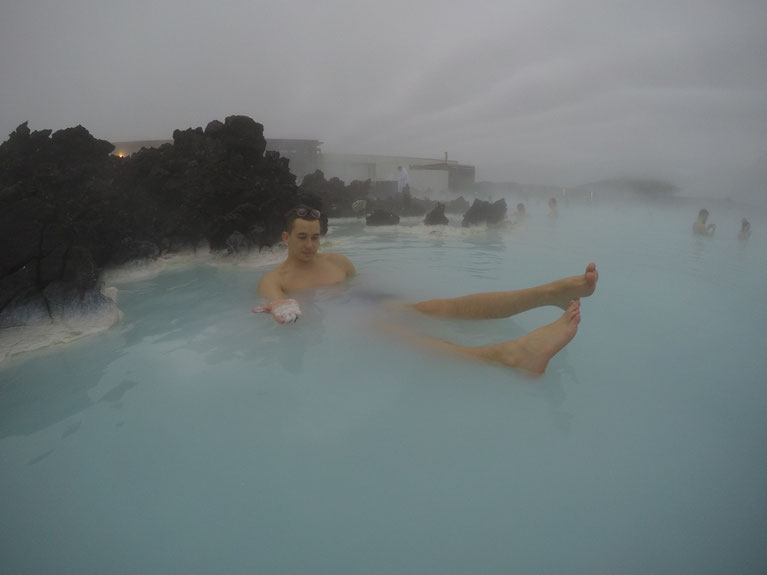 Myvatn Nature Baths are located near Reykjahild at the Lake Myvatn. The spa is not as crowded as that Blue Lagoon at all and therefore only costs about half of it. The Nature Baths are similar to the previous lagoon, only a little bit smaller and not as mineral rich (and therefore not as blue). The ground of this spa is covered with sand and gravel, which is didn't really like - but it is a Natural Baths!
Chris and I enjoyed an evening here, waiting for the Northern Lights to appear, as the northern area is a great spot to see the Aurora Borealis. Unfortunately, we weren't lucky, but maybe you are :) The spa also offers a bar inside (where you can buy a beer bracelet), a hot pod and two steam baths. 
Even though, Chris and I liked the Blue Lagoon better, you shouldn't miss this opportunity of a relaxed evening. 
PS: You don't need to buy tickets in advance. Maybe your hotel even offers discounted tickets!
The Secret Lagoon is near the famous Golden Circle and not as secret anymore, as its name suggests. During the day it can get quite crowded, so you should try to go there in the evening or early morning. 
Built in 1891, the Lagoon is the oldest swimming pool in Iceland. Its a lot smaller that the Blue Lagoon and quite similar to the Myvatn Nature Baths, as it is also keept natural with gravel on the ground. We found this spa was the hottest of all and we couldn't stay too long. 
There is a small walk around the Secret Lagoon, which you should enter with your warm jacket beforehand. You can enter the walk from the same terrace from which you can get into the water (so only if you paid admission) and it brings you to the boiling springs and little geysers around. Highly recommended!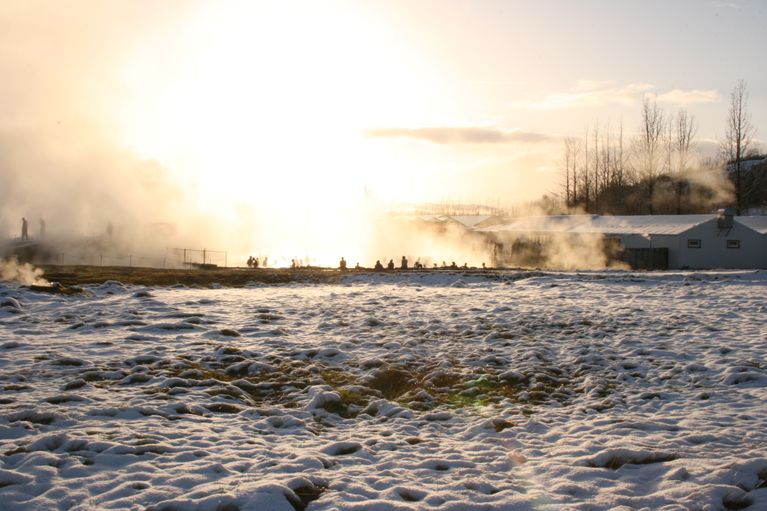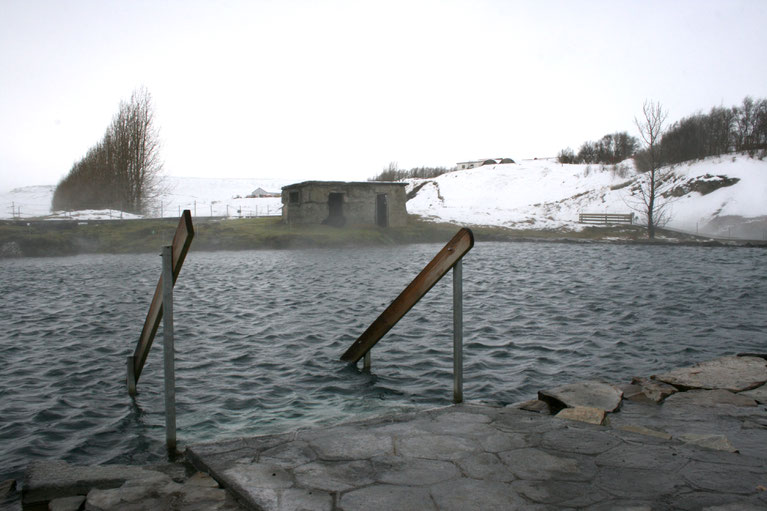 Hot Pods in Iceland
As Iceland has so much volcanic activity, there are many hot springs. People have always liked to soak in hot water and therefore you will find hot pods everywhere in Iceland. We highly appreciated this map of hot pods in Iceland (also a map of swimming pools and gas stations)!
As Iceland is famous for its countless hot pods and pools, we tried to get into the water at least every other day. And hot pods were wonderful! Mostly, we had the tubs for ourselves, sometimes one or two couples were with us.
Our favorite pods were the Gudrunarlaug and the Hoffell Hot tubs, which you can see in the pictures below.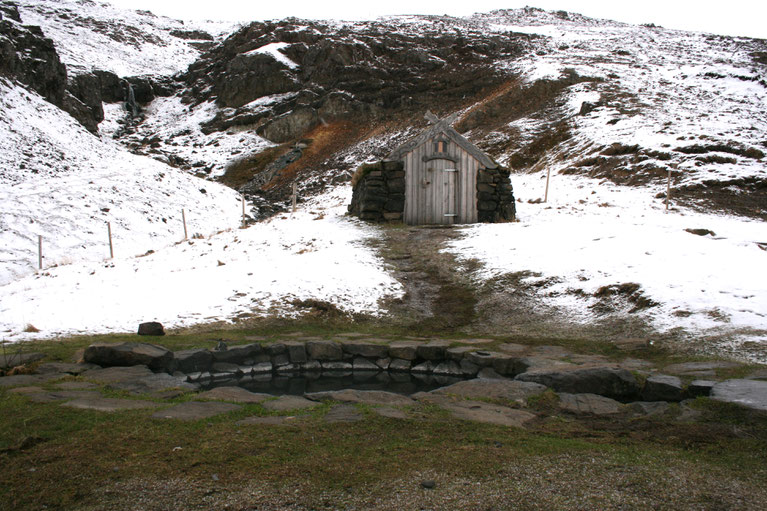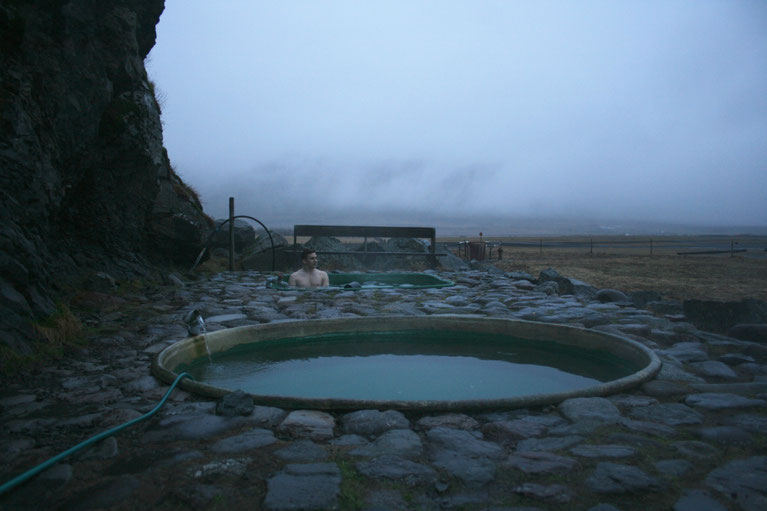 What about you?
Have you bathed in one of Iceland's famous lagoons or hot pods? Is there any other hot pod you would recommend? I'd love to hear about your experiences!